Big Tech's small biz squeeze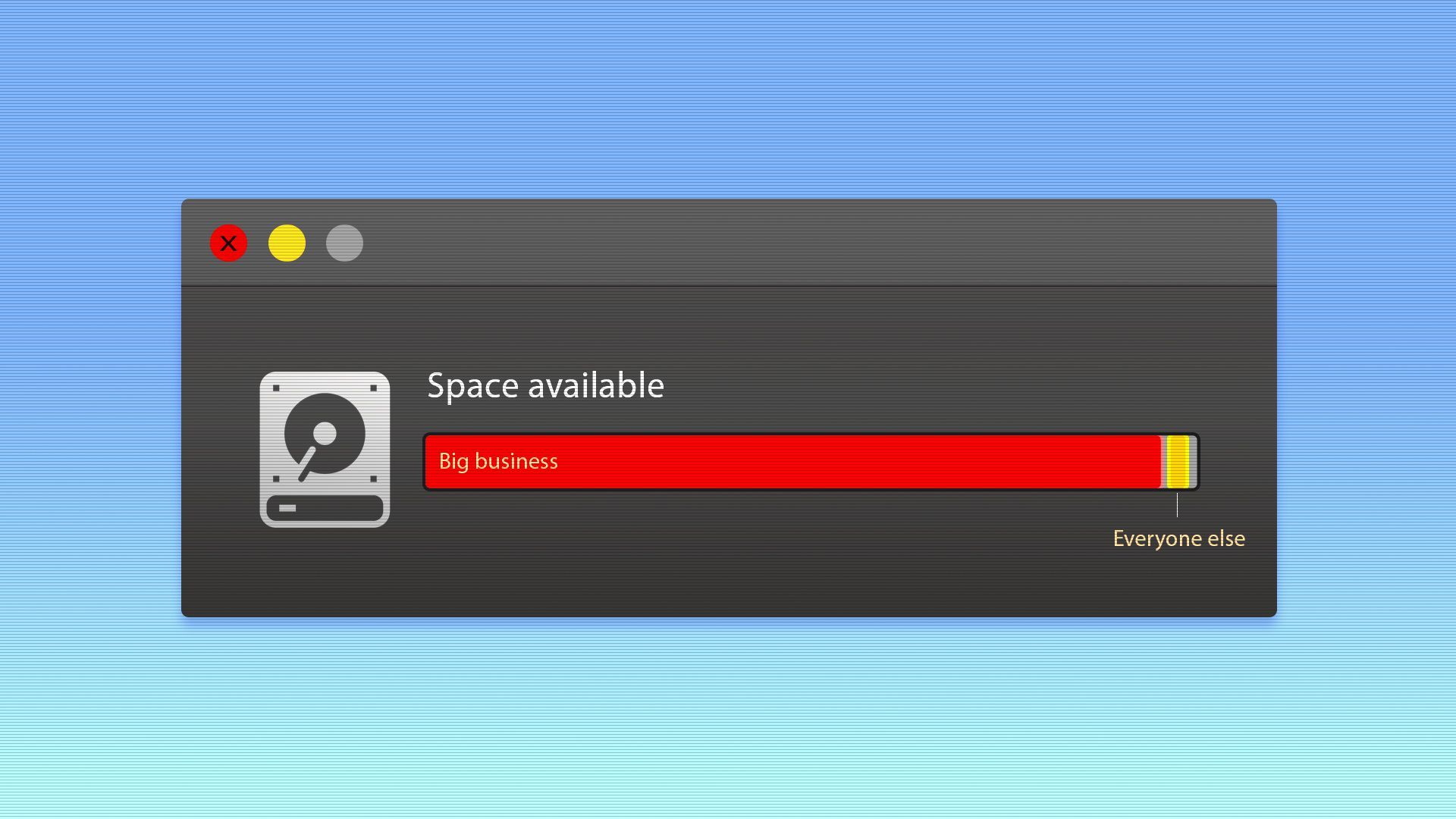 While Apple, Google, Amazon and Facebook all started as tiny operations in garages and dorm rooms, it's hard to imagine any of them being displaced by new startups today. President Biden's sweeping new executive order targeting big business is the most ambitious effort yet to clear space for challengers to thrive — but still faces daunting odds.
Why it matters: Tech's giants are now dominant economic forces, and the Biden administration says their market concentration may be undercutting the next generation of competitors. Biden's order calls for federal agencies to take action to reduce industry concentration, but today's tech industry is built around a "big fish eat little fish" ecology that will be hard to change.
What he's saying: "What we've seen over the past few decades is less competition and more concentration that holds our economy back," said Biden, noting the potential dangers of the biggest companies. "Rather than competing for consumers, they are consuming their competitors."
The big picture: Big Tech has long had a complicated relationship with small tech companies. The big platforms play outsized roles not only in their own markets, but also in reaching consumers and accessing today's necessities for small businesses, such as cloud storage, payment processors and app stores.
Innovate or die: Tech giants have been a bountiful source of innovation, but that's given them the means to tamp it down elsewhere, argue progressives who favor reining in the biggest companies' power.
The "kill zone" is a term venture capitalists use to describe areas they won't fund because the big players have an edge or could easily squash a startup, or decide to buy it on the cheap in order to build out the business themselves. 
As big firms take on new lines of businesses in search of growth, they leave less room for new entrants.
What's happening: Tech giants generally have had a reputation for being friendly to entrepreneurs. As the web drove down startup costs and helped companies take off, the giants started providing tools to help entrepreneurs grow on their platforms. 
Today's small business playbook often includes buying ads on Facebook and paid search on Google, selling a product on Amazon, renting cloud-computing power from Google, Microsoft or Amazon, putting an app on Apple, or placing a promo video on YouTube.
These services help startups instantly reach millions of potential customers at relatively cheap rates. But as the market gets more saturated and the platforms can command higher prices for the services, they can become a new form of overhead.
For example, a company selling direct-to-consumer products like shoes or jewelry no longer needs to pay rent or buy its own servers. But it essentially pays to make Amazon, Facebook or Google act as their storefront — spending for ads, placement and space in the cloud.
Be bought or be crushed: Through data analysis, algorithms and contracts, the platforms have the ability to drive consumers to their own products over smaller rivals' products.
That was the basis of the EU's 2017 case against Google Shopping, with regulators claiming Google downlinked competitors' services in order to favor its own.
Last year, more than 30 state attorneys general filed an antitrust lawsuit against Google alleging, in part, that it disadvantaged rival search companies like Yelp or Tripadvisor by favoring its own results.
The District of Columbia recently sued Amazon for allegedly undercutting third-party merchants with pricing contracts that result in artificially high prices for those sellers' goods.
The other side: Big Tech companies like Google and Amazon say they do have to vigorously compete for consumers — against each other, as they are constantly entering each others' turfs.
Their defenders say their large scale make them more efficient, and that consumers want the ability to share the same network, have compatible devices and interact with others all on the same platform.
Of note: The FTC has tried to determine the harm to competition when a large company buys a nascent competitor — such as when Facebook acquired Instagram and WhatsApp, mergers that, some argue, helped to cement Facebook's dominance.
Yes, but: No merger review team can truly predict a startup's trajectory, either on its own or as part of a larger firm.
"When I have a firm that buys a startup, and the startup has very little business, no profits, just a few people and maybe isn't even in the same space as anything the acquiring firm is, it's possible that that startup might in the future become an important competitor and might succeed and might get contracts. It's an awful lot of mights," said Bruce Hoffman, former head of the FTC's Bureau of Competition, who is now a partner at Cleary, Gottlieb, Steen & Hamilton LLP.
"In our system, the government doesn't rule by decree. You have to actually prove a case," he told Axios' Margaret McGill.
What to watch: In a joint statement, the DOJ and FTC on Friday said they'd be taking a hard look at merger guidelines "to determine whether they are overly permissive."
Go deeper