NYT: Khashoggi's killers had paramilitary training in U.S.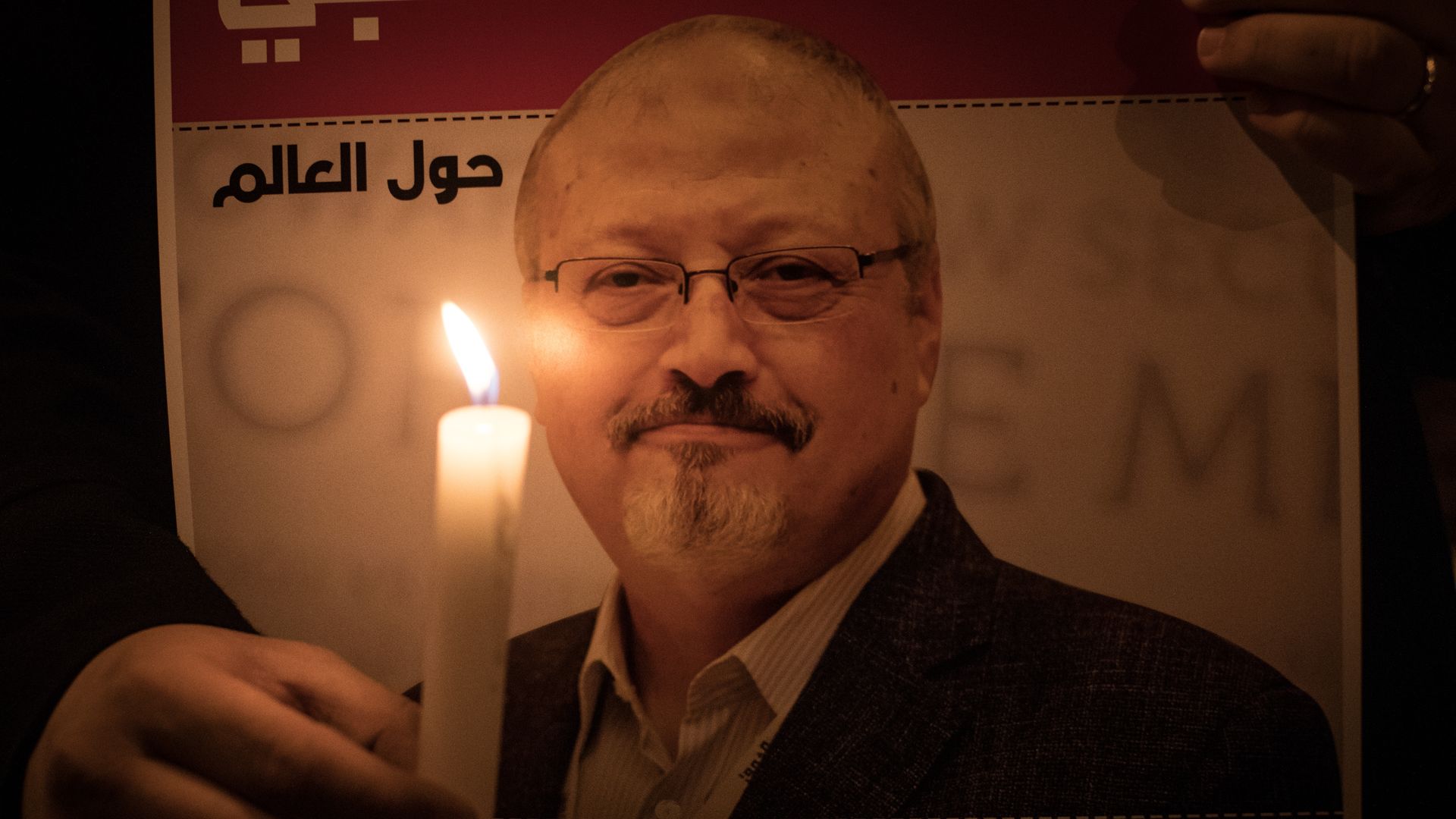 Several Saudis who took part in the killing of Washington Post journalist Jamal Khashoggi had paramilitary training in the U.S. under a State Department contract a year before his 2018 death, the New York Times reported Tuesday.
Why it matters: While there's no evidence the department knew that Crown Prince Mohammed bin Salman sanctioned Saudi officials to detain, kidnap and torture dissidents in 2017, the approval of such training underscores how "intensely intertwined" the U.S. has become with a nation known for human rights abuses, per the NYT.
The Biden administration released an unclassified report in February assessing that the crown prince approved the operation to "capture or kill" Khashoggi when he was at the Saudi Consulate in Istanbul.
What's happening: The Arkansas-based security firm Tier 1 Group trained the operatives that were "defensive in nature and devised to better protect Saudi leaders," according to the Times.
Louis Bremer, a senior executive at Tier 1's parent company Cerberus Capital Management, provided the Times with written answers to lawmakers' questions as part of his nomination for a Trump administration Pentagon role.
The document showed that four members of the team that killed Khashoggi were trained by Tier 1 Group in 2017, while two previously received training between October 2014 and January 2015.
"The training provided was unrelated to their subsequent heinous acts," Bremer said in a statement to the Times, adding that a March 2019 review by the group "uncovered no wrongdoing by the company and confirmed that the established curriculum training was unrelated to the murder of Jamal Khashoggi."
What they're saying: State Department spokesperson Ned Price said in a statement emailed to Axios that he "can't confirm or comment on any of the licensed defense export licensing activity alleged in media reporting" because International Traffic in Arms Regulations prevent officials from commenting on individual companies' licensing status or confirming related activities. 
"Saudi Arabia faces significant threats to its territory, and we are committed to working together to help Riyadh strengthen its defenses," Price said.
"At the same time, the American people expect that U.S. policy towards its strategic partnership with Saudi Arabia will prioritize the rule of law and respect for human rights, which are inseparable from the interests that the United States brings to that partnership.
"This Administration insists on responsible use of U.S. origin defense equipment and training by our allies and partners, and considers appropriate responses if violations occur.  We have an established interagency process for working through the details of individual arms sales cases, which ensures that President Biden's commitment to putting human rights at the center of our foreign policy is incorporated into all relevant processes and procedures."
Of note: Price said "all proposed defense sales and transfers are assessed" on a case-by-case basis, taking into account "a broad range of political and economic considerations," including "human rights considerations."
Representatives for Cerberus did not immediately respond to Axios' request for comment.
Go deeper: Biden's big Saudi reset
Go deeper