Democrats' losing hand on voting rights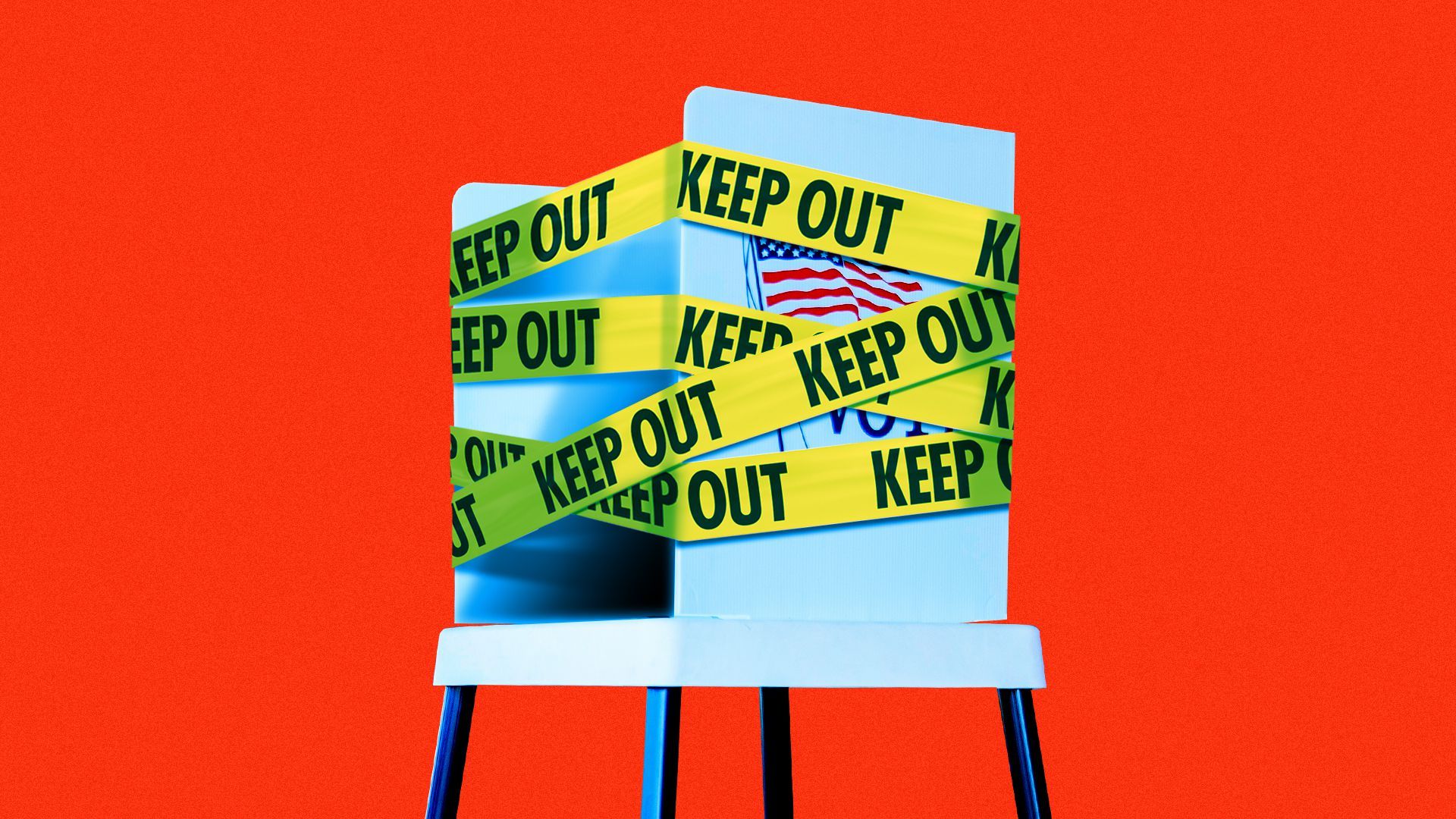 The 50-50 Senate, GOP-controlled state legislatures, gerrymandering and a conservative Supreme Court are blunting Democrats' ability to fight back against historic efforts to restrict voting in states across the U.S.
Why it matters: Voting rights advocates say the moves could artificially prop up conservative, white power structures for a decade or longer by installing hurdles that disproportionally hit people of color. Democrats increasingly see this as an existential threat.
Driving the news: Senate Republicans on Tuesday stalled a sweeping federal voting rights bill — and Democrats don't have enough support in their own caucus to end to the legislative filibuster and break the partisan logjam.
What's next: Democrats' next best move may be to turn to state-by-state fights in places like Texas, Arizona, Florida and Georgia.
"Plan B looks a lot like the status quo, which is hand-to-hand combat," said Matthew Miller, a former Department of Justice spokesman during the Obama administration.
Between the lines: Some Democrats are frustrated that President Biden and Vice President Kamala Harris haven't more aggressively sought to shame Republicans into supporting codification of some expanded voter protections — or resistant Democrats into modifying the filibuster.
Ezra Levin, co-director of the progressive group Indivisible, said "so far we just haven't seen them do it" to the degree they pushed for action on coronavirus and infrastructure legislation.
Beto O'Rourke, advocating for expanded voting rights in Texas, tells Axios that ahead of the 1965 Voting Rights Act, "President Johnson brought the country to this decision and then helped to bring us through to the right choice on it... And that's the opportunity President Biden has right now."
The nonpartisan group Freedom House cited unequal treatment of people of color — especially through restrictions on voting rights — as one of its reasons for lowering the U.S. democracy score this year.
The intrigue: Biden has charged Harris with leading the White House's efforts to protect voting rights. It's not clear too much can be accomplished through executive actions alone. That means more attention on what she's doing personally to engage Congress and get more Democrats to register and turn out.
A White House official says Biden already has used executive authority where possible, including his executive order directing federal agencies to expand access to voter registration.
And Attorney General Merrick Garland has made it clear that voting rights and domestic violent extremism are his priorities.
Garland is kicking off a hiring spree for more staff to help on voting rights issues, and said the department will be watching threats toward election workers and areas where people of color have to wait in line longer to vote.
But the Justice Department's powers are limited now that it no longer has preclearance authority under the Voting Rights Act. It can sue to challenge some state restrictions, but its chances of victory probably aren't good.
Be smart: There's some momentum in Congress behind narrower voting rights bills including the John Lewis Voting Rights Act, which would restore an updated version of the Justice Department's preclearance authority to approve voting changes in advance.
That's the power it lost in 2013 when the Supreme Court struck it from the original Voting Rights Act. But without changes to the filibuster, those bills may not stand a chance either.
What we're watching: The courts.
Marc Elias, a key Democratic attorney and founder of Democracy Docket, filed a new voting rights suit in Texas on Tuesday morning.
He expects new voting rights litigation to be filed in the coming days or weeks in Georgia, Iowa, Montana, New Hampshire, Ohio, Arizona and Michigan.
Iowa, Georgia, Montana, Florida, Arkansas and Kansas already have active voting rights cases.
Yes, but: In the states that restrict voting the most, the courts are unlikely to push back.
The Supreme Court struck down preclearance, and most observers expect the justices to uphold a series of GOP-led voting restrictions in Arizona in their next big voting rights ruling, which could come any day now
State supreme courts in places like Texas, Florida, Georgia and Arizona all tend to have more conservative judges, according to a Ballotpedia study.
Go deeper