The Senate's "too-big-to-fail" plan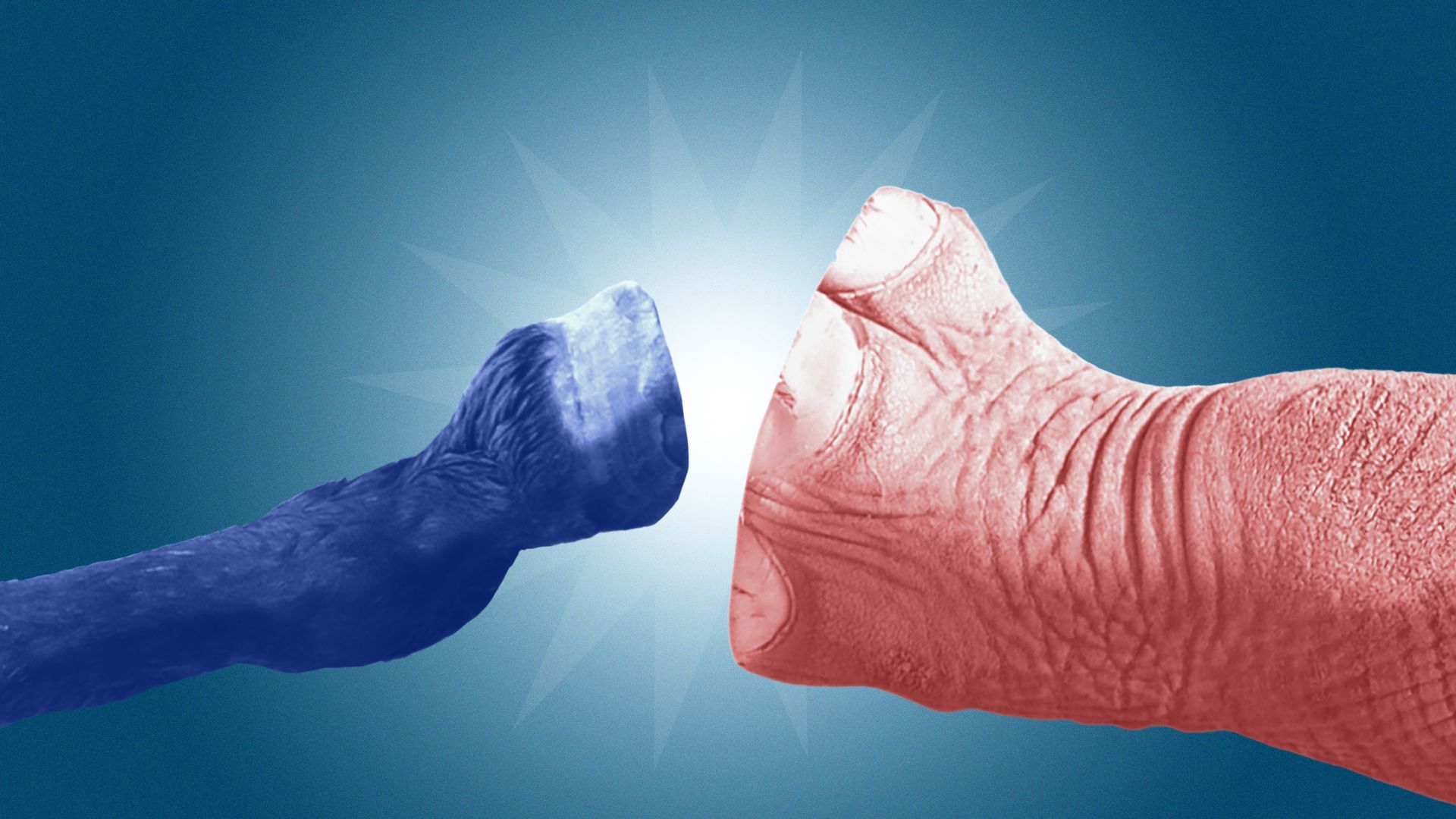 Senate negotiators for the bipartisan infrastructure bill are trying to create momentum for a "too-big-to-fail" package by adding an equal number of Democratic and Republican co-sponsors, Axios has learned.
Why it matters: White House officials are pleased with how the talks are proceeding and are discussing how President Biden might declare his support for the roughly $1.2 trillion package, if the remaining issues are resolved.
Biden hosted Sens. Joe Manchin (D-W.Va.) and Kyrsten Sinema (D-Ariz.), separately, at the White House on Monday.
The president told them "he was encouraged by what has taken shape but that he still has questions about the policy, as well as the means for financing the bipartisan group's proposal," according to a White House official.
"The president also made clear that he is, at the same time, focused on budget resolution discussions in the Senate," according to the official.
A group of legislative directors for the G20 bipartisan group of senators plan to further discuss the details of the proposal among themselves Tuesday, sources familiar with the meeting tell Axios.
The big picture: Members of the G20 emerged from the Senate hideaway office of Sen. Rob Portman (R-Ohio) on Monday evening to express confidence they could have a deal.
"We are making significant progress but it's not over until it's over," said Sen. Susan Collins (R-Maine).
The other side: Progressives remain leery and are aiming for much more spending, potentially in multiple packages.
"Make no mistake: I'm not voting for some bipartisan deal until I see every other part of the infrastructure package, and know that, in total, we have what we need," Sen. Elizabeth Warren (D-Mass.) told Axios.
"We're not going to have an infrastructure package that, when the train leaves the station, child care is left on the platform, along with clean energy" and other priorities.
Driving the news: Several additional senators — from both parties — are expected to come out in favor of the bipartisan package this week, the aides say.
The key is to employ a "one-and-one" or "Noah's Ark" strategy, in which each supporter would bring a colleague from the other party to build Republican and Democratic support for the package equally.
The goal is to shift the focus to the number of Republicans getting on board, as opposed to questions about how many Democrats — particularly progressives — will be lost through the bipartisan negotiations.
"It went from 10 to 21 (supporters) pretty fast, and I think there are other people that are interested," Sen. Angus King (I-Maine) told Axios. "I think that's an important part of the dynamics of the group, that it not be viewed as slanted one side or another."
What we're hearing: Less-moderate Democrats are also being sold on the notion that "every dollar (President Biden) gets here is one dollar less than he has to spend on reconciliation," the source added.
Biden's support for the deal isn't assured, and both sides have yet to agree on how to pay for the additional spending.
White House press secretary Jen Psaki emphasized Monday that increased money from IRS enforcement could be the easier way to find additional revenue.
She also didn't rule out paying for some of the package with deficit spending.
The White House is still committed to the corporate and personal tax increases it proposed in April, and will likely pursue those in a parallel package it's expected to push through the partisan reconciliation process.
What to watch: Time is running out, and leaders on both ends of Pennsylvania Avenue are growing impatient.
This is the Senate's last week in session before a two-week recess to mark July 4.
When senators return, they will have only three weeks to meet the deadline set by the White House and Senate Majority Leader Chuck Schumer (D-N.Y.) of voting on an infrastructure bill by August.
Be smart: Schumer and the Senate Budget Committee are moving forward with a backup plan.
It would be a separate, one-party package they would pass via budget reconciliation.
Go deeper