New coronavirus variant gains foothold in the U.S.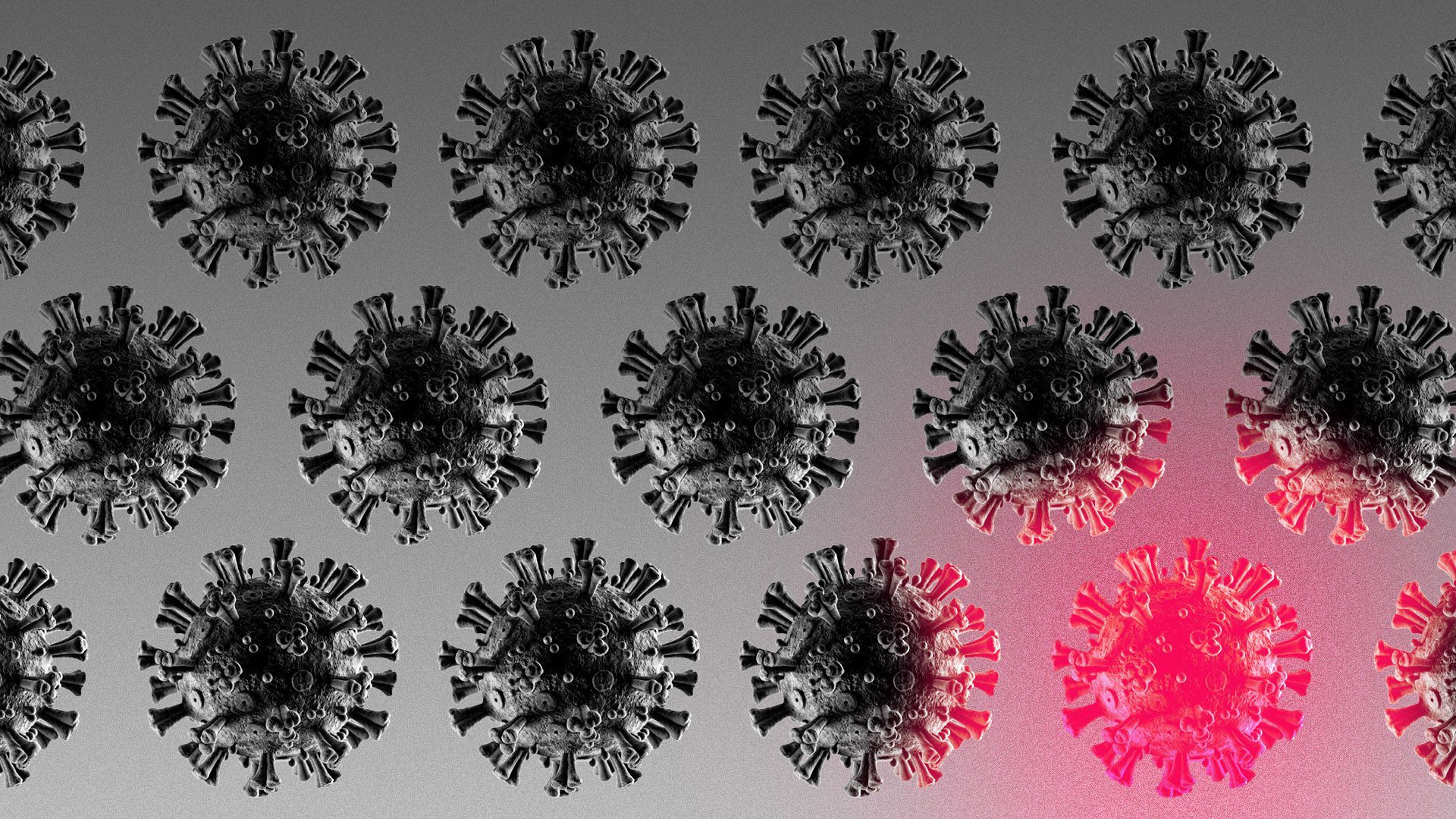 Public health officials are renewing calls for COVID-19 vaccinations, as a more infectious variant that can be thwarted with available vaccines is spreading rapidly in the United States.
Why it matters: The B.1.617.2 (or Delta) variant was first detected in India and is expected to become the dominant strain in the U.S. in three to four weeks, some researchers say. If vaccination rates continue to slow, the variant could fuel surges in pockets of the country this fall.
More transmissible variants continue to supplant previously dominant strains, raising the stakes for people who aren't vaccinated and reminding Americans that the pandemic isn't over — a fact many other countries still face.
The steady uptick in B.1.617.2 "very much mirrors what happened in the United Kingdom about a month ago. And so I fully expect that sometime in the next three or four weeks, the Delta variant will be the dominant SARS-CoV-2 lineage in the U.S.," says Andrew Pekosz, a virologist at the Johns Hopkins Bloomberg School of Public Health.
By the numbers: The CDC — which listed B.1.617.2 as a variant of concern this week — says it was responsible for about 10% of new COVID-19 cases in the U.S. for the two-week period ending June 5. This compares to 2.7% of cases in the prior two-week period.
The variant appears to be about 64% more transmissible than the most common variant right now in the U.S., B.1.1.7 (or Alpha variant first found in the U.K.), which itself was roughly 50% more transmissible than earlier strains.
Details: The variant — like others before it — has genetic mutations that have been found to enhance the virus' binding to the surface of a host's cells, MIT Tech Review reports.
But B.1.617.2 also has a mutation that preliminary experiments suggest may make it more efficient for the virus to be cleaved in a specific location — a key step in the process of a virus entering the cell where it replicates.
The next steps are to determine whether that change translates into having an impact on where the virus replicates in the lungs and airways, which affects its transmissibility and the severity of disease it causes, Vineet Menachery, a virologist at the University of Texas Medical Branch, tells Axios.
The big picture: B.1.617.2 fueled India's devastating outbreak this spring and has since been detected in more than 80 countries.
On Monday, U.K. Prime Minister Boris Johnston extended the country's COVID-19 restrictions, citing the rapid spread of the variant, which is responsible for about 90% of new cases there.
"The variants continue to spin out of infections around the world and have gotten more complicated and more dangerous," says Michael Osterholm, director of the University of Minnesota's Center for Infectious Disease Research and Policy.
In the U.S., public health experts warn the variant poses a risk to people who are unvaccinated. While a national surge is unlikely given parts of the country have high rates of vaccination, variants could fuel local and regional outbreaks, particularly in the South.
"We have a mistaken belief [the pandemic] is over here, but there are over 100 counties where less than 20% of the people have one dose of vaccine," Osterholm says.
In 15 states, at least 70% of adults have received at least one dose of a COVID-19 vaccine, but in four states, less than 50% have gotten a shot.
Hot spots may start popping up this fall, as those who remain unvaccinated start congregating indoors and schools begin a new year, Pekosz tells Axios.
Plus, Pekosz points out that younger, healthy individuals can and have been getting more severe COVID and that long COVID also is a "very real problem penetrating all age groups."
What to watch: This won't be the last SARS-CoV-2 variant, and others could be more severe. "The challenge is what is the next variant going to look like," Osterholm says.
G7 countries this week pledged to collectively donate nearly 1 billion vaccine doses in the next year, but that still leaves billions of unvaccinated people — and ample opportunity for new variants and the possibility of one that could present a serious challenge to vaccines.
"We've got to get more people vaccinated globally not just for humanitarian reasons but for strategic protection of our vaccines," Osterholm says.
The bottom line: "If you get the vaccine, you'll have less to worry about with a variant. It really is that simple," Pekosz says.
Go deeper: Keep tabs via Axios' Coronavirus Variant Tracker.
Go deeper