Big Tech moves in on the creator wars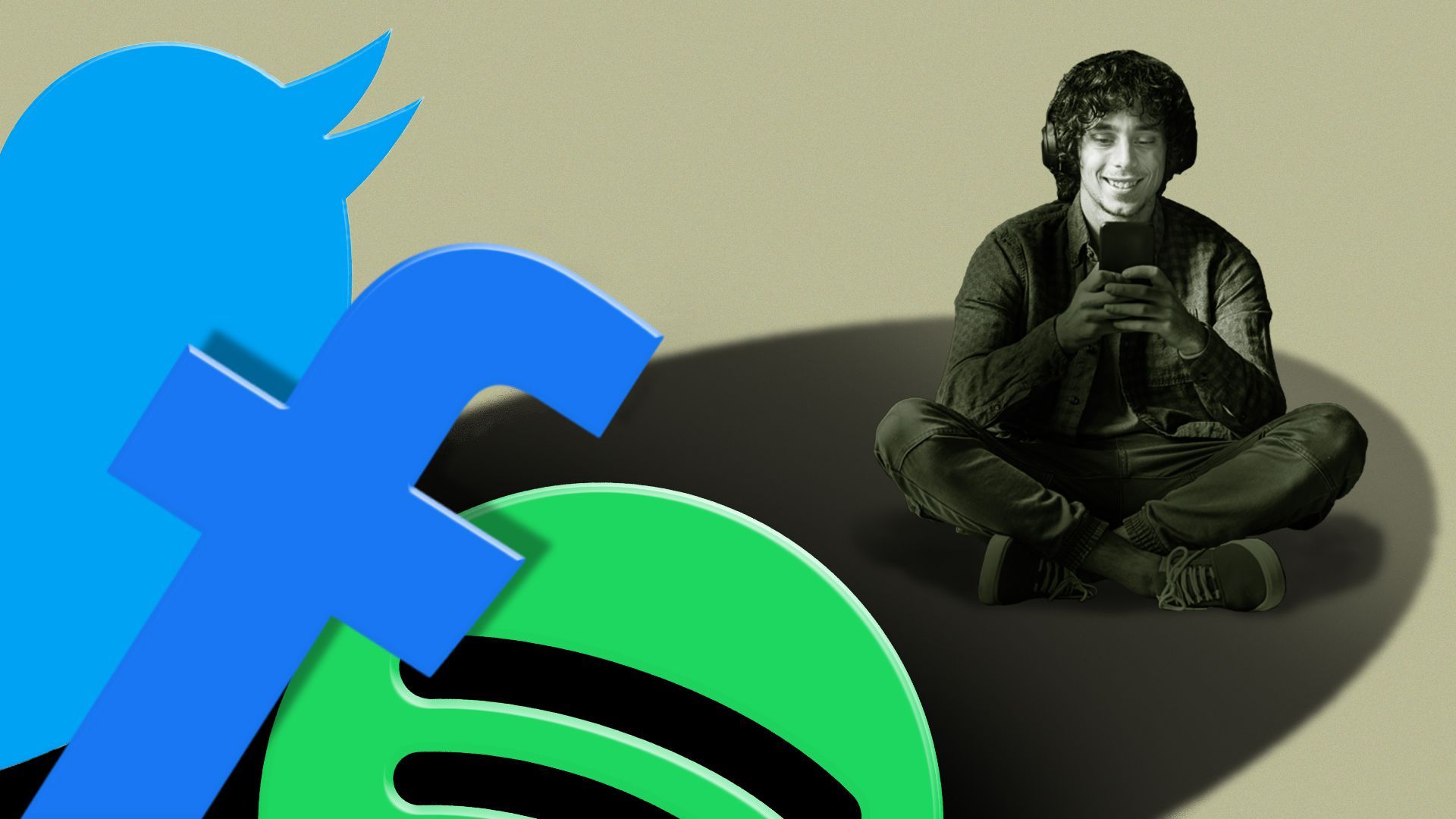 Tech giants like Facebook, Spotify and Twitter are racing to build and acquire new tools that will help them compete with smaller upstarts for the attention of individual creators.
Why it matters: The attention economy shifted significantly during the pandemic towards individual creators who make content for niche groups of fans. Now that brands and consumers are catching on, Big Tech firms want in.
The big picture: Tech platforms like Google, Facebook and Twitter have spent so much time focused on making ad revenue from businesses, that they have fallen behind on making tools for individual creators to build audiences and make money.
To fill that void, a slew of new upstarts gained traction over the past few years, like Clubhouse for live audio, Discord for groups chats, TikTok for short video, Substack for newsletters and Patreon for tipping and payments. Now, they're starting to face competition from much bigger companies.
Live audio: Spotify on Wednesday unveiled its new live audio app called Greenroom, which lets creators join live audio rooms and turn those conversations into podcasts. The new app was built shortly after the music and podcast giant acquired Locker Room, a smaller live audio startup.
Facebook hosted the first beta test for its new "Live Audio Rooms" features. Reporters joked that the feature looked similar to other live audio apps, including Twitter Spaces and Clubhouse.
Twitter Spaces last month expanded, further encroaching on the turf of Clubhouse — the venture-backed standalone live audio app that gained enormous popularity during the pandemic, but has since faced increased competition.
Podcasts: Facebook will roll out new podcast tools for creators next week, The Verge reports.
Spotify is launching specialized creator tools for smaller podcasters to earn money from subscriptions or tips. Apple's new podcast subscription and creator tools rolled out worldwide on Tuesday.
Newsletters: Facebook is looking to soon launch its independent creator newsletter writing tool, called "Bulletin," Vox Media reports.
Sources tell Axios it's looking to pay writers with significant advances to lure them to the platform — a similar strategy used by Substack, an independent newsletter platform that gained lots of traction during the pandemic.
Twitter earlier this year bought newsletter platform Revue for journalists to write newsletters and embed sign-up links in their Twitter profile. It launched its first news operation via Revue earlier this month.
Payments: Dozens of platforms have started to roll out features that allow users to tip their favorite creators, or pay them directly. These features make it easier for individual creators to get paid — something Patreon has long facilitated for creators via subscriptions or individual content payments.
Short-form video: Facebook, Twitter, Snapchat, YouTube and Reddit have all launched or acquired short-video products to compete with TikTok.
Unlike some of the creator apps that have taken off during the pandemic, TikTok seems poised to withstand the competition, in large part because it's already owned by a massive Chinese tech company, ByteDance.
What to watch: The market for creators is ballooning, so the war for creators' attention is only expected to intensify in the coming years. There are about 50 million people who consider themselves to be creators, according to the venture firm SignalFire.
Go deeper