AG Garland to double enforcement staff to protect voting rights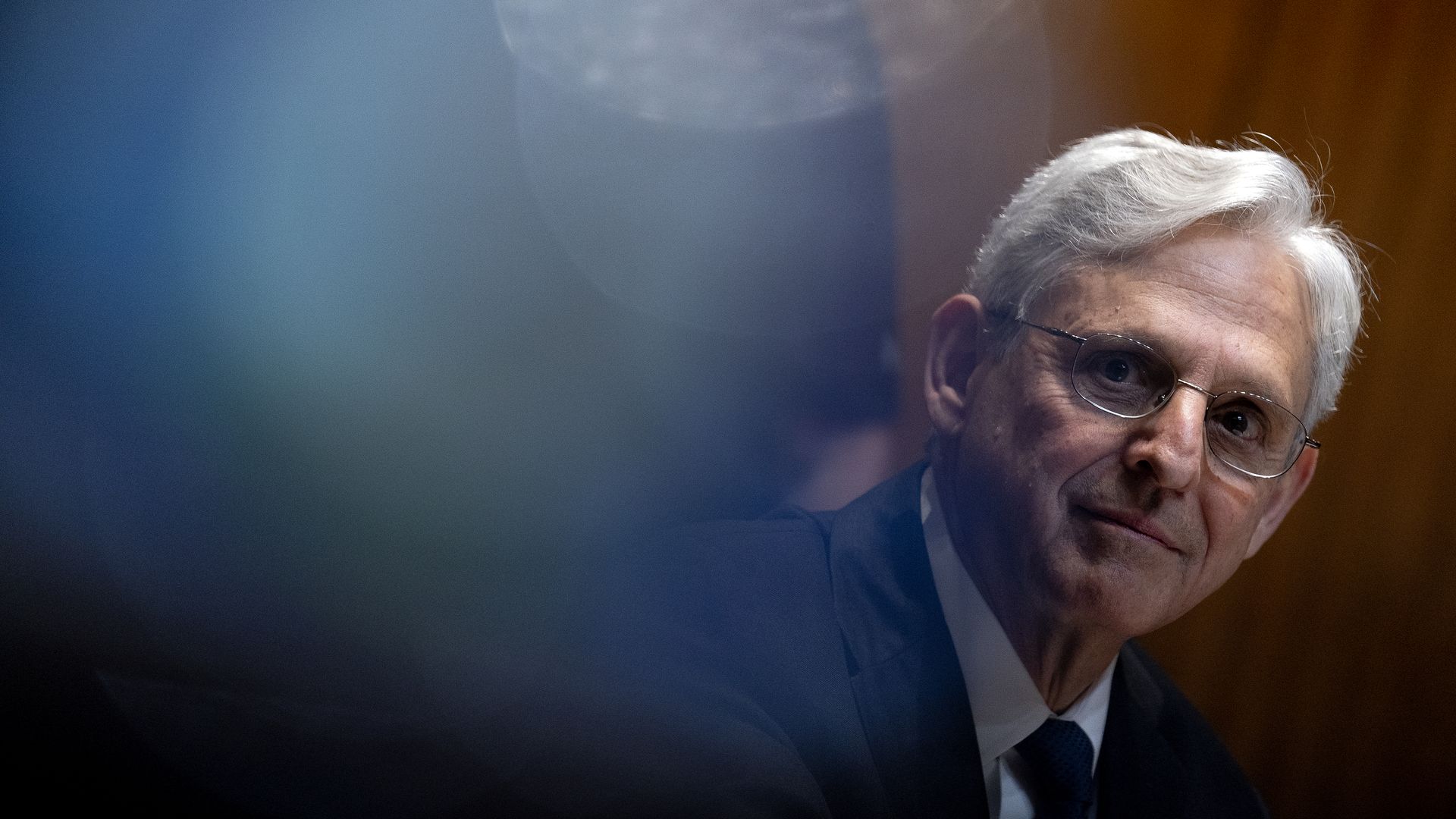 Attorney General Merrick Garland on Friday announced the Justice Department's Civil Rights Division will double the number of enforcement staff dedicated to protecting the right to vote in the next 30 days.
Why it matters: After an election fraught with baseless claims of fraud and a recent flurry of voter restriction bills in state legislatures, Garland underscored his dedication to protecting voting rights. He said the DOJ will "do everything in its power to prevent election fraud, and if found to vigorously prosecute" but will also scrutinize "new laws that seek to curb voter access."
"There are many things that are open to debate in America, but the right of all eligible citizens to vote is not one of them," Garland said in his speech. "The right to vote is the cornerstone of our democracy. The right from which all other rights, ultimately flow."
Garland criticized some post-election audits, saying they have relied on "assertions of material vote fraud in the 2020 election that have been refuted by law enforcement and intelligence agencies."
He said the DOJ has "not been blind" to the rise in threats toward election workers, saying it undermines "our electoral process, and violate a myriad of federal laws."
He said the criminal section of the Civil Rights Division will work to investigate and prosecute when federal laws have been violated.
What to watch: Garland said that Justice officials are looking at practices that discriminate against voters of color, including specifically jurisdictions where non-white voters wait in line longer than white voters to cast their ballot.
The agency will publish guidance explaining post-election audits and on early and mail-in voting.
Garland said agency officials will work with Congress on federal legislation to protect voting rights. "We need Congress to pass S-1 and the John Lewis Voting Rights Act, which would provide the department with the tools it needs," he said.
The big picture: Republicans have floated hundreds of restrictive voting bills in state legislatures this year, and at least 22 have been enacted, according to the Brennan Center.
Meanwhile, Sen. Joe Manchin (D-W.V.) has all but dashed Democrats' hopes of passing the For the People Act, a sweeping election reform bill.
Biden earlier this month tapped Vice President Harris to lead the administration's push to protect voting rights.
This all comes ahead of the decennial redistricting process, where district lines are redrawn based on new Census counts.
A study found that one-in-two states are at risk of gerrymandering, or having lines drawn to favor one political party.
It will be the first time in decades that certain states will not be required to get their maps pre-cleared by the Justice Department, due to a 2013 U.S. Supreme Court decision. Under the same pre-clearance requirement no longer in effect, DOJ objected to more than 1,000 state voting changes between 1965 and 2006, Garland said.
Go deeper