What Biden packed for Europe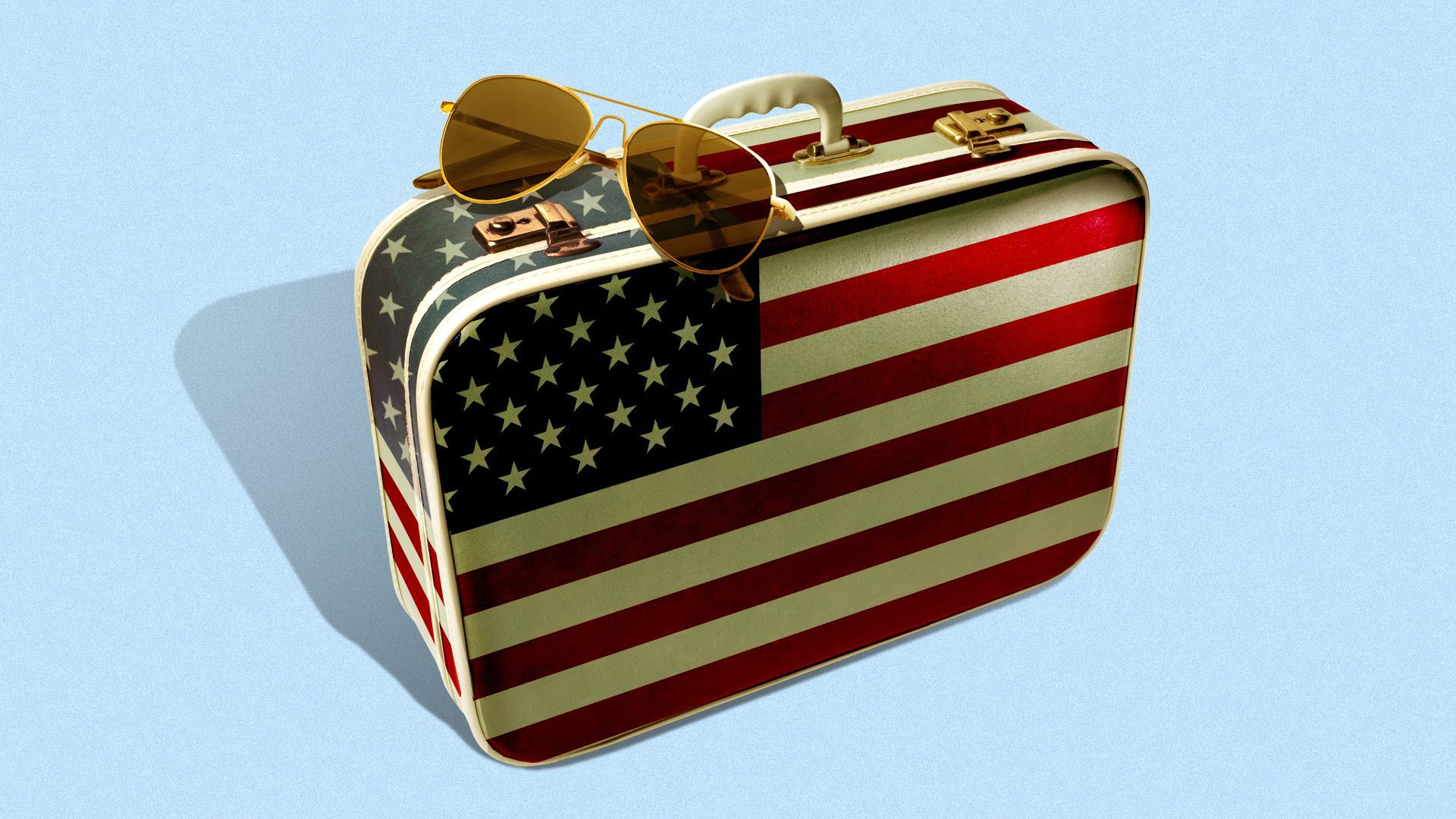 500 million COVID-19 vaccine doses. Jill Biden's "Love" jacket. And an updating of the Atlantic Charter that briefly let President Biden and Prime Minister Boris Johnson channel FDR and Winston Churchill.
The big picture: Joe Biden's first foreign trip as U.S. president is a carefully-managed mix of multilateralism and message discipline so far — and a deliberate contrast to his predecessor's M.O. on the international stage.
Why it matters: We're still in the off-Broadway soft opening ahead of next week's summit with Russian President Vladimir Putin.
Be smart: Biden isn't Donald Trump. We already knew that. But the scheduling and visual cues of this trip are driving that message home.
It's old friends first for Biden — and coalitions over unilateralism and bilateralism. He has G7 events today (Friday) through the weekend in the U.K., then NATO and the European Union meetings in Brussels, before his June 16 session with Putin in Geneva.
In 2017, Trump shook things up by making Saudi Arabia the first stop of his debut foreign trip — remember that ceremonial sword dance. He also criticized NATO members for not paying "their fair share," and left G7 members hanging on the Paris climate deal.
The jacket First Lady Jill Biden wore on Thursday — with the word "Love" stitched in beads across the back — drew immediate comparisons with the jacket that Melania Trump wore in 2018 en route to a child migrant center, with, "I Really Don't Care, Do U?" in white lettering across its back.
Biden travels old-school: a newspaper tucked under his arm as he heads to his aircraft, and a notebook in hand for his meetings with leaders.
What we're watching: Aides to Biden, 78, have kept his events and pacing manageable in a way reminiscent of Ronald Reagan's travel in the 1980s.
Aides to Reagan —then the oldest American to assume the presidency — would ensure he was rested and ready on long trips to Asia by making stops in his home state of California or the mid-Pacific way station of Hawaii.
Biden has since assumed the mantle as oldest president. He made a daytime flight to Europe on Wednesday but on Thursday had nothing on his public schedule until mid-afternoon — a buffer against jet lag.
One tradition from his days as vice president was an overseas stop at the Shannon Airport in Ireland, where he'd hit the duty-free shop while the smaller plane refueled. But his Air Force One departure took him straight from Joint Base Andrews to RAF Mildenhall.
Go deeper