Jon Stewart urges Congress to pass bill to help vets exposed to toxins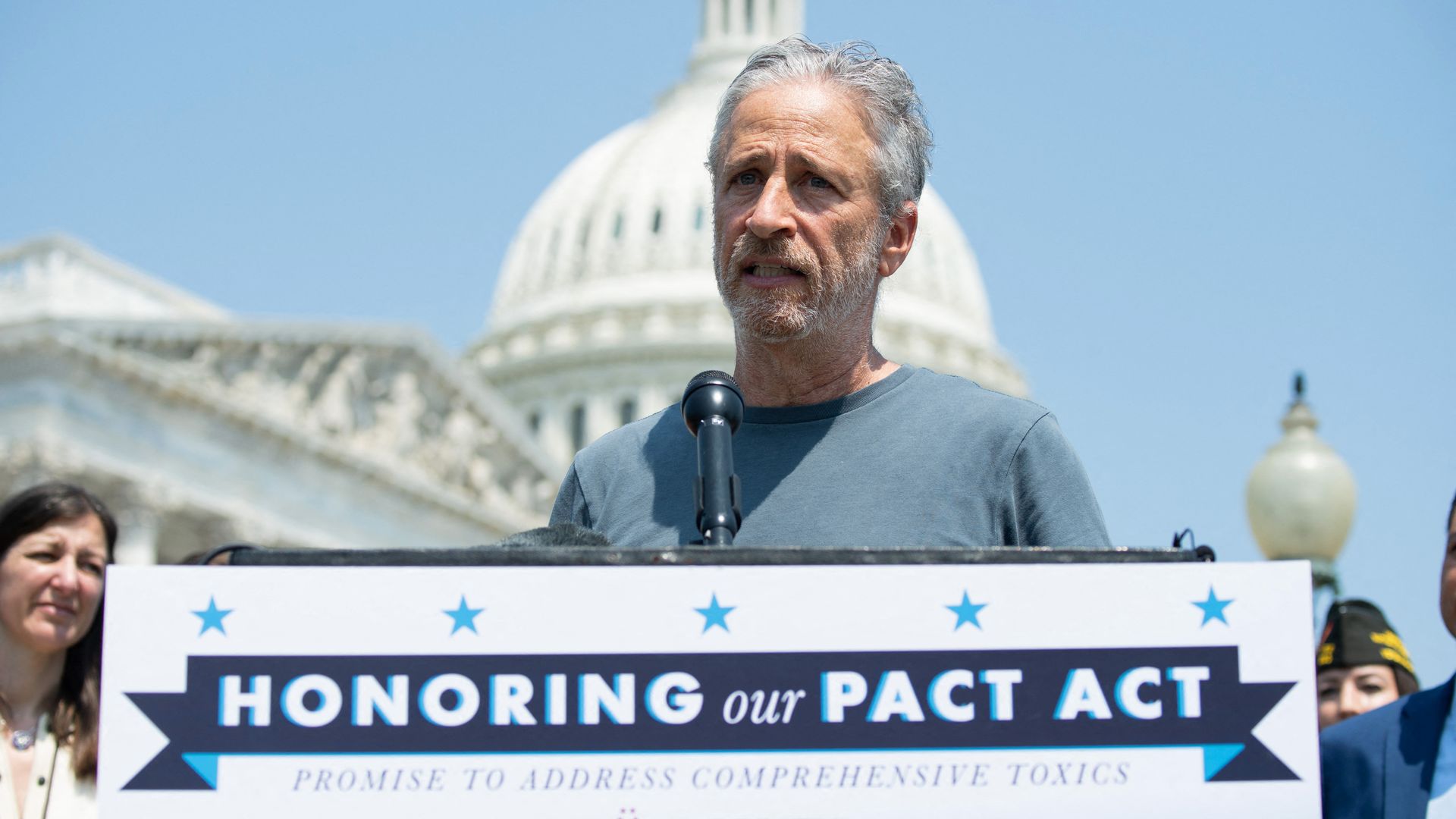 Comedian Jon Stewart joined House lawmakers on Capitol Hill Wednesday to support legislation that would help veterans exposed to toxic substances access Veterans Affairs benefits.
Why it matters: House Veterans' Affairs Committee Chair Mark Takano (D-Calif.) said during a briefing the legislation could provide health care to some 3.5 million veterans who became ill after being exposed to toxic burn pits during this century's wars in Iraq and Afghanistan.
Chemicals from the smoke have been linked to cancers and respiratory illnesses, but the Department of Veterans Affairs has said there's not enough evidence of this.
The legislation would remove the "burden of proof" from veterans seeking help and force the Department of Veterans Affairs to "presume certain illnesses are linked to exposure to hazardous waste incineration," per the Washington Post.
What he's saying: "These individuals who volunteered to fight in these wars are now fighting their own government," Stewart said Wednesday, ahead of Takano introducing the legislation in Congress.
"Congress' reticence and inaction has caused our veterans community over these many years to negotiate against itself. To negotiate against the need that they have and the need that their population has against the purse strings that the VA and the Congress were holding over them.
"Defense contractors can't view the U.S. Congress as Willy Wonka's chocolate factory, while veterans are back there like Oliver with a bowl of gruel asking, 'Please, sir, may I have some more? It's bulls--t and it's got to stop. And if these bills can finally end this cycle for the veterans… then we have to get this done."
— Stewart
By the numbers: Almost 16,000 claims were made by veterans citing "burn pit," but roughly 60% were refused, WashPost reports.
Of note: Stewart has noted previously that jet fuel was used as an accelerant for the pits — a "common ingredient" in illnesses for both veterans and 9/11 first responders, for whom he has also passionately advocated on Capitol Hill.
Go deeper