Google's biggest announcements at I/O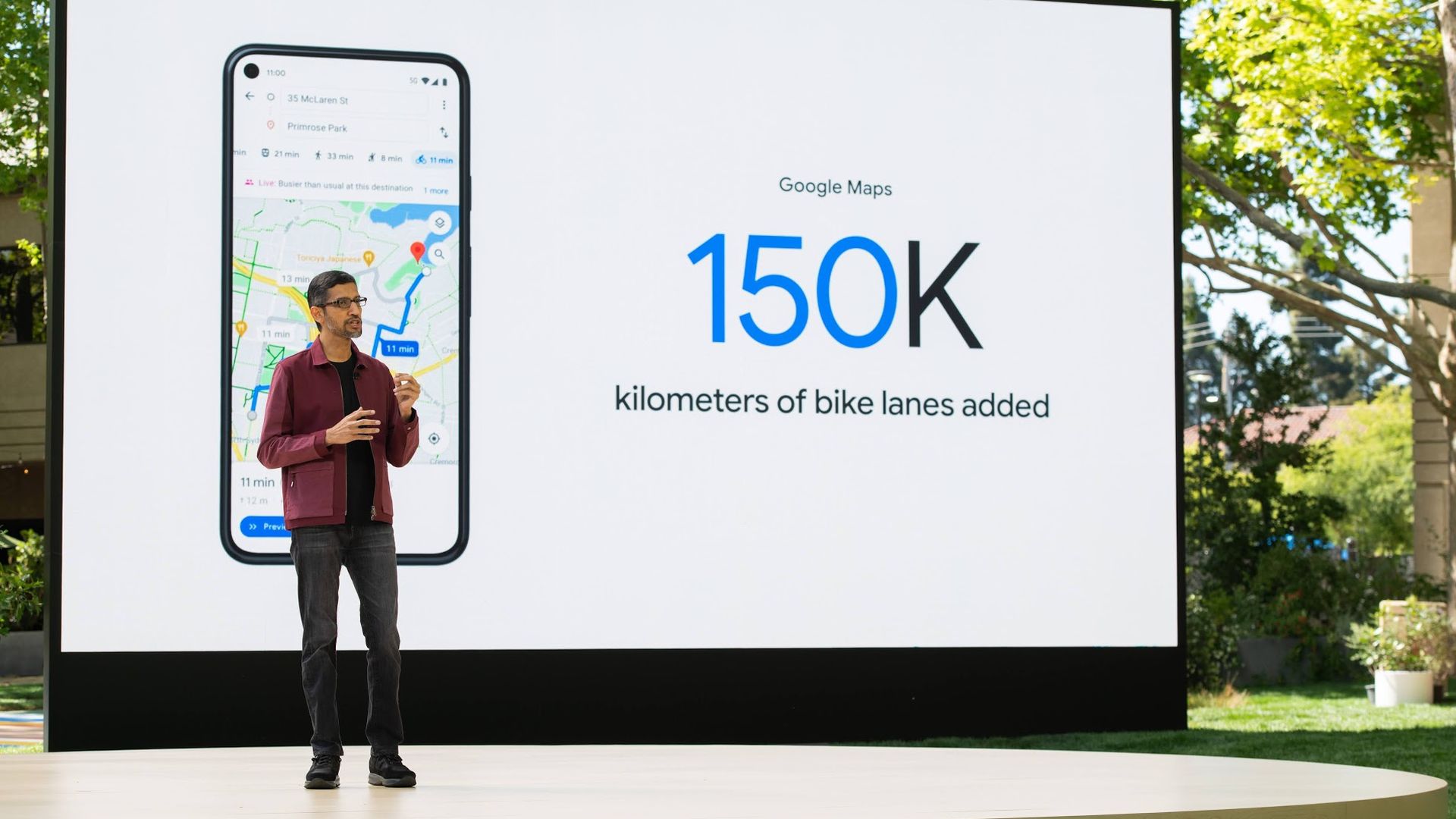 After scrapping last year's I/O developer conference because of the pandemic, Google used this year's event Tuesday to debut a more personalized version of Android and a big update for wearables, as well as a potential breakthrough in videoconferencing, among other advances.
Why it matters: Beyond showcasing new technologies, events like I/O and Apple's upcoming Worldwide Developer Conference serve as a chance to influence where other businesses large and small place their energy and resources.
Here are the announcements that stood out:
Android 12 will be more personalized, using a new design language aimed at tailoring the appearance of content to a person's preferred color schemes.
With the next version of WearOS — Google's operating system for watches — Samsung is joining forces with Google rather than building on its own Tizen operating system. Fitbit will also start building watches on WearOS, giving the company a larger ecosystem to take on Apple Watch.
Google Photos will get the ability to create animations out of still photos as well as the ability to exclude painful memories from being resurfaced. Also, like Snapchat, Google is working to make the camera more inclusive, especially around capturing darker skin tones, an effort that will show up first on Pixel phones this fall.
In perhaps the coolest demo, Google offered a glimpse of Project Starline, which uses high-end cameras, custom depth sensors and a new type of light field display to create videoconferencing that feels like a person is sitting next to you — or so Google says. It's testing the technology in several of its own offices and hopes to expand to partners in media and health care. (You can see a promo video here.)
The big picture: Google also used the event to portray itself as concerned about everything from climate to accessibility to equity and inclusion, at a time when the company is under intense scrutiny from regulators, lawmakers and activists on a variety of topics.
On the environment, Google announced a major push around geothermal energy, which it hopes to tap as part of an ambitious effort to operate on carbon-free energy 24/7 in all its offices and data centers by 2030.
Meanwhile: Google also showed a ton of other technologies and feature updates, including more powerful TensorFlow chips, more conversational AI methods, new augmented reality experiences around athletes, and tighter integration between Shopify and Google Shopping.
On the maps front, Google is adding routing options to optimize for greater fuel economy or a route less likely to require hard braking.
Yes, but: If you were looking for new hardware you could buy now, I/O didn't deliver.
Go deeper