Elise Stefanik elected No. 3 House Republican after Liz Cheney ouster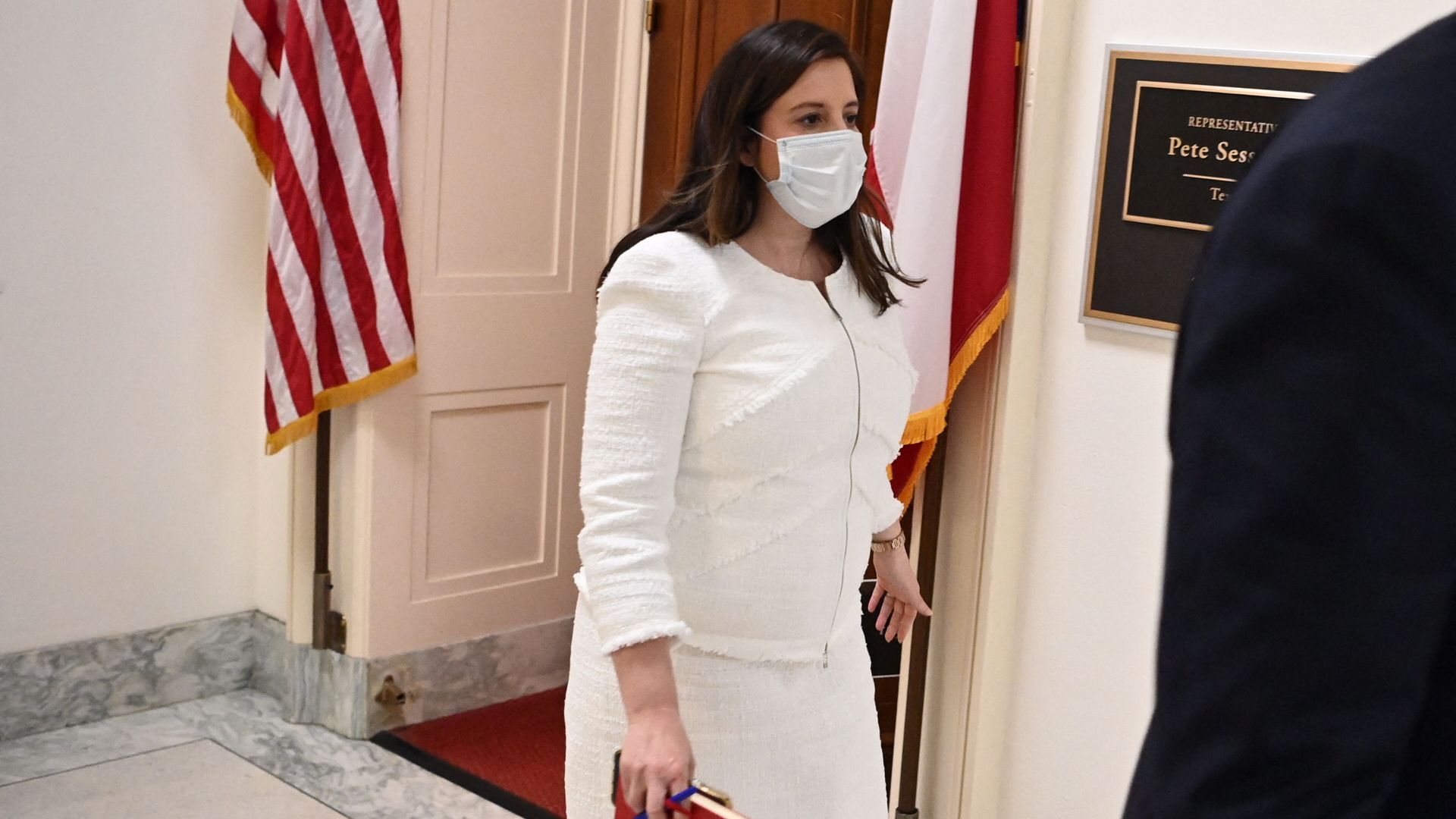 House Republicans voted 134-46 in a secret ballot Friday to appoint Rep. Elise Stefanik (R-N.Y.) as the chair of the GOP conference, replacing Rep. Liz Cheney (R-Wyo.).
Why it matters: Stefanik's appointment underscores how important loyalty to former President Trump remains to the Republican Party.
Driving the news: The election comes after Cheney was ousted earlier this week over her repeated condemnation of Trump. She has pledged to continue the fight to shape the GOP and stop the former president from ever holding office again.
Cheney was one of 10 House Republicans who voted to impeach the former president for inciting the Jan. 6 Capitol attack, and plans to lean into her criticisms of both Trump and those she believes are his enablers — including GOP Leader Kevin McCarthy.
Stefanik, who aligned more with moderate Republicans before becoming an ardent Trump defender during his 2019 impeachment, has embraced a number of his false claims about the election.
The big picture: As the No. 3 House Republican, Stefanik will be responsible for helping craft the conference's messaging. Top Republicans say her elevation will allow the GOP to focus its energy on combating President Biden's agenda, rather than getting derailed by intra-party feuds.
Trump, McCarthy, and House Minority Whip Steve Scalise (R-La.) endorsed Stefanik prior to Friday's vote. "The House GOP has a massive opportunity to upgrade this week from warmonger Liz Cheney to gifted communicator Elise Stefanik," Trump said in a statement.
Rep. Chip Roy, a member of the House Freedom Caucus who has criticized Stefanik's conservative credentials, mounted a late, but ultimately failed challenge this week. He won 45 votes.
What she's saying: "My focus is on unity because that's what the American people and that's what our voters deserve," Stefanik said in a press conference immediately after being elected.
"I also want to thank President Trump for his support. He is a critical part of our Republican team," she added.
"I believe that voters determine the leader of the Republican Party and President Trump is the leader that they look to. I support President Trump, voters support President Trump, he is an important voice in our Republican Party and we look forward to working with him."
Between the lines: Despite her public loyalty to Trump, Stefanik only voted in line with the former president's positions 77.7% of the time while he was in office, according to FiveThirtyEight. Cheney, by comparison, voted with Trump 92.9% of the time.
Behind the scenes: The GOP conference meeting began at 8:30 a.m. ET and was over relatively quickly, given the overwhelming support for Stefanik. Members were eager to get out of town for the weekend.
Go deeper