House Republicans vote to remove Liz Cheney from leadership
House Republicans ousted Rep. Liz Cheney (R-Wyo.) as conference chair in a voice vote Wednesday, capping months of growing backlash over her criticisms of former President Trump, according to two sources in the room.
Why it matters: The stunning removal of the No. 3 House Republican over her condemnation of Trump's election lies reflects the influence the former president still retains over the GOP.
The big picture: The vote marks the most significant turning point in an internal party feud that is unlikely to subside any time soon.
A vote will be held Friday on Cheney's replacement, according to two sources familiar with the planning. Rep. Elise Stefanik (R-N.Y.) has received the endorsement of Trump, House GOP Leader Kevin McCarthy (R-Calif.), and Whip Steve Scalise (R-La.).
Stefanik wasted no time on Wednesday in formally launching her bid for the role. She sent a letter to the conference shortly after the vote announcing her official candidacy. She is currently the only candidate running.
What we're hearing: Cheney now plans to lean even harder into her criticism of the former president and those she thinks are continuing to enable him — including McCarthy. She will fully embrace her role as chief Republican Trump critic and fighter for an alternative vision of the GOP's future.
Behind the scenes: "I have tremendous affection and admiration for many of you in this room. I know we all came to Washington to do important work for the nation," Cheney told members at the start of the conference meeting, according to a source familiar with the remarks.
"We cannot let the former president drag us backward and make us complicit in his efforts to unravel our democracy. Down that path lies our destruction, and potentially the destruction of our country," she continued.
"If you want leaders who will enable and spread his destructive lies, I'm not your person, you have plenty of others to choose from. That will be their legacy."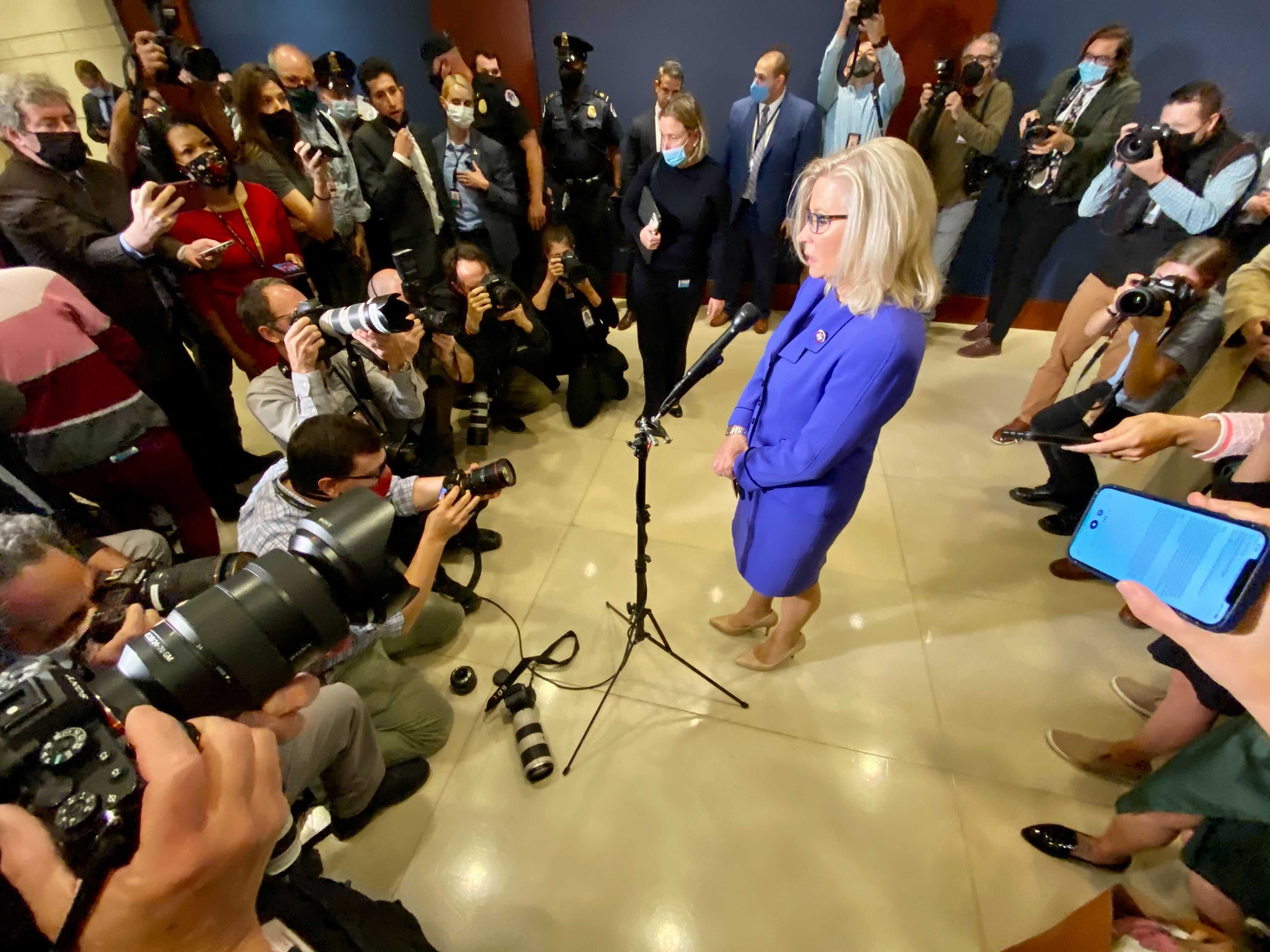 Cheney then closed with a prayer: "Let us pray. Dear God, Fill us with a love of freedom and a reverence for all your gifts. Help us to understand the gravity of this moment. Help us to remember that democratic systems can fray and suddenly unravel. When they do, they are gone forever."
How we got here: Republicans have been unhappy with Cheney ever since she sided against Trump in his baseless claims of election fraud. She was one of 10 House Republicans who voted to impeach the former president for inciting the Jan. 6 Capitol insurrection.
In February, the GOP conference voted 145-61 in a secret ballot to fend off the first bid to oust Cheney from leadership.
House GOP Leader Kevin McCarthy supported Cheney at the time and said she "got a resounding shot in the arm" with the vote, insisting that it showed the party was "united."
Since then, Cheney has continued to criticize Trump, who has re-emerged publicly after his election loss and tightened his grip over the Republican Party.
Earlier this month, Scalise came out publicly in favor of replacing Cheney with Rep. Elise Stefanik (R-N.Y.). Trump soon followed his suit with his own endorsement.
Though McCarthy said publicly the House GOP had "no concern" about Cheney's vote to impeach Trump, he was caught on a hot mic saying he's "lost confidence" in her and "she's got real problems."
On Sunday, McCarthy made his position public and officially endorsed Stefanik to replace Cheney, telling Fox News that the GOP needs to be "united" with a conference chair who will consistently deliver the party's message.
Stefanik formally launched her bid for conference chair in a letter to House Republicans shortly after Wednesday's vote.
What they're saying: In her last public speech as conference chair, Cheney tore into the Republican Party's slide toward authoritarianism and said Trump's baseless claims of election fraud pose a threat that "America has never seen before."
"Remaining silent and ignoring the lie emboldens the liar. I will not participate in that."
"I will not sit back and watch in silence while others lead our party down a path that abandons the rule of law and joins the former president's crusade to undermine our democracy."
What's next: Cheney — a conservative who decided against running for Senate in Wyoming last year to remain in the House, where she had expected to continue to rise in leadership — has told associates she plans to run for re-election.
"I will do everything I can to ensure that the former president never again gets anywhere near the Oval Office," she told reporters after the conference meeting.
Go deeper: Inside Liz Cheney's game plan after being ousted from leadership
Go deeper