Pelosi's Republican playbook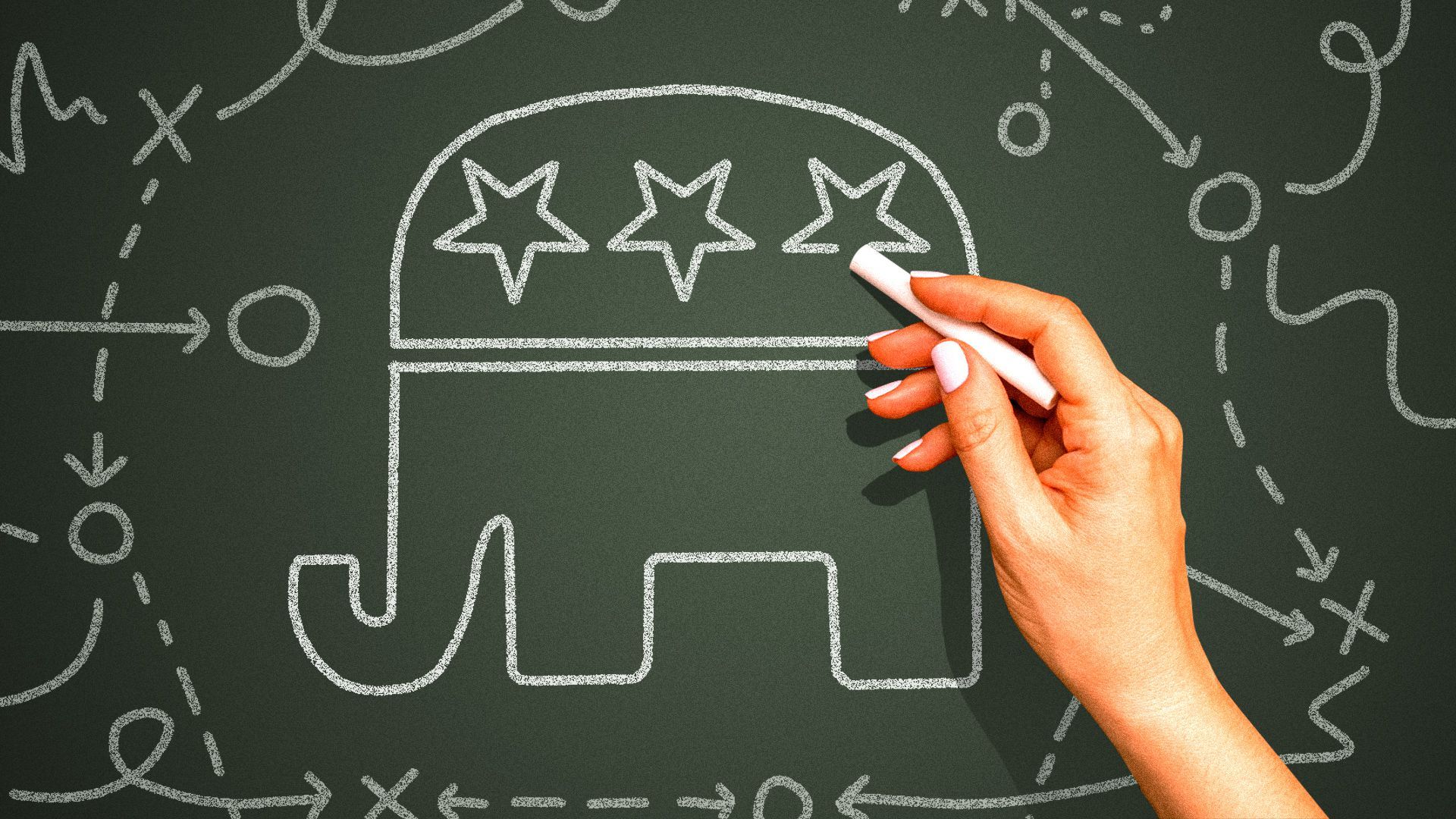 As Republicans fight among themselves, House Speaker Nancy Pelosi (D-Calif.) is showing the myriad ways she deals with the GOP herself.
Between the lines: We've seen Pelosi cut opponents off at the knees, like she did with President Trump, or pretend to forget their names, as she did to Sen. Ron Johnson (R-Wis.). Now she's feeding oppo research against her House counterpart, Minority Leader Kevin McCarthy (R-Calif.), so others can use the same harsh rhetoric to frame the Republicans as the party of dysfunction.
The spectrum of her tactical range will be on full display this week.
House Democrats must react to Republican efforts to remove Rep. Liz Cheney (R-Wyo.) as GOP conference chair as early as Wednesday. And the "Big Four" congressional leaders will meet that same day with President Biden at the White House.
What we're hearing: This is all being driven by Pelosi.
"The messaging is 95% her, 5% her team," a Democratic congressional aide told Axios.
Keep in mind: Pelosi has said this will be her last term, so she has little to lose by going all in and taking on her political enemies.
One of the last times Pelosi, McCarthy, Senate Majority Leader Chuck Schumer (D-N.Y.) and Senate Minority Leader Mitch McConnell (R-Ky.) gathered in the Oval Office, in December 2018, the senators' roles were reversed.
Pelosi famously stood up to Trump from across a coffee table, telling the-then president "please don't characterize the strength that I bring to this meeting as the leader of the House Democrats" as he conjectured about her ability to avoid an impending government shutdown, referring to her as "Nancy."
Moments earlier, she'd also deployed another tactic, needling the leader of the free world by branding it "the Trump shutdown."
Roughly a year later, when congressional leaders had another contentious meeting at the White House, a viral photo showed Pelosi standing in a sea of men, wagging her finger at the former president, whom she later said had "a meltdown."
Another tactic deployed by Pelosi is feigned forgetfulness.
She once called Sen. Johnson by the name "Don" instead of "Ron" while criticizing him over his response to the Jan. 6 insurrection.
She's also acted as if she can't remember fellow lawmakers at all, as she's done with McConnell while discussing negotiations over coronavirus relief.
Pelosi has also refused to work with some GOP leaders altogether — such as when she told the Trump team last year she would only negotiate a stimulus package with Treasury Secretary Steven Mnuchin and not White House Chief of Staff Mark Meadows.
The third iteration is at work today. Pelosi's office has ramped up its opposition research emails attacking McCarthy and other Republican leaders amid the drama surrounding Cheney's ouster.
The subject line from one such email, dated May 4, read: "From the GOP Leadership: Help Wanted — Non-Threatening Female."
The next day her office sent another email, titled: "McCarthy's Rules: Punishing Truth, Rewarding Lies, Embracing Extremism & Bigotry."
Pelosi has even taken to praising Cheney — one of the most conservative members of Congress — in an effort to undercut Republican leadership.
"I do commend Liz Cheney for her courage, for her patriotism," Pelosi said last week.
The bottom line: The tactics also are quite different from her relationship with former House Republican leader John Boehner, with whom she interacted both as minority leader and House speaker.
While they held vastly different political views, they shared a level of respect and had a working relationship that is completely absent between Pelosi and most of her Republican colleagues these days.
Go deeper