Bustle rebrands ahead of planned IPO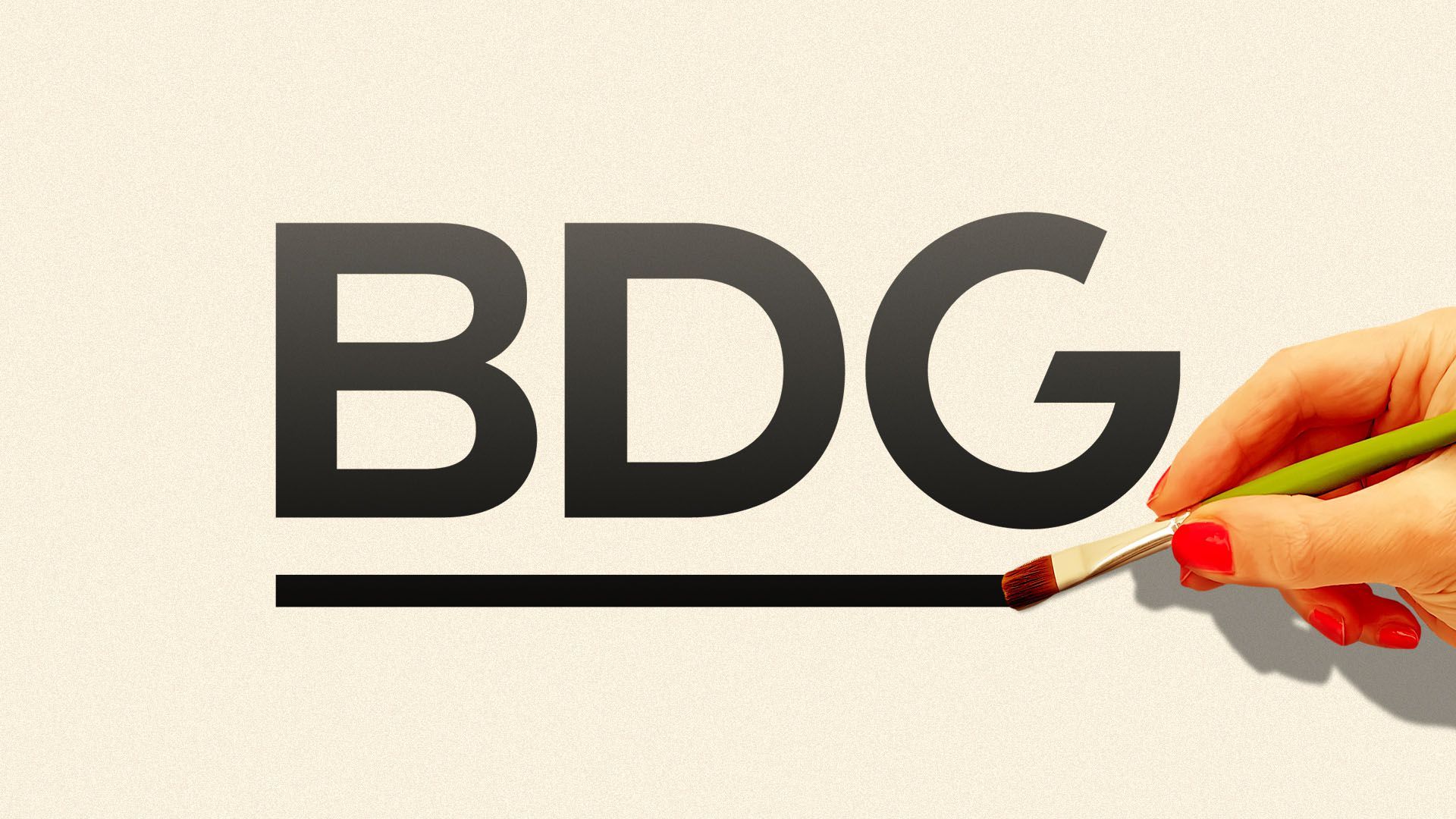 Bustle Digital Group is formally rebranding to BDG, its founder and CEO Bryan Goldberg tells Axios. The new logo and name will roll out Tuesday.
Why it matters: The rebrand will help position the company as a holding group that houses many different digital brands ahead of its anticipated IPO.
"As much as Bustle was our first and still largest property, we want to recognize all of the other great brands that are already on platform and that will be joining platform," Goldberg says.
BDG is still planning to go public via a SPAC (special purpose acquisition company) later this year, Goldberg confirmed.
Details: Bustle was founded by Goldberg in 2013 as an online women's magazine. The company has since expanded into several different verticals across 9 sites, including tech and fashion.
BDG currently has around 500 employees, and expects to add another 100 this year.
Its editorial franchises include Bustle, Elite Daily, Input, Inverse, Mic, Nylon, Romper, W and The Zoe Report.
Later this year, Goldberg says the company is finally planning to relaunch the storied Gawker brand, which it purchased in 2018.
It's been reported that BDG is aiming for an IPO of at least $600 million, including debt. The company doesn't dispute that figure.
From a business perspective, "The company is incredibly healthy right now," Goldberg says, noting that BDG is profitable.
Goldberg says the business recovered quickly from the initial pandemic-driven advertising slowdowns, but still has yet to realize its full potential when it comes to live events. (The company acquired Flavorpill, an experiential brand focused on events, in 2018.)
"Experiential was a big part of our plan," he said. "We had a lot of plans in place before those were wiped out by the pandemic. I'm excited to bring those plans back to life."
This year, the company will bring in over $100 million of revenue.
Be smart: Unlike many digital media companies scrambling to diversify revenues away from being solely reliant on advertising, Goldberg says Bustle plans to double down on ads, and bring more ad-tech in-house.
"We view digital advertising as being a business that's worth $1 billion for us before the end of this decade," he says.
"Our goal is within the next two years to have as little third-party ad tech on our sites as possible. To be the best at what we do, we need to own as much of the ad stack as possible."
Goldberg notes that once the company is public, he can foresee BDG one day buying ad tech companies to support its business.
What's next: "We're hoping to add several more brands in the coming year," Goldberg says. In the future, he envisions having 20-30 brands on the platform.
Asked which types of websites he's eyeing, Goldberg says, "everything is on the table."
"Our core will always be lifestyle and female-facing media brands, but with that being said, we see great opportunities outside of that core."
Go deeper