Updated Apr 22, 2021 -

World
India sets COVID daily case world record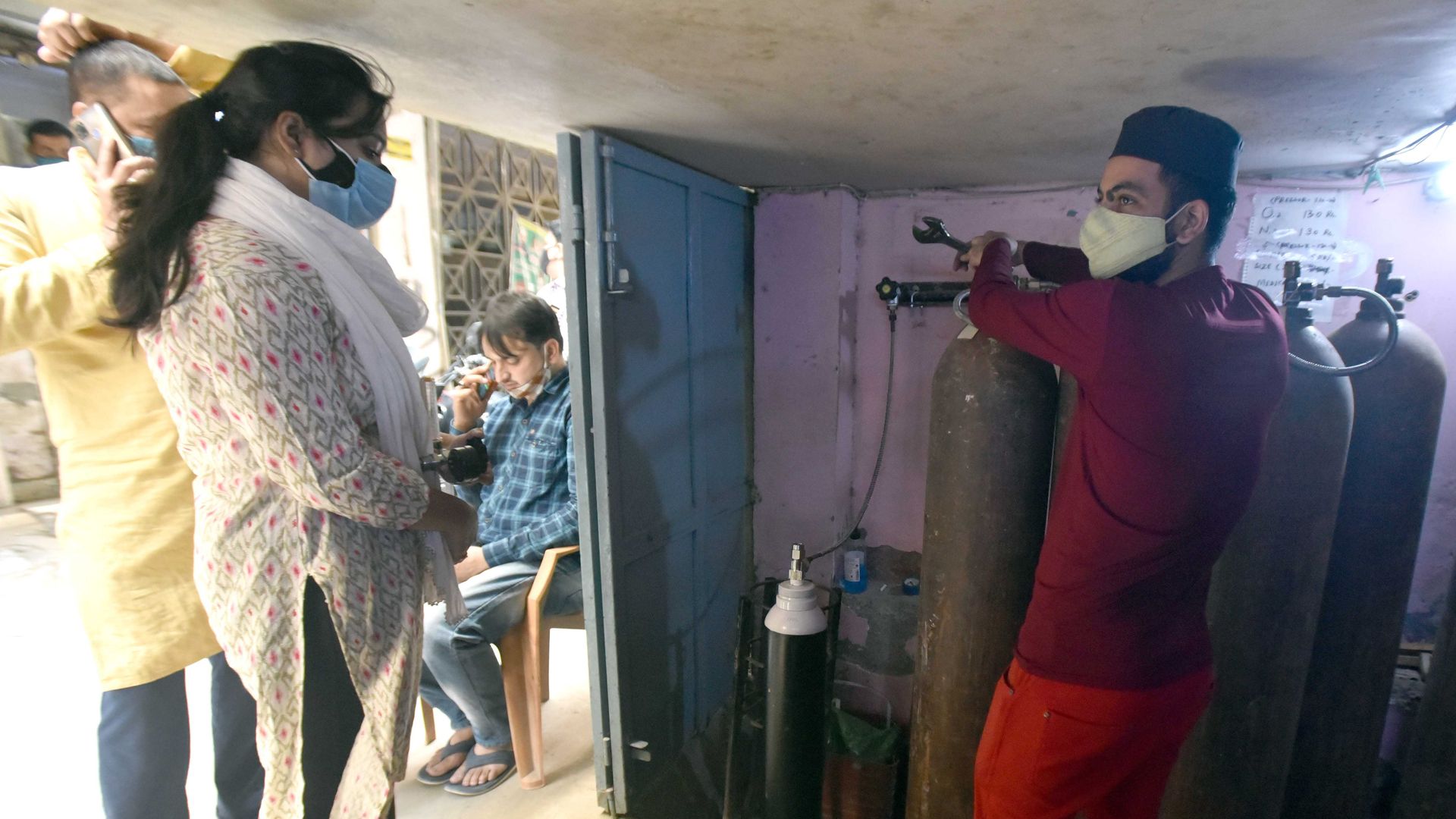 India's health ministry confirmed 314,835 new COVID-19 cases on Thursday, taking the total tally to nearly 16 million infections.
Why it matters: It's the highest number of coronavirus cases reported in a single day anywhere in the world, eclipsing the previous record of 307,581 cases set in the U.S. on Jan. 8, AP notes.
The health ministry said another 2,104 people lost their lives to the virus, taking the pandemic death toll to 184,657 in the world's second-most populous country.
Driving the news: West Bengal reported Thursday that a record 9,819 people had tested positive for the virus, as voters went to the polls in state elections, the Indian Express reports.
On Monday night-time, India's capital, New Delhi, entered a weeklong lockdown, as hospitals became overwhelmed, supplies like oxygen scarce and morgues overfull.
In the city of Nashik, in the state of Maharashtra, 24 coronavirus patients died at a hospital Wednesday after "oxygen supply was disrupted" following "leakage in the main oxygen storage tank," per the Indian Express.
The government of Maharashtra announced fresh pandemic restrictions from 8p.m. Thursday local time through May 1, while authorities on the island of Goa announced a night curfew that will remain in place until April 30.
For the record: More COVID-19 cases have been recorded globally each day this week than ever before in the pandemic, surpassing the previous global peak in early January.
Of note: Earlier this month, India became the second country after the U.S. to surpass 100,000 new coronavirus cases in one day. Case numbers have continued to surge since then.
The country had until this month been exporting most of the coronavirus vaccine doses it was producing for the global COVAX initiative and to countries like Saudi Arabia and the U.K.
But as cases began soaring in India, officials began scrambling to vaccinate as many people as possible — sharply curtailing exports, Lawler notes.
Editor's note: This article has been updated with new details throughout.
Go deeper