Danger lurks in the Democrats' police talk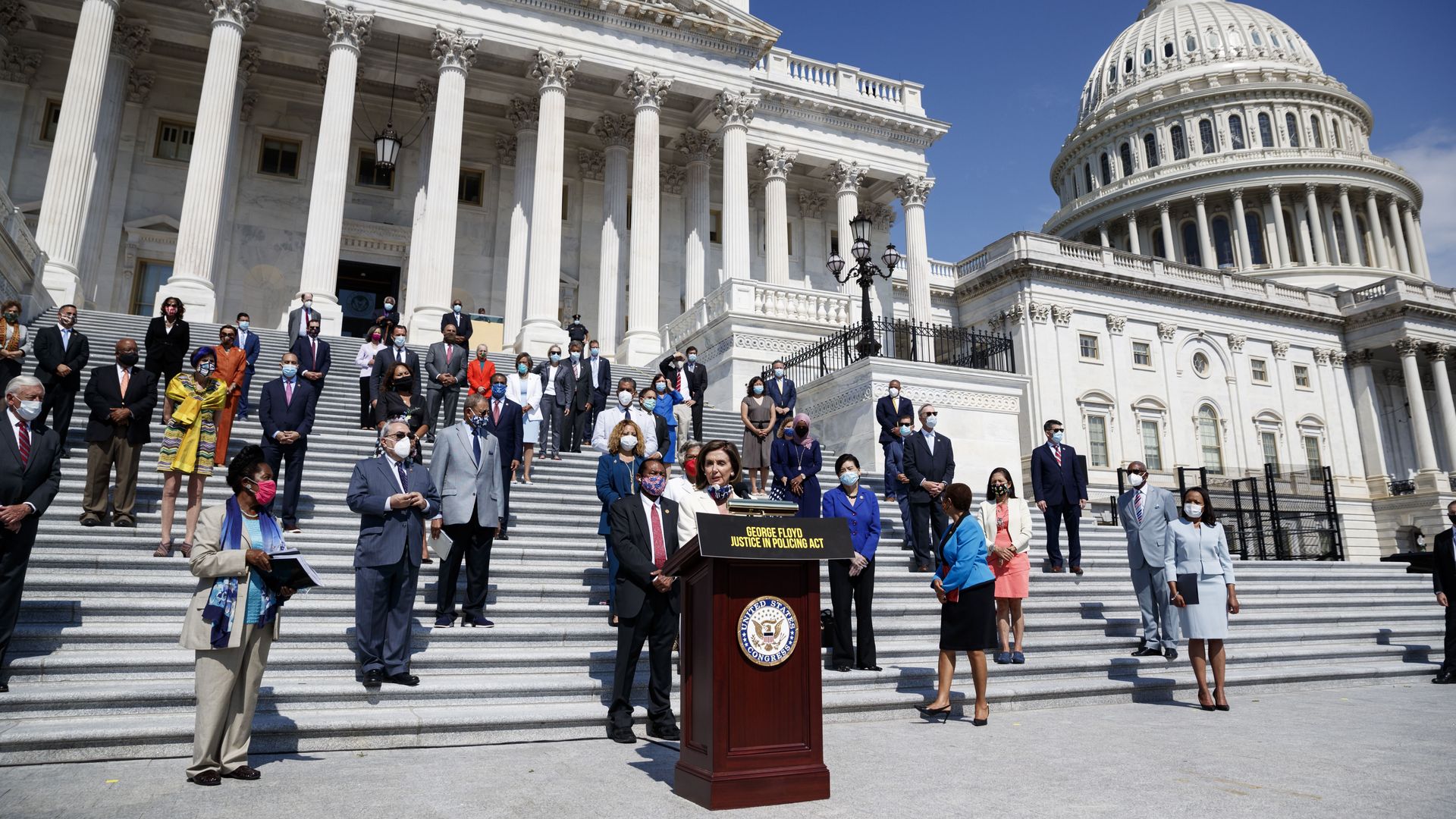 As Congress forges ahead with police reform legislation, Democratic operatives are warning lawmakers to steer clear of any defund-the-police rhetoric since it could hurt them in the midterms.
Why it matters: President Biden and his fellow Democrats say Congress needs to pass the George Floyd Policing Act, which would ban chokeholds, prohibit no-knock warrants and generally make it easier to hold officers accountable for misconduct.
Following Derek Chauvin's guilty verdict, Sen. Tim Scott (R-S.C.) is planning to reintroduce his police reform bill or a similar proposal in the coming weeks.
But behind the scenes, it isn't clear any agreement on comprehensive legislation is imminent, Axios' Alayna Treene writes.
The big picture: While polls suggest the George Floyd legislation, which passed the House, is broadly popular, the nuts and bolts of changing how police departments operate will take place at the local level.
Calls by activists to "defund" police departments can — and have — hurt Democrats in tight races, said Celinda Lake, a pollster who does work for the Democratic National Committee.
"Voters want change," she told Axios. "We need to clearly define the change we are for."
"You have voters that do not want to 'defund the police,' but they do want change in policing," she said.
"When individual politicians are accused of wanting to defund the police, unless they get out really aggressively in defining what they're for, then it does tend to have an impact."
Flashback: After Democrats lost House seats in November, some centrist lawmakers like Rep. Abigail Spanberger (D-Va.) blamed anti-police rhetoric.
"We [need to] look at the things that [the Republicans] say about us," Spanberger said during a heated call with House Democrats, according to audio obtained by the Washington Post. "Because it works."
Not all centrists are worried about it.
"When it comes to issues of social justice, it's way beyond politics," Rep. Stephanie Murphy (D-Fla.) told Axios' Kadia Goba on Wednesday. "It's about people's lives and ensuring safe communities, and that law enforcement receives the support they need."
Go deeper: Some progressive Democrats, like Rep. Rashida Tlaib (D-Mich.), want to go beyond the George Floyd Act and continue making the case to defund the police — which could complicate Democratic messaging.
"Policing in our country is inherently & intentionally racist," she tweeted last week. "No more policing, incarceration, and militarization. It can't be reformed."
What we're watching: In Minneapolis, the City Council pledged after Floyd's death to defund the police department, but that's run into a series of roadblocks and faces uncertain public support, Axios Local's Nick Halter writes from Minneapolis.
Mayor Jacob Frey (D) has resisted efforts to dismantle or defund the police, and instead wants to reform the department. He is up for re-election in November, as are all 13 City Council members.
While Frey is seen as a heavy favorite, many of the City Council members who made the pledge are being challenged from their right.
The bottom line: "There's no question that Republicans are eager to put Democrats in the 'defund/anti-policing' box," said Matt Bennett, the co-founder of Third Way.
"But it's going to be hard to do that with the actual legislation."
Go deeper