Senate targets Apple's tight App Store reins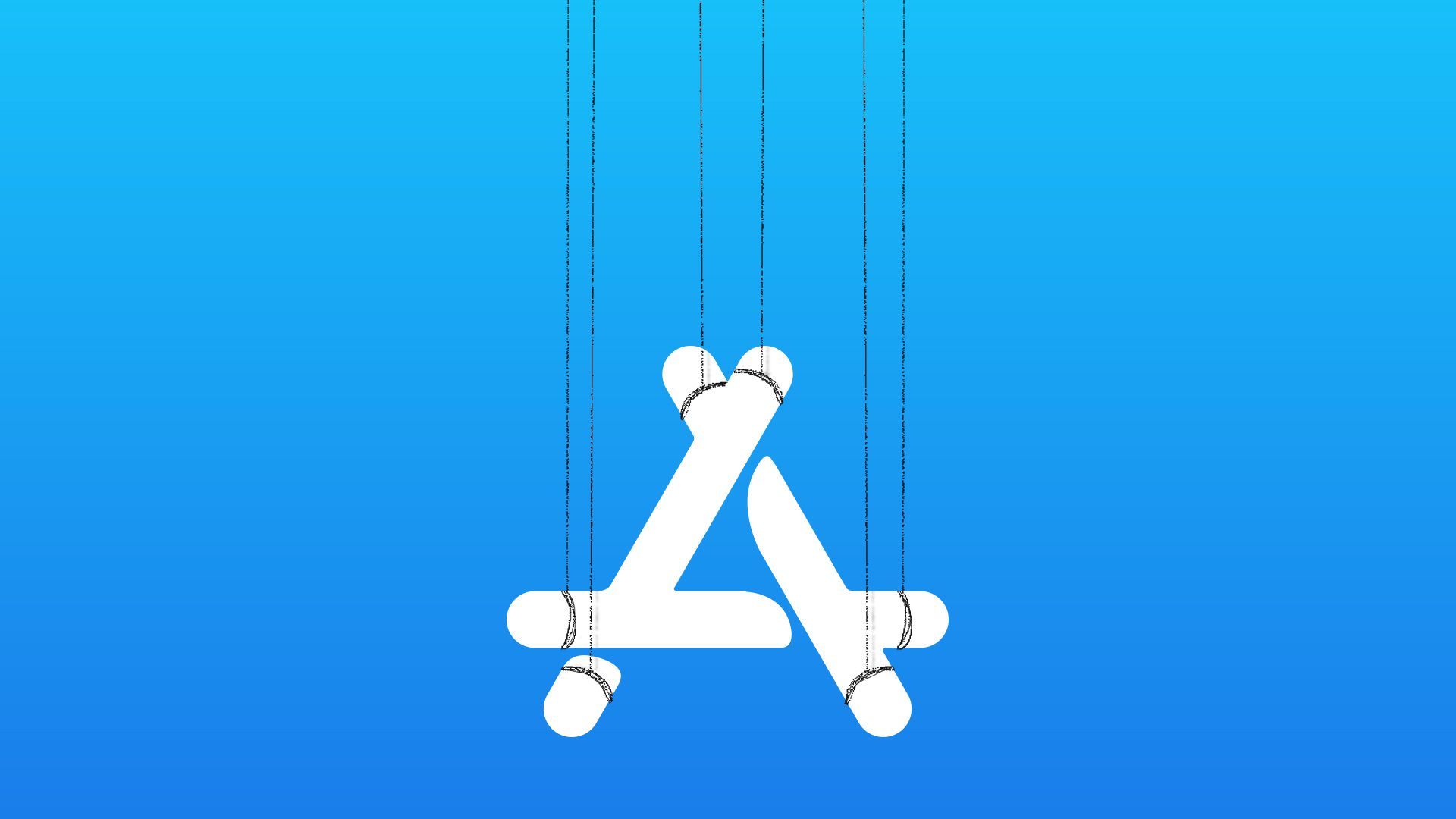 A day after a raft of glossy product debuts, Apple will move into a harsher spotlight as it defends its business practices before a Senate antitrust committee Wednesday.
Why it matters: Google, Amazon and Facebook have received more of Washington's regulatory attention in recent months. Now it's Apple's turn.
Driving the news: As the Senate Judiciary antitrust subcommittee grills both Apple and Google about their app store practices, Apple critics — including Spotify, Tile and Match Group — will try to offer evidence that the company abuses its power.
The hearing comes on the heels of Apple's Tuesday event launching a range of new products and services, including some that senators are likely to ask questions about.
Most notably, Apple introduced its long-awaited AirTag product finders, which compete directly with Tile's products.
"We welcome competition, as long as it is fair competition," Tile CEO CJ Prober said in a statement after Apple's announcement. "Unfortunately, given Apple's well documented history of using its platform advantage to unfairly limit competition for its products, we're skeptical."
In response, Apple notes that the broader "Find My" feature dates back to 2010 (before Tile existed) and said it has "always embraced competition as the best way to drive great experiences for our customers, and we have worked hard to build a platform in iOS that enables third-party developers to thrive."
Apple also debuted a new paid podcast marketplace Tuesday that could extend the sway of its App Store rules onto new ground.
As with in-app purchases from the App Store, Apple Podcast Subscriptions will require participants to use Apple's payment system and pay Apple a 30% cut (which drops to 15% after the first year).
Between the lines:
Apple is expected to maintain that its curation of the App Store leads to greater quality and security and argue that the App Store creates enormous value.
Critics, meanwhile, will argue that Apple is unfairly using its control of the App Store to insist developers use its payment system and give the company a significant cut.
Of note: Spotify chief legal officer Horacio Gutierrez said that the arguments that Apple and its critics are making are familiar ones, but the real shift is the fact that legislators and regulators in the U.S. are taking a greater interest. "The fact that today is happening at all — a hearing on app stores in the U.S. — is remarkable and encouraging," Gutierrez told Axios.
Google employs many of the same policies for which Apple is criticized and has shouldered complaints about fees and commissions. However, Google's Android system allows for alternative app marketplaces, and users can bypass the Google Play store by "side-loading" apps.
"We believe the value proposition of Google Play is a strong one. But if a developer feels this value proposition is not adequate, the openness of Android allows them to distribute their apps in a number of other ways — whether directly to consumers or via other app stores," Wilson White, Google's senior director of government affairs and public policy, will tell lawmakers today.
What they're saying: Sen. Amy Klobuchar, chair of the antitrust subcommittee, has introduced sweeping new antitrust legislation aimed at tech firms.
"I don't think people realize there's this 15-30% tax on major companies people enjoy getting music from, like Spotify, that Apple or Google assesses, that there's all this exclusionary conduct going on," she said.
Klobuchar's proposed antitrust legislation would make it easier to bring cases against companies leveraging such "exclusionary" charges, she said.
"They're basically stopping people from finding out they can get a better deal," she said of policies that require apps to use the App Store's payment system.
Republicans on the committee are also critical of the power and reach of big tech companies like Apple, but need more persuading that antitrust action is the right solution.
Republicans' ire is more focused on their belief that tech platforms are biased against conservatives.
Republicans are sure to bring up Apple's removal of right-wing social network Parler from the App Store following the Jan. 6 Capitol riot for failing to meet Apple's content moderation standards.
Last week, Apple told Parler it would be permitted back on the App Store after Parler tweaked its policies.
Parler remains barred from the Google Play store, though users can side-load it onto the Android devices.
The big picture: Apple is defending its tight control over the iOS ecosystem on multiple fronts.
Epic is suing Apple in the U.S. and elsewhere over its insistence that in-app purchases use Apple's payment systems.
Meanwhile, regulators in Europe are also examining Apple's business practices amid complaints from Spotify and others.
Go deeper