NFL effectively mandates COVID vaccinations for coaches, other staff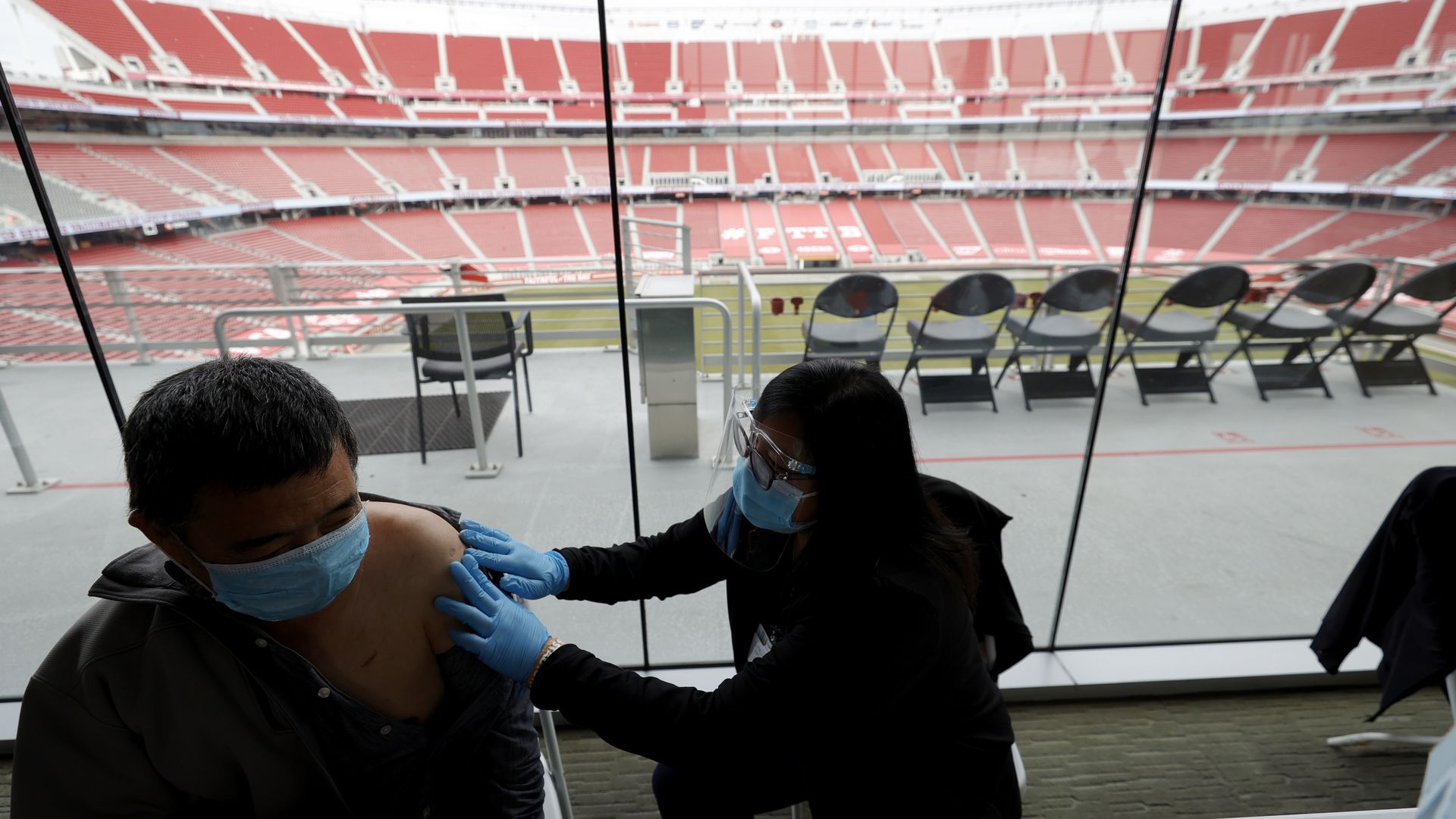 The NFL outlined in a memo sent to all 32 teams that support staff, including coaches and trainers, should be vaccinated against COVID-19 "unless they have a bona fide medical or religious ground for not doing so."
Why it matters: Anyone who doesn't fit this category and refuses vaccination will be ineligible for Tier 1 or 2 status and "will not be permitted access to the 'football only' restricted area and may not work directly or in close proximity with players," according to the memo, first reported by the NFL Network.
This effectively mandates coronavirus vaccination among all NFL support staff.
Details: Teams will be required to report weekly on how many employees have been inoculated.
The memo states that the league is actively discussing with the National Football League Players Association a "set of protocol changes that would apply to clubs where vaccination levels reach a certain threshold."
It "would give vaccinated individuals significant relief from requirements related to testing, PPE use, physical distancing, travel and other subjects," the statement added.
The NFL expects teams to hold informational sessions with players, staff and their families on vaccinations, using stadiums and training centers as vaccination sites.
"The overwhelming consensus among medical and public health experts is that the most effective way for someone to avoid the risk of contracting COVID-19 — and the risk of infecting others — is to be vaccinated."
— excerpt from NFL memo
The big picture: The NFL stepped up precautions against the coronavirus early in the pandemic, implementing social distancing, testing, contact tracing and isolation across the board.
Officials were also prepared to postpone games and bench players to prevent the spread, Axios' Caitlin Owens notes.
What they're saying: The NFL did not immediately respond to Axios' request for comment, but a spokesperson told the New York Times in a statement that its team facilities "proved to be among the safest places in the world in 2020" thanks to "comprehensive protocols that were developed in conjunction with public health officials.
"Having team personnel vaccinated will benefit these individuals and their families, will make the facilities even safer and also provide another step toward returning to normalcy," the statement added.
Of note: The Denver Broncos and Seattle Seahawks announced in separate statements Tuesday they wouldn't join in-person workouts for this offseason in an effort to avoid the spread of COVID-19.
Go deeper