Nationwide far-right rallies fizzle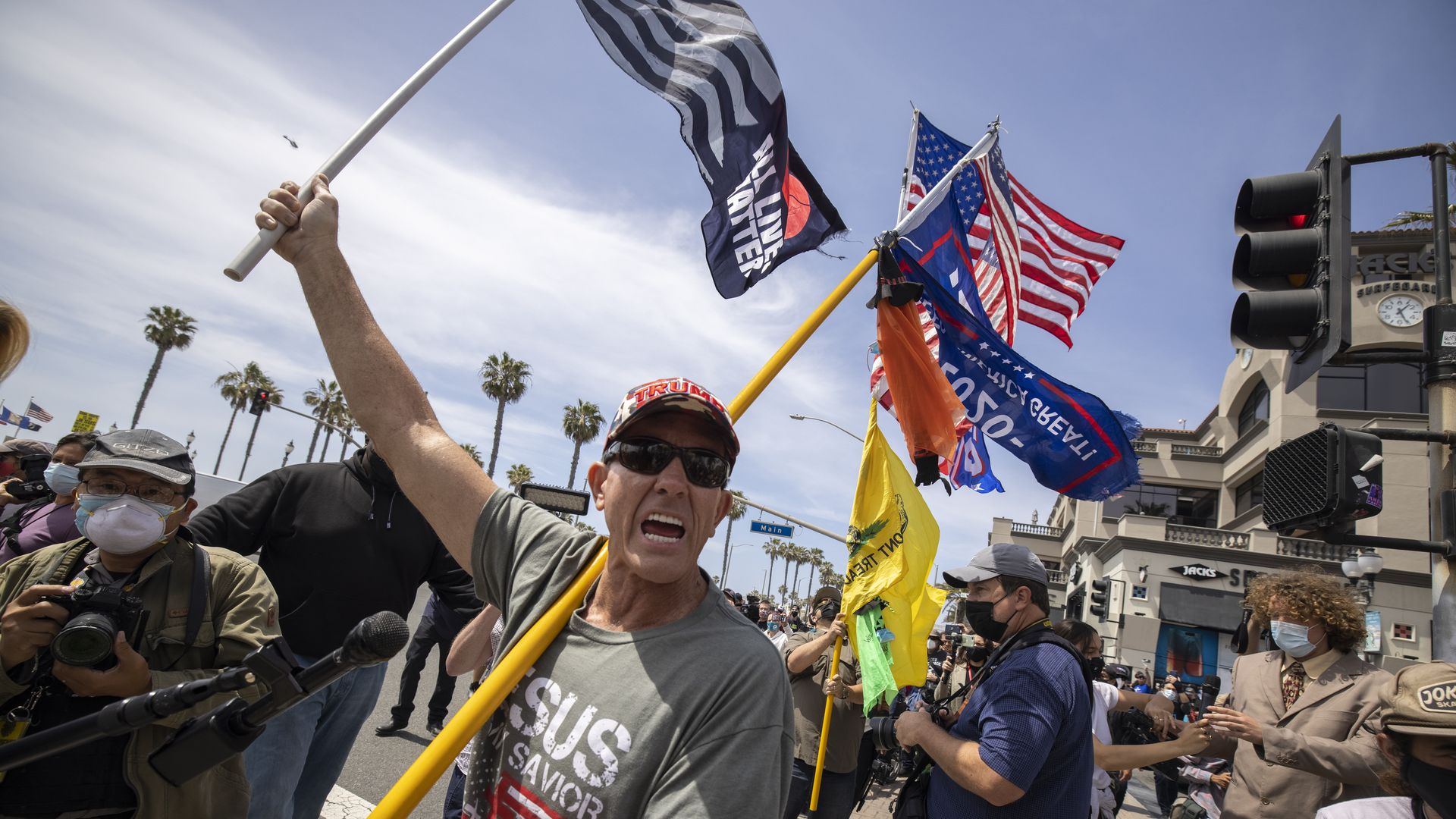 Police in Huntington Beach, California, declared an unlawful assembly to "disperse an unruly crowd" at a far-right rally Sunday.
The big picture: Police arrested 10 people at the so-called "white lives matter" rally after clashes between the extremists and counter-protesters, the Los Angeles Times reports. It was one of several poorly attended far-right protests held across the U.S. Sunday, per NBC News.
Why it matters: The poor showings demonstrate how the white supremacist movement has been driven underground in the face of media and police scrutiny since the Jan. 6 U.S. Capitol insurrection, with extremists using encryption services to arrange the rallies, NBC notes.
For the record: Per nonprofit the Southern Poverty Law Center, "'White Lives Matter' is a white supremacist phrase that originated in early 2015 as a racist response to the Black Lives Matter movement."
What to watch: Evidence emerged in the weeks after the U.S. Capitol riots that the subsequent online purge of far-right figures and platforms had driven radicalized users into darker corners of the internet.
Brian Levin, director of the Center for the Study of Hate & Extremism at California State University, told NBC that organized, larger groups had "splintered," along with their social media footprint.
The risk now was "loners and cells, who act on their own combination of hatreds and idiosyncrasies often cobbled together from a constant all-you-can-eat buffet of stereotyping and conspiracies that still populate online discourse," he added.
Of note: An online poll conducted at the end of January found a majority of Americans think social media "has played a role in radicalizing people."
Go deeper: Fresno police fires officer for ties to Proud Boys
Go deeper