Kentucky governor signs bill limiting no-knock warrants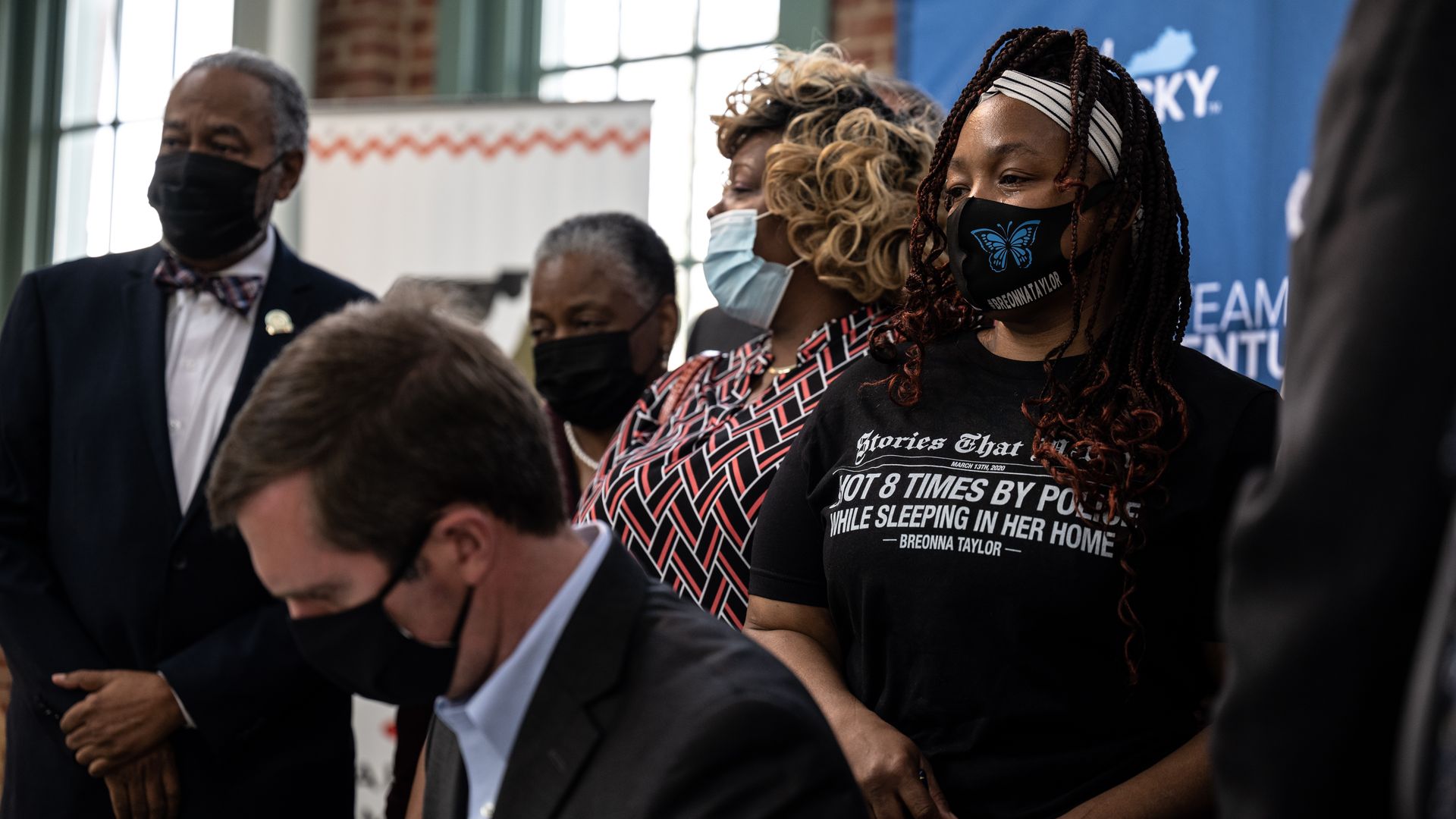 Kentucky Gov. Andy Beshear signed a bill Friday that limits the use of no-knock warrants in the state.
Why it matters: The law comes more than a year after the police killing of Breonna Taylor in a botched raid. While the law doesn't go as far as protesters and some state lawmakers hoped, many said it represents a step in the right direction and "will save lives."
Details: The law only permits no-knock warrants if there's "clear and convincing evidence" of a violent crime.
No-knock warrants can only be carried out in such cases between 6 a.m. and 10 p.m.
What he's saying: "I cannot know the depths of pain caused by systematic racism, but in my administration we are committed to listening and continuing to act," Beshear said Friday. "I am signing Senate Bill 4 to help ensure no other mother knows Tamika Palmer's grief at the loss of her daughter Breonna Taylor."
"This is meaningful change and it will save lives," the governor added.
"It will move us in the right direction. I know more needs to be done. I know the fight is not over."
Palmer and other family members joined Beshear at the bill signing.
Context: Police fatally shot Taylor in the early hours of March 13, 2020, as they barged into the 26-year-old's home in plain-clothes while serving a "no-knock" warrant.
Louisville Metro Department Police officers returned fire after Taylor's boyfriend, who said he believed someone was breaking into the house, fired a shot as officers broke down the apartment's door.
Police said they knocked and announced their presence, but Taylor's boyfriend and neighbors said officers did not identify themselves as law enforcement.
No officers were directly charged for Taylor's death. Three officers were fired and others were disciplined. One was charged for firing shots into neighboring apartments.
The big picture: Louisville's Metro Council last year passed "Breonna's Law," which bans no-knock warrants in the city.
A bill introduced by Kentucky Democrats, also named "Breonna's Law," would have banned the use of no-knock warrants statewide and implemented other reforms, but it never made it out of committee in the Republican-controlled legislature.
Cities and states across the U.S. have taken up similar measures on no-knock warrants since Taylor's death, per the Courier Journal.
The bottom line: "While it's not the full legislation that [the family] wanted in terms of a complete ban on no-knock warrants, they are satisfied that this is a start and a win in a deeply divided General Assembly," Lonita Baker, a lawyer for the Taylor family, said Friday, per AP.
Go deeper: Louisville marks 1 year since police killing of Breonna Taylor — in photos
Go deeper