Biden announces commission to study expanding the Supreme Court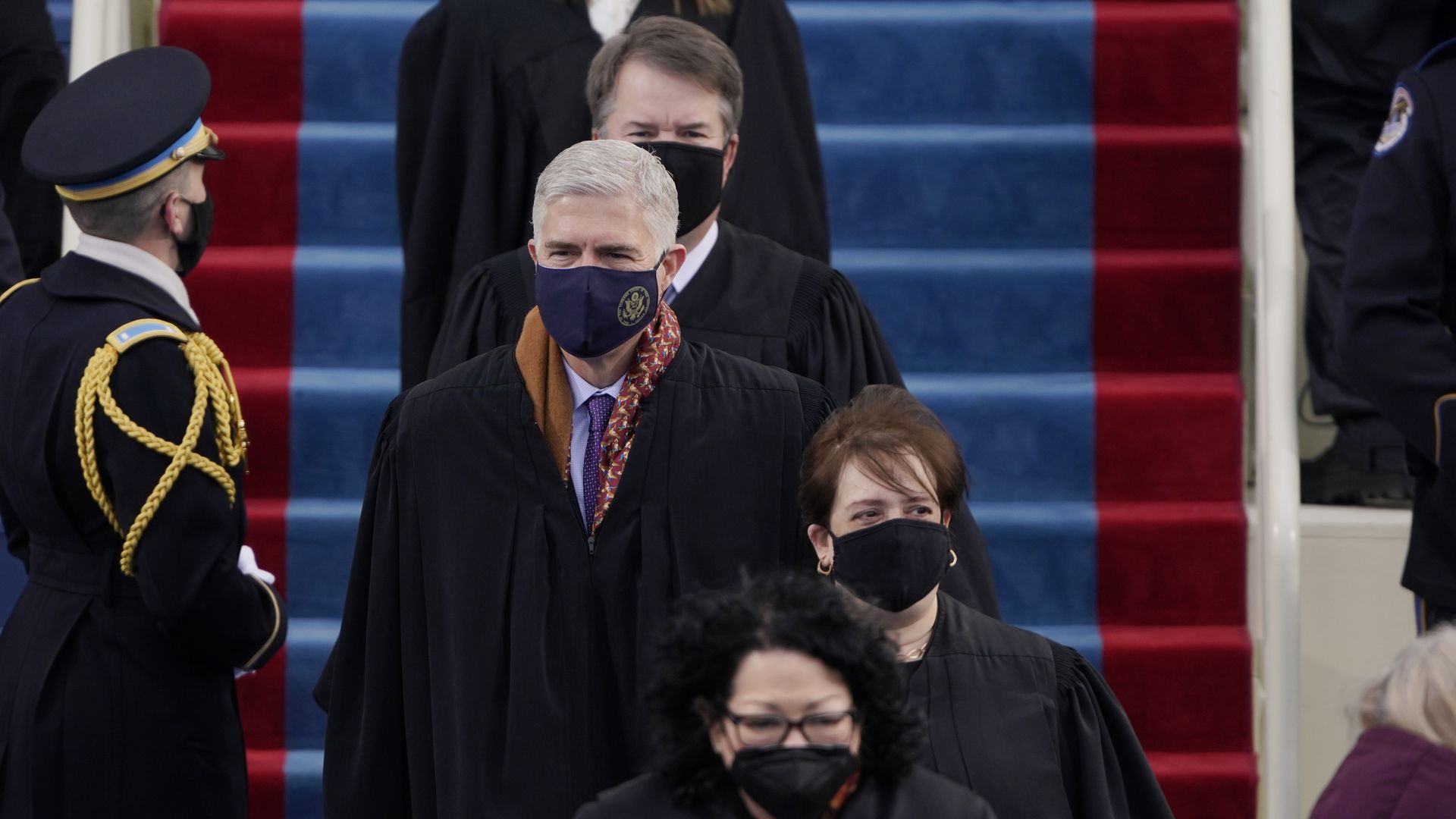 President Biden will sign an executive order Friday that creates a bipartisan commission to study a number of Supreme Court reforms, including expanding the number of seats on the court, the White House said.
Why it matters: The six-month commission, promised by Biden throughout the 2020 election, will provide an analysis of the principal arguments surrounding the divisive subject. Progressives are pushing for more seats after former President Trump appointed three justices to the court.
Context: Biden has not said definitively whether he supports adding seats to the court, though his congressional allies — including Senate Majority Leader Chuck Schumer — have advocated for additional seats as a response to Republicans quickly filling former Justice Ruth Bader Ginsburg's seat during an election year.
Democrats also advocated for additional seats after the confirmation of Trump's first appointee, Neil Gorsuch.
The backlash came after Senate Republicans refused to hold a confirmation hearing for President Obama's nominee Merrick Garland in 2016, arguing that it was an election year.
The big picture: The 36-member commission, comprised of law professors, constitutional scholars and former judges, will examine the genesis of the reform debate, the court's role in the constitutional system, the length of service and turnover of justices on the court, and the court's case selection, rules and practices.
The commission hold public meetings to hear the views of other experts on the subject and will complete a report six months after its first meeting.
The report will include "an appraisal of the merits and legality of particular reform proposals," according to the White House.
Bob Bauer, a New York University School of Law professor and a former White House Counsel, and Cristina Rodriguez, a Yale Law School professor and former deputy assistant attorney general in the Office of Legal Counsel at the Department of Justice, will co-chair the commission.
Between the lines: Supreme Court Justice Stephen Breyer warned this week that efforts to expand the court's bench could damage public faith in the institution, stating that Americans rely on "a trust that the court is guided by legal principle, not politics."
In response, Demand Justice, a progressive group created to reform the federal court system, started an online petition demanding Breyer's retirement, according to Politico.
Go deeper