Biden has yet to reunite any migrant families separated under Trump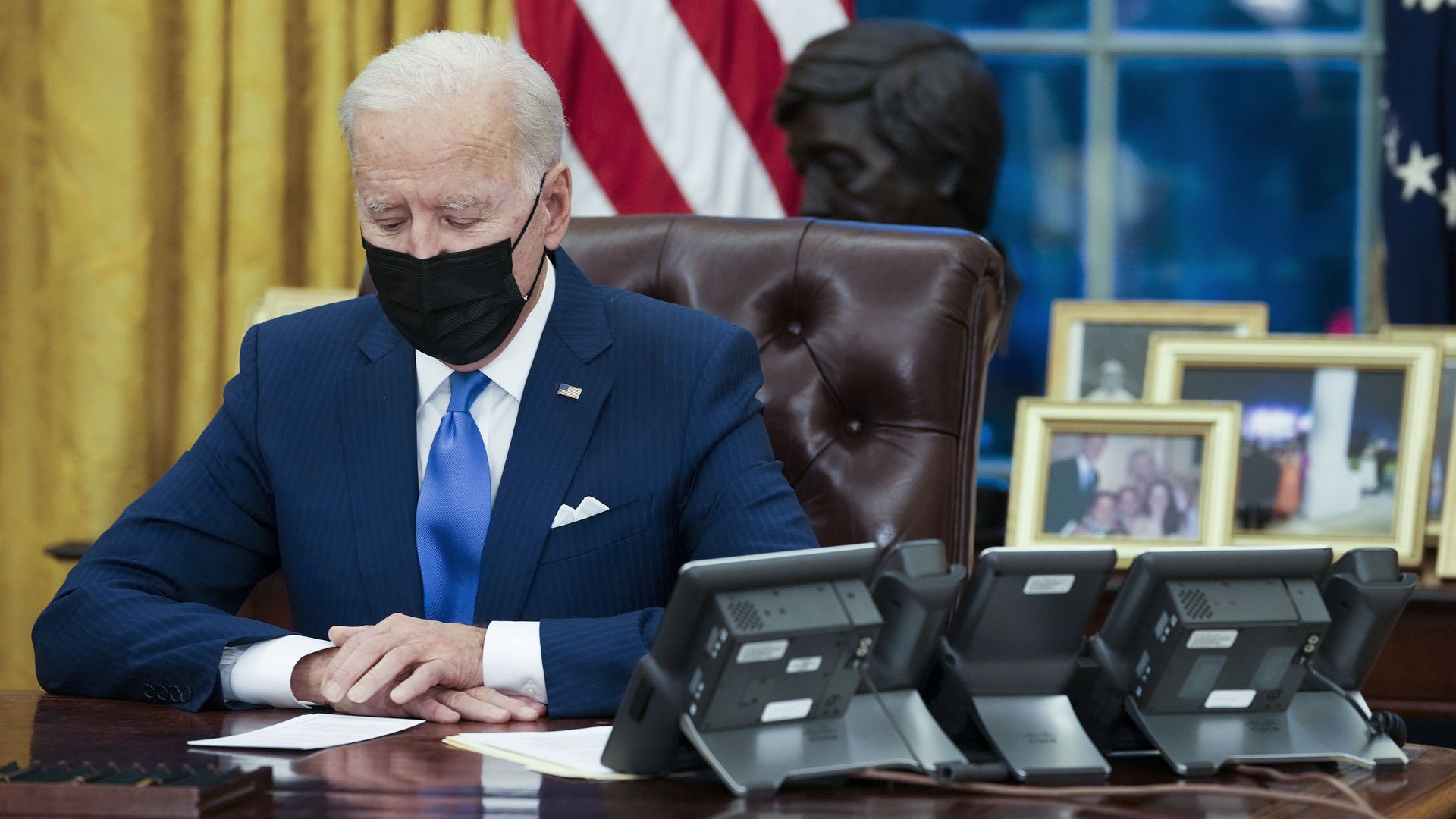 Not one of the hundreds of migrant families separated from President Trump's zero-tolerance policy has been reunited under President Biden thus far, senior Department of Homeland Security officials confirmed on Wednesday.
Why it matters: Reuniting migrant families was one of Biden's clearest immigration-related promises.
Given the lack of process set up under Trump when families were being separated, the current administration is faced with manually digging through government files to try to locate the parents of children who were separated.
"Regarding the reunifications thus far, the task force has not directly reunified any families yet, and that's because we really are trying to build the processes and the information," a senior DHS official said.
Between the lines: Officials told reporters on a call this morning that they're poring through roughly 5,600 migrant child cases from 2017, which hadn't yet been reviewed for evidence of family separation.
The officials said they are moving "as quickly as we can" to both identify and reunite separated children, but that a lot of the information they inherited from the Trump administration is "incomplete."
The senior officials added they are also looking for children who might have been separated from legal guardians who were not their parents, noting the process is "likely to increase the numbers" of families still separated.
Yes, but: Some families have already been separated for nearly three years, and as of December, the parents of more than 500 migrant children have not yet been located.
Officials said they are being meticulous with their review "because we are very concerned about not retraumatizing" migrants.
The big picture: In February, Biden announced a family reunification task force led by DHS Secretary Alejandro Mayorkas charged with identifying all of the children who had been separated from a parent or legal guardian at the U.S.-Mexico border under the Trump administration.
Mayorkas appointed Michelle Brané as the executive director of the task force.
The ACLU, which had sued over the separation of children, entered into settlement negotiations with the Biden administration, citing the task force's intentions and work to reunify the remaining families.
Those negotiations are ongoing, according to one of the DHS officials, who said that "all the parties believe that the negotiations are in the best interest of the government's efforts to unite families."
The lead ACLU attorney on the case, Lee Gelernt, told Axios: "In the last week, we've made progress with the task force on reunifying the first group of separated families. The key will be whether that progress continues."  
Go deeper