U.S. trial finds AstraZeneca vaccine 79% effective with no serious side effects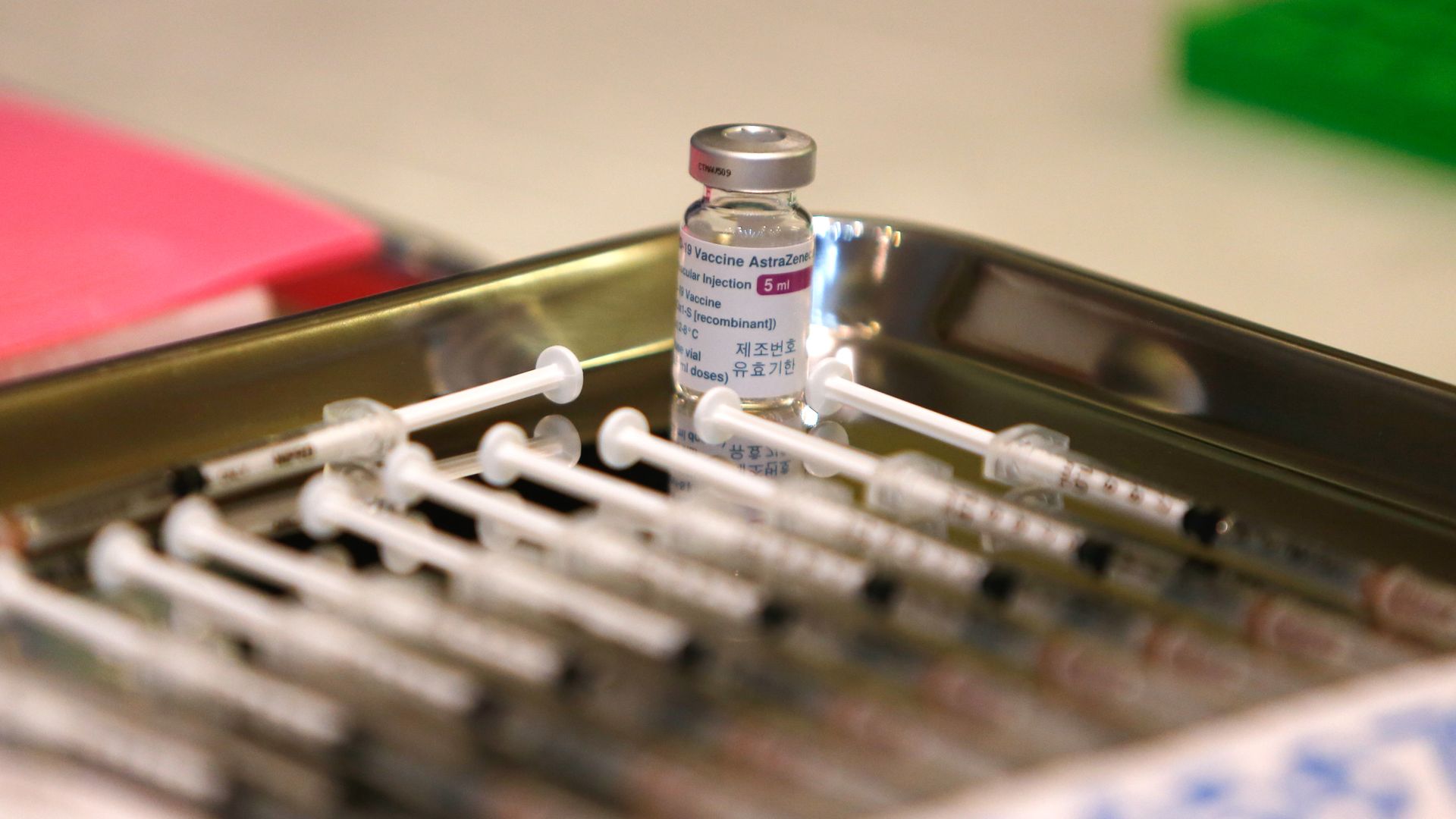 The coronavirus vaccine developed by AstraZeneca and the University of Oxford was found to be 79% effective at preventing symptomatic COVID-19 and 100% effective against severe disease and hospitalization, according to results from its Phase III trial in the U.S. announced Monday.
Why it matters: The long-awaited U.S. data, which showed no serious side effects among the more than 20,000 participants who received at least one dose, could bolster global confidence in the safety and efficacy of the vaccine.
The big picture: The shot has already been authorized by the World Health Organization and more than 50 countries, and has played a key rollout in the U.K.'s world-leading vaccine rollout.
It has not yet received authorization from the U.S. FDA, however, after questions emerged in early trial results when some participants mistakenly received only a half dose for their first shot.
Dozens of European countries temporarily suspended use of the vaccine last week following reports that a small number of patients who received the shot experienced rare blood clots.
The European Medical Agency later confirmed the benefits of the vaccine outweigh the risks, and the U.S. data published Monday found no increased risk of blood clots among participants who received the shot.
Between the lines: The U.S. has already secured enough vaccine doses for every American, even without regulatory clearance for the AstraZeneca shot. On Thursday, President Biden agreed to send around 1.5 million doses of the AstraZeneca vaccine to Canada and 2.5 million to Mexico, amid growing pressure for the U.S. to share its massive supply with the world.
What they're saying:
"These findings reconfirm previous results observed in AZD1222 trials across all adult populations but it's exciting to see similar efficacy results in people over 65 for the first time. This analysis validates the AstraZeneca COVID-19 vaccine as a much-needed additional vaccination option, offering confidence that adults of all ages can benefit from protection against the virus."
— Ann Falsey, co-lead principal investigator for U.S. trial
What's next: AstraZeneca will submit its data to the FDA for an emergency use authorization in the coming weeks.
Go deeper: Why the AstraZeneca vaccine matters for the developing world
Go deeper