The future of co-working — and WeWork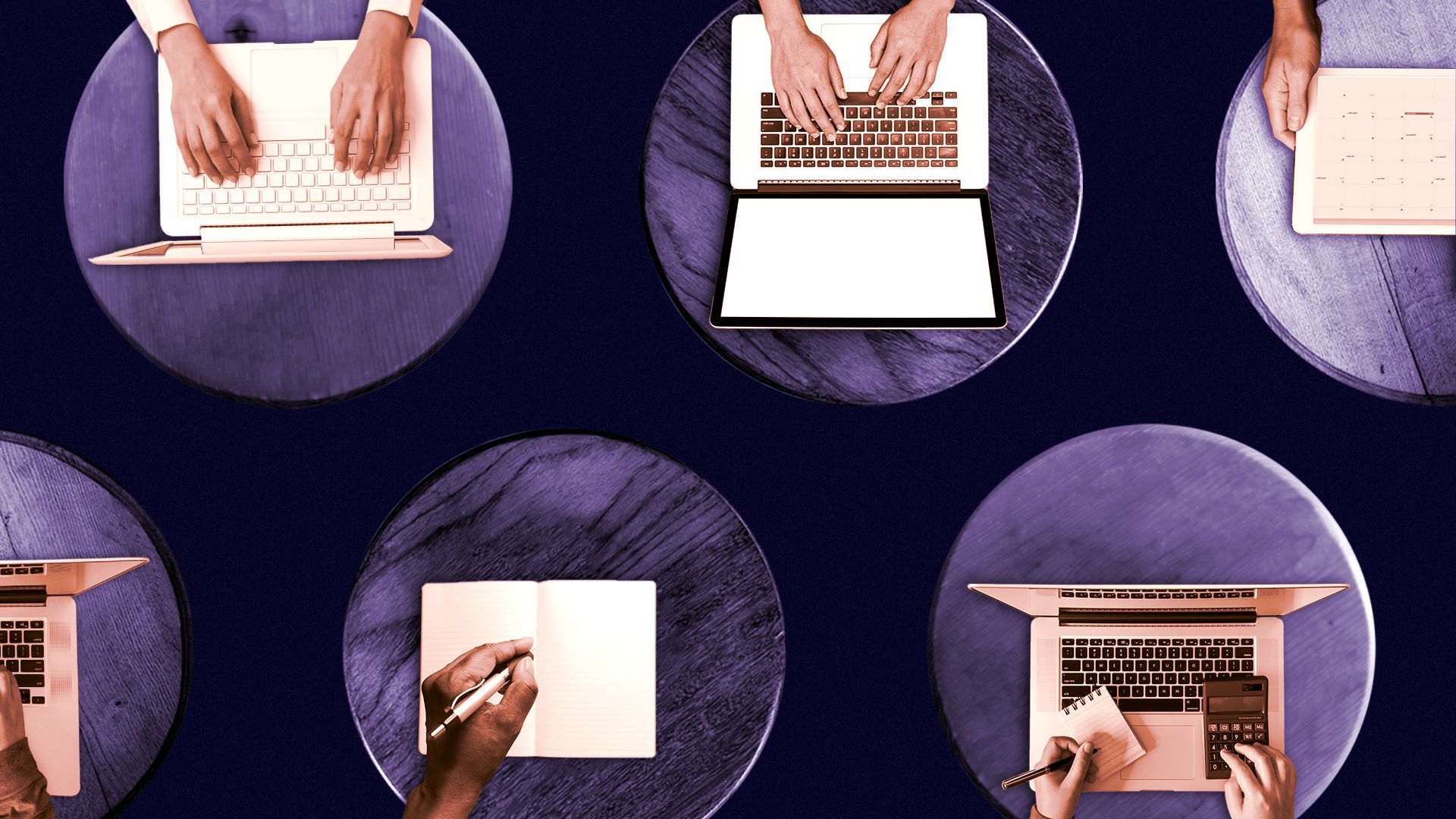 Before the pandemic, the co-working revolution, led by WeWork, was well underway. Then suddenly, sharing desks and beer on tap with strangers became unthinkable.
Yes, but: WeWork — and its investors — are betting that co-working still has a bright future. The company is in advanced discussions to go public via a SPAC sponsored by Vivek Ranadivé's Bow Capital Management, per multiple sources.
What's happening: The post-pandemic working world will be all about flexibility. The vast majority of workers want hybrid in-person/office work. That's pushing companies — especially smaller ones — to be nimble with their office space, and co-working is often the answer.
Background: WeWork tried to go public before the pandemic, but failed. Its founder and CEO were ousted, and then he and some of WeWork's venture capitalists sued the company's largest investor for bailing on a $2 billion stock tender offer.
That investor, SoftBank, wrote down the value of its WeWork holdings by billions.
Then, the pandemic hit, and the teleworking trends it propelled seemed poised to make a bad situation worse.
Before the pandemic, less than 4% of Americans worked from home. Now that has spiked to nearly 40%, and it won't go all the way back down when this is over. For a company that peddles office space, that appeared to be bad news.
On top of that, WeWorks have 75 square feet of space per worker, compared with the national average of 214. Close quarters like that can be downright terrifying for office workers who've spent the last year or more social distancing.
But, but, but: "We've always had a hypothesis that in a recession or in a difficult moment for offices, we'd be relatively well hedged," says Peter Greenspan, WeWork's global head of real estate. "Long-term commitments are an anathema in times of stress."
As a result, WeWork is leaning even harder into its short-term, flexible office space offering.
Over the last year or so, the company sold or shuttered a number of its side businesses — like a restaurant co-working startup and an elementary school — to focus on its core co-working business. The company also sold off a $60 million private jet.
During the pandemic, WeWork cut costs by shedding some locations, including ones that hadn't yet opened.
The big picture: The company's new CEO, Sandeep Mathrani, "went into this and was like, 'We do co-working, we do it well, so let's just do that and make it profitable,'" says Alex Snyder, a real estate analyst at CenterSquare.
And now, even traditional real estate firms want to get in on the flexibility. CBRE, one of the largest commercial real estate companies recently bought a stake in the flex space firm Industrious.
WeWork has a fix for fully remote workers, too. During the pandemic, the company launched an on-demand booking service that's basically Uber for offices. Anyone can download the app and book desk space or meeting rooms by the hour.
The bottom line: "That archaic concept of a 20-year or 15-year lease doesn't work anymore, but there was no impetus to change it," Greenspan says. "What the pandemic did was accelerate the entire discussion from what could have taken another 30 years to a year."
What to watch: WeWork is not yet profitable, though it's on its way, "so there's still some risk," says Snyder. "But I do think up and to the right is the most likely scenario for them."
Go deeper