Facebook bans Myanmar military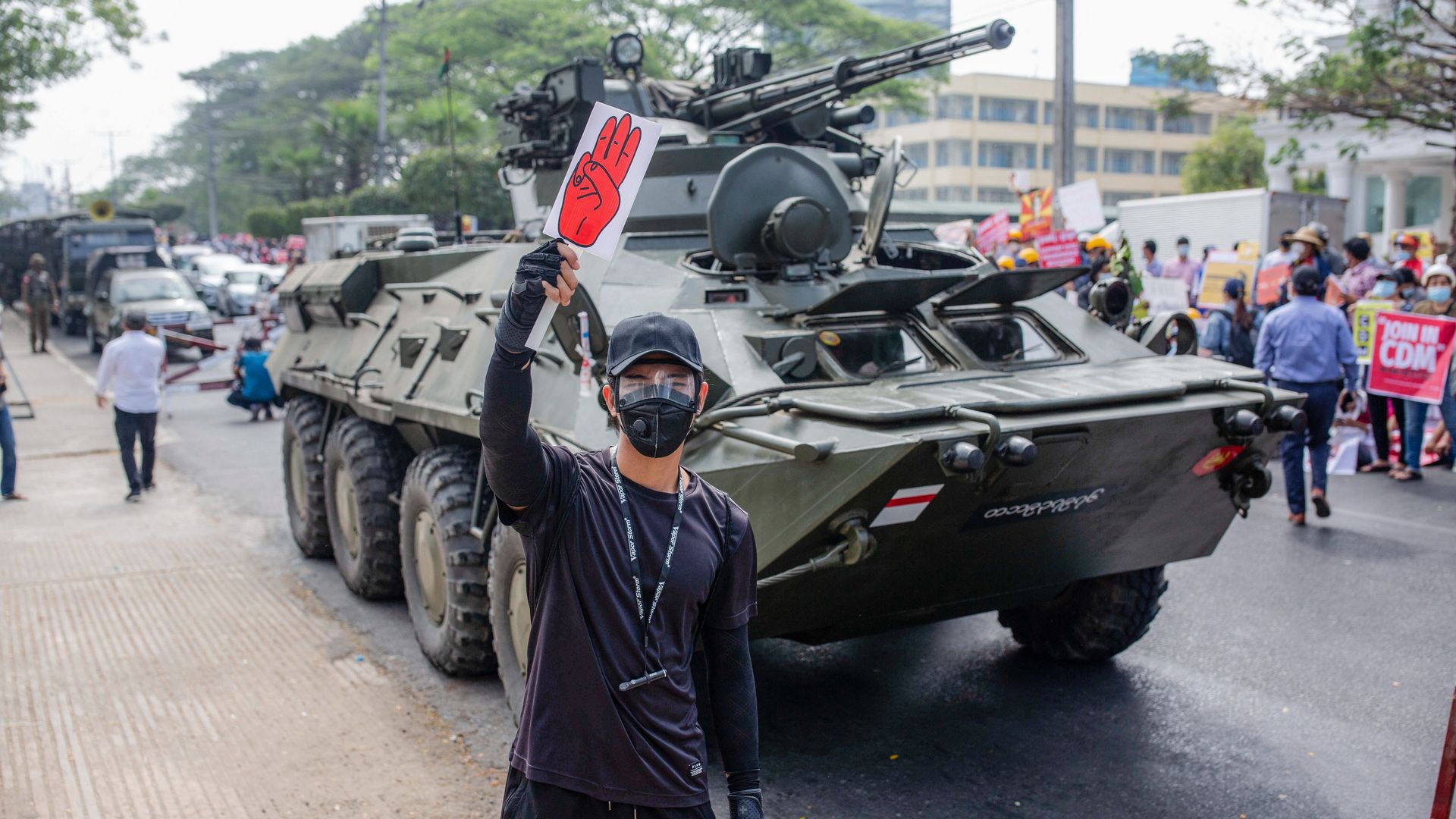 Facebook said on Wednesday it would ban the rest of the Myanmar military from its platform.
The big picture: It comes some three weeks after the military overthrew the civilian government in a coup and detained leader Aung San Suu Kyi, causing massive protests to erupt throughout the country. Military leaders have been using internet blackouts to try to maintain power in light of the coup.
Why it matters: Facebook has been long weaponized by the Myanmar military to help spread disinformation disparaging the minority Rohinga Muslim population.
The company has been taking action on military groups there for years, after finding nearly ten military-backed coordinated inauthentic behavior campaigns over the past several years.
Details: In a blog post, Facebook said that events since the Feb. 1 coup, "including deadly violence, have precipitated a need for this ban."
"We believe the risks of allowing the Tatmadaw on Facebook and Instagram are too great," Rafael Frankel, Director of Policy, APAC Emerging Countries for Facebook wrote.
Facebook said it will also be prohibiting Tatmadaw-linked commercial entities from advertising on the platform. (Tatmadaw is the name of the military group.)
Facebook said it reached its decision on the bans, which will remain in effect indefinitely, by applying the UN Guiding Principles on Business and Human Rights.
For the record: "This action builds on the steps we have taken in recent years to prevent the Tatmadaw from abusing our platform," Facebook said in its post.
"Among these are: banning 20 military-linked individuals and organizations in 2018, including commander-in-chief Min Aung Hlaing, for their role in severe human rights violations; and removing at least six coordinated inauthentic behavior networks run by the Tatmadaw from 2018 to 2020."
The tech giant said the ban "does not cover government ministries and agencies engaged in the provision of essential public services," like the Ministry of Health and Sport and the Ministry of Education.
Go deeper