Cheney's take on Trump highlights GOP split about future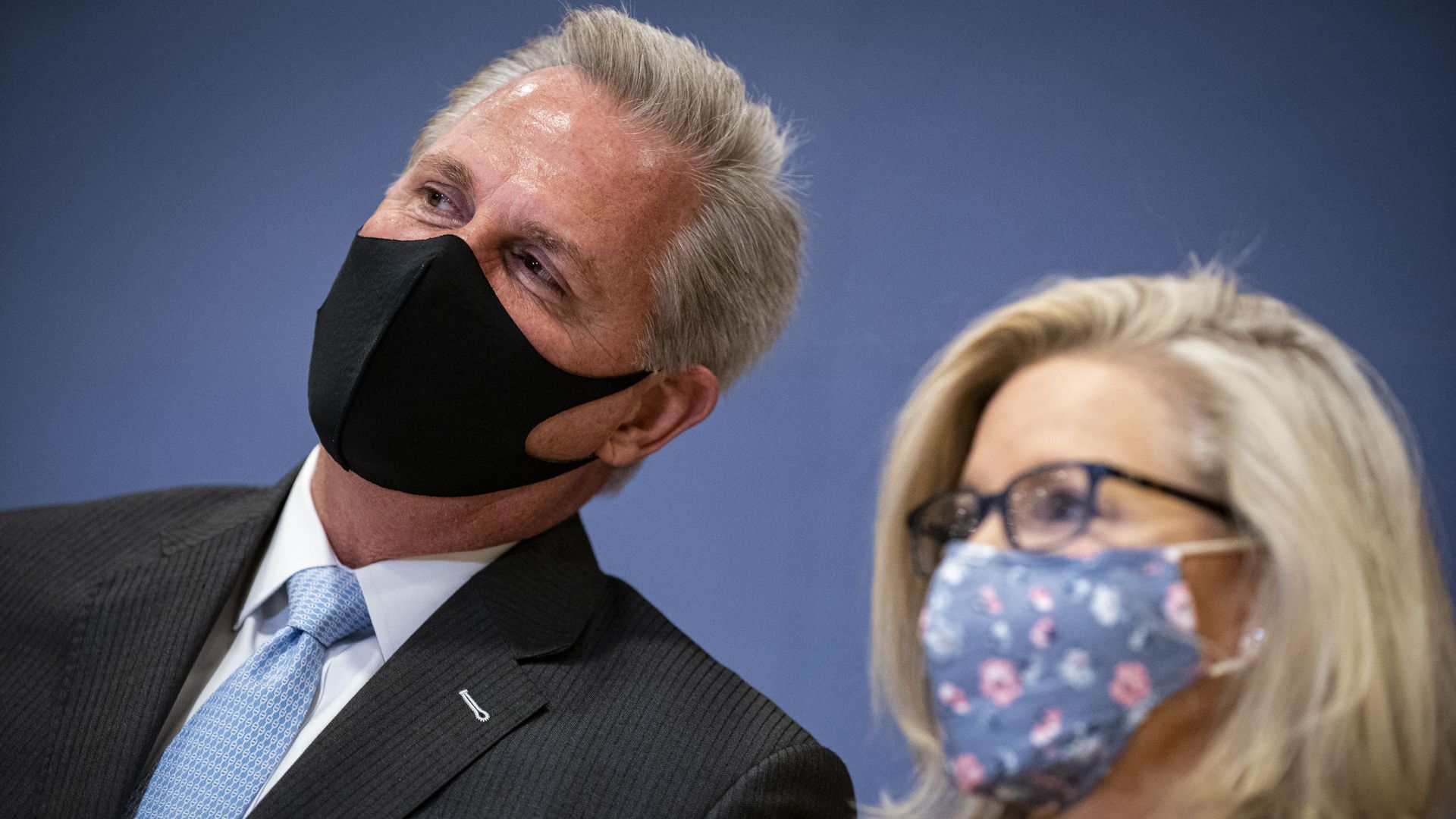 Rep. Liz Cheney is staking her claim as a new thought leader for the GOP, seizing on her role as the Republicans' Trump critic-in-chief while the party navigates its post-MAGA future.
Why it matters: Cheney is offering the party a more traditional brand of conservatism and serving as the guinea pig for other Republicans eager to break with the former president but wary of the fallout. The emerging question is whether both party factions can win not just primaries but general elections.
Between the lines: There are three clear camps emerging now that Trump has left office.
The anti-Trump Republicans, including Cheney, Sen. Mitt Romney (R-Utah) and, newly, Senate Minority Leader Mitch McConnell.
The middle: Lawmakers like House Minority Leader Kevin McCarthy, who have a foot in both camps.
The pro-Trump camp: The senators Josh Hawley and Ted Cruzes of the world.
Cheney (R-Wyo.) is arguably in a more interesting position than many others because she is one of the few women leading the charge and because of her age.
Unlike McConnell and Romney, who are closer to the end than the beginning of their political careers, Cheney still has much of her future to chart.
The Republican Party also has a huge stake in the outcome: it lost control of the House, Senate and White House under Donald Trump. The question now is whether to double down on hardline politics that appeal to the party base or outline a more moderate approach that can appeal to swing voters.
Driving the news: Cheney laid down her marker Tuesday when she delivered her first big speech following the referendum about whether she should remain in House leadership after voting to impeach Trump.
"It's very important for us to ignore the temptation to look away," Cheney said during remarks at a Reagan Institute event. "And it's very important, especially for us as Republicans, to make clear that we aren't the party of white supremacy."
She also drew a sharp contrast between her views on foreign policy and national security — which mirror those of defense hawks like Sen. Tom Cotton (R-Ark.) — with those of conservative firebrands like Sen. Rand Paul (R-Ky.) and Rep. Matt Gaetz (R-Fla.).
A person close to Cheney told Axios she's not embracing this role for political reasons, and her comments are motivated by her obligation to the Constitution and "principled beliefs."
On Wednesday, Cheney publicly broke with McCarthy just moments after he told reporters he thinks that Trump deserves his planned speaking slot at this weekend's Conservative Political Action Conference.
When a reporter asked Cheney the same question, she replied: "I don't believe that he should be playing a role in the future of the party or the country."
McCarthy let the comment hang for a few moments before adding, "On that high note, thank you very much."
The bottom line: Cheney's anti-Trumpism is risky.
More than half of Republicans would still support Trump in a GOP primary if he were to run for president again, according to a Morning Consult/Politico poll released in February — more than a month after the Jan. 6 Capitol assault.
Trump also has made clear he does not plan to let attacks on him go unchallenged.
His scathing rebuke of McConnell, in which he threatened to oppose all of the minority leader's primary picks, was a reminder he plans to remain deeply entrenched in party politics.
Go deeper