FTC and states sue Facebook for illegally stifling competition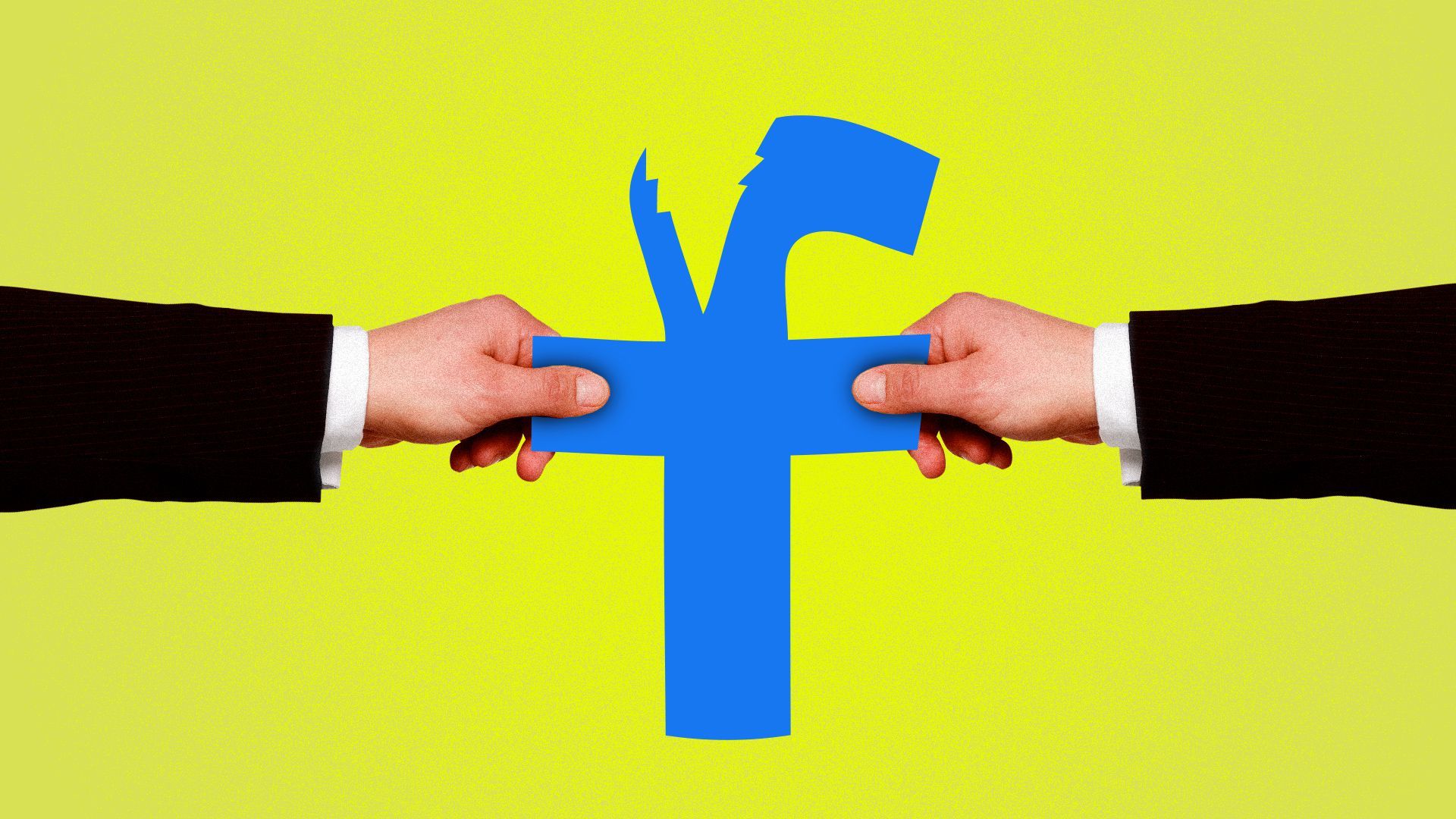 State and federal antitrust enforcers accused Facebook of illegally hurting competition by buying smaller rivals and engaging in other harmful behavior in a pair of antitrust lawsuits Wednesday.
Why it matters: With Google already facing an antitrust lawsuit from the Justice Department and state attorneys general, the Facebook case is another major test of the government's power to police internet giants.
Details: The Federal Trade Commission and 48 state and territorial attorneys general, in parallel lawsuits filed in federal court, both say Facebook has maintained an illegal monopoly shored up in particular by the 2012 purchase of Instagram and the 2014 acquisition of WhatsApp.
The FTC says Facebook has limited competitors' access to code that would let them link their services to Facebook-run platforms.
The agency is asking the court to make Facebook unwind the Instagram and WhatsApp acquisitions, among other, less drastic remedies.
The vote at the five-member commission to proceed with the lawsuit was 3-2, with Chairman Joe Simons, a Republican, siding with agency Democrats in favor and the other GOP commissioners opposing.
The state coalition says Facebook's actions stifling competition have denied Americans access to alternative social networks that would better protect their privacy.
"While consumers have been spending time keeping in touch on Facebook, Facebook has been spending time surveilling users personal information and profiting from it," New York AG Letitia James told reporters on a video conference Wednesday.
The AGs want the court to block Facebook from engaging in anti-competitive conduct and ask that it force the company to tell states in advance before embarking on any acquisitions worth $10 million or more. They also suggest the court go so far as to demand Facebook divest past acquisitions or other lines of business.
Catch up quick: Past acquisitions that helped turn Facebook into the juggernaut it is today have come under intense scrutiny, and Congressional antitrust leaders grilled Facebook CEO Mark Zuckerberg on them this summer.
The FTC has been studying past tech mergers to see if they need to be re-evaluated in light of how the industry has evolved, and Chairman Joe Simons has said he wouldn't rule out unwinding past mergers.
What they're saying: Facebook has argued consumers benefitted from those mergers, and that neither Instagram nor WhatsApp would be what it is today without Facebook at the helm.
"The most important fact in this case, which the Commission does not mention in its 53-page complaint, is that it cleared these acquisitions years ago," Facebook general counsel Jennifer Newstead said in a statement. "The government now wants a do-over, sending a chilling warning to American business that no sale is ever final."
The big picture: The flurry of antitrust activity in the online sector that began in 2019 is coming to fruition, but the cases will take time to go through court.
James announced the multi-state Facebook antitrust investigation that resulted in Wednesday's suit last year, shortly after Facebook revealed it was facing a separate FTC antitrust investigation.
Eleven Republican state AGs joined the DOJ's lawsuit against Google in October, while a separate state investigation of the search giant is expected to wrap up soon.
What's next: Facebook will have to decide whether to ask that the suits be dismissed or to dig in for a lengthy court battle. With Joe Biden taking office next month, the FTC's case will ultimately be seen through by an agency with a different lineup of commissioners and a new chairperson.
Editor's note: This story has been updated with a new statement from Facebook.
Go deeper