What they're saying: Joe Biden defeats President Trump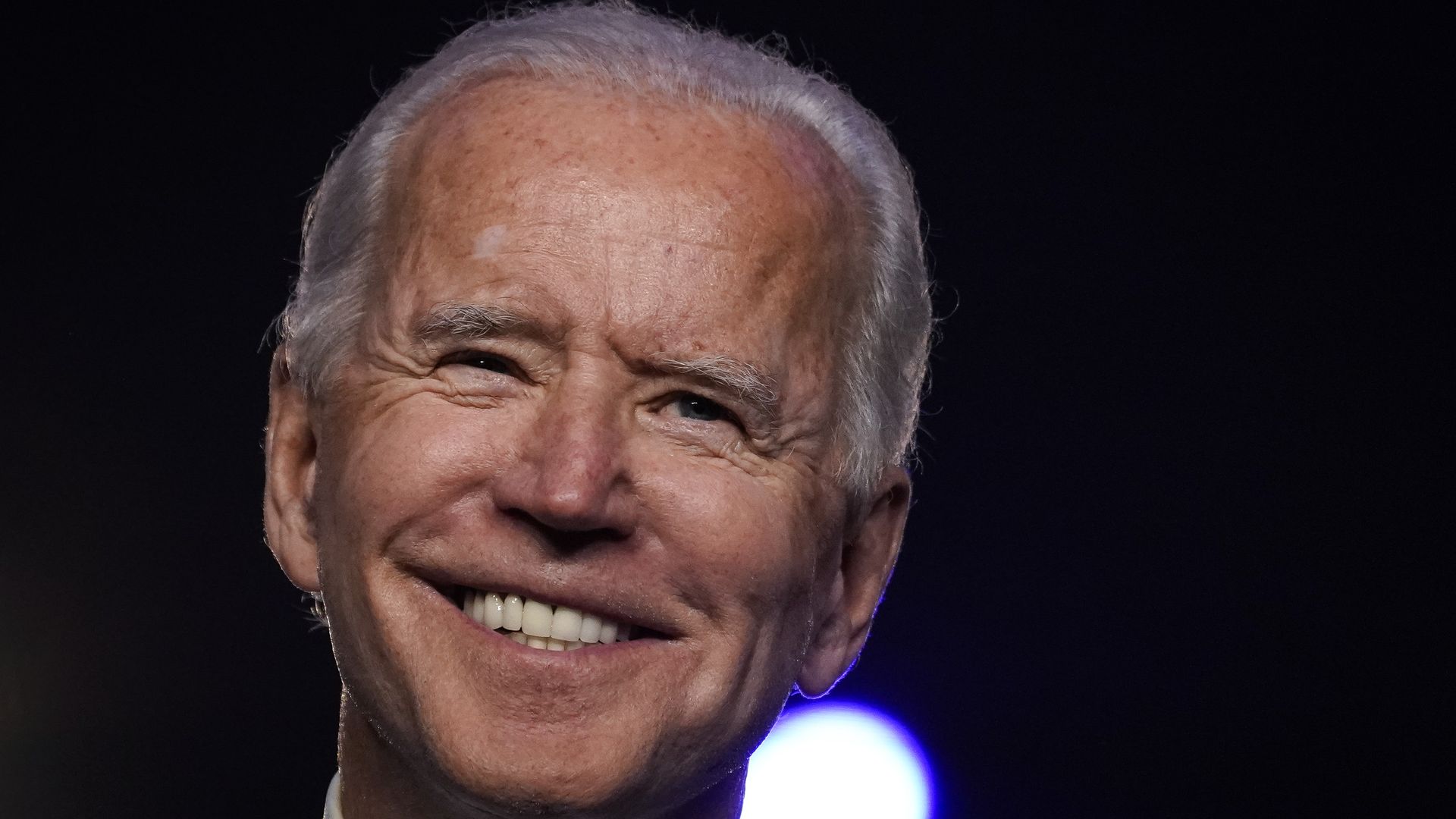 Joe Biden has been elected the 46th president of the U.S., ousting President Trump after a single term, the Associated Press projected on Saturday.
What they're saying: "I am honored and humbled by the trust the American people have placed in me and in Vice President-elect Harris," Biden said in a statement. "With the campaign over, it's time to put the anger and the harsh rhetoric behind us and come together as a nation. It's time for America to unite. And to heal."
Vice President-elect Kamala Harris: "This election is about so much more than [Joe Biden] or me. It's about the soul of America and our willingness to fight for it. We have a lot of work ahead of us. Let's get started."
Former President Barack Obama: "I could not be prouder to congratulate our next President, Joe Biden, and our next First Lady, Jill Biden. I also couldn't be prouder to congratulate Kamala Harris and Doug Emhoff for Kamala's groundbreaking election as our next Vice President."
Former President Bill Clinton: "America has spoken and democracy has won. Now we have a President-Elect and Vice President-Elect who will serve all of us and bring us all together. Congratulations to Joe Biden and Kamala Harris on your momentous victory!"
Former President Jimmy Carter: "Rosalynn joins me in congratulating our friend President-elect Joe Biden and Vice President-elect Kamala Harris. We are proud of their well-run campaign and look forward to seeing the positive change they bring to our nation."
House Speaker Nancy Pelosi (D-Calif.): "We kept the republic! Congratulations to Joe Biden on his victory for the soul of our country. Congratulations to Kamala Harris for making history. It's a time to heal and a time to grow together. E Pluribus Unum."
Sen. Lisa Murkowski (R-Alaska): "I congratulate President-elect Biden and Vice President-elect Harris and will be ready to work with their administration when it takes office. ... Honoring [Americans'] choice in who leads us has always defined us and is the source of our exceptionalism. We must uphold that legacy."
Senate Minority Leader Chuck Schumer (D-N.Y.): "The long dark night in America is over, and a new dawn is coming."
Sen. Elizabeth Warren (D-Mass.): "President-Elect [Joe Biden] and Vice President-Elect [Kamala Harris]! That feels so good to say. Americans chose Joe and Kamala to lead us forward with purpose and moral clarity."
Sen. Susan Collins (R-Maine): "First, I would offer my congratulations to President-elect Biden on his apparent victory — he loves this country, and I wish him every success. Presidential transitions are important, and the President-elect and the Vice-President-elect should be given every opportunity to ensure that they are ready to govern on January 20th."
Sen. Bernie Sanders (I-Vt.): "I want to congratulate all those who worked so hard to make this historic day possible. Now, through our continued grassroots organizing, let us create a government that works for ALL and not the few. Let us create a nation built on justice, not greed and bigotry."
Sen. Mitt Romney (R-Utah): "Ann and I extend our congratulations to President-elect Joe Biden and Vice President-elect Kamala Harris. We know both of them as people of good will and admirable character. We pray that God may bless them in the days and years ahead."
Former Secretary of State Hillary Clinton: "The voters have spoken, and they have chosen [Biden] and [Harris] to be our next president and vice president. It's a history-making ticket, a repudiation of Trump, and a new page for America."
Former Republican Florida Gov. Jeb Bush: "Congratulations to President-elect Biden. I have prayed for our President most of my adult life. I will be praying for you and your success. Now is the time to heal deep wounds. Many are counting on you to lead the way."
The other side: Trump did not concede the election. Rather, he said the election is "far from over" and that the campaign will begin "prosecuting [their] case in court" next week.
Sen. Josh Hawley (R-Mo.): "The media do not get to determine who the president is. The people do. When all lawful votes have been counted, recounts finished, and allegations of fraud addressed, we will know who the winner is."
Go deeper: World leaders congratulate Biden on election victory
Editor's note: This article has been updated with Murkowski's comment.
Go deeper