Microphones will be muted during parts of Thursday's presidential debate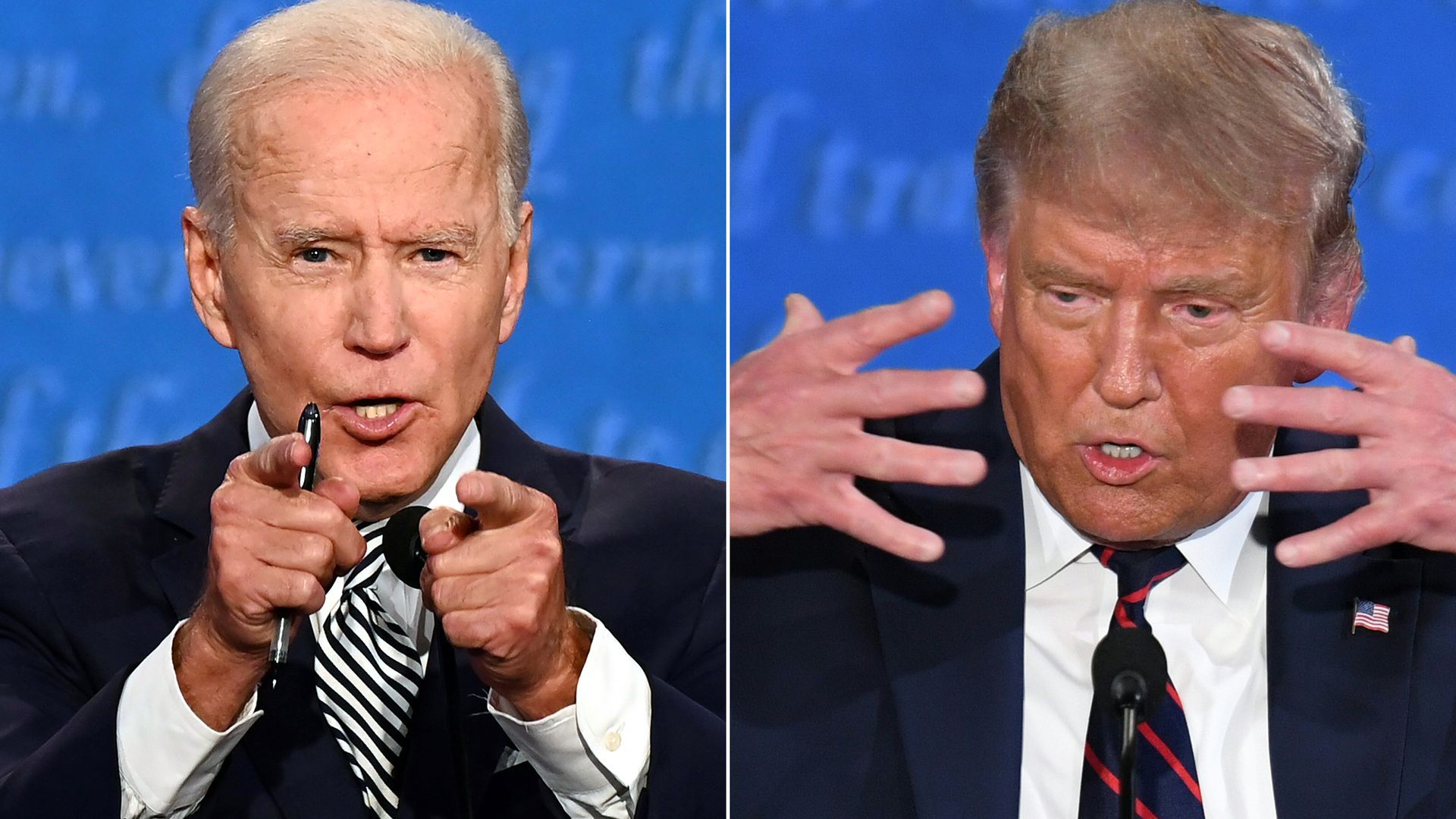 The Commission on Presidential Debates adopted new measures on Monday to mute the microphones of President Trump and Joe Biden to allow each candidate two minutes of uninterrupted time per segment during Thursday night's debate.
Why it matters: During September's chaotic debate, Trump interrupted Biden 71 times, while Biden interrupted Trump 22 times.
For the record: The commission said in a statement it "had determined that it is appropriate to adopt measures intended to promote adherence to agreed upon rules and inappropriate to make changes to those rules," per AP.
"We realize, after discussions with both campaigns, that neither campaign may be totally satisfied with the measures announced today."
"One may think they go too far, and one may think they do not go far enough. We are comfortable that these actions strike the right balance and that they are in the interest of the American people, for whom these debates are held."
How it works: The 90-minute debate is divided into six 15-minute segments.
Each candidate will be allowed two uninterrupted minutes to deliver their opening remarks for each segment.
The discussion will then move to an open-debate format in which the candidates' microphones will not be muted.
"Time taken up during any interruptions will be returned to the other candidate," the commission said.
What they're saying: Trump campaign manager Bill Stepien said in a statement that "Trump is committed to debating Joe Biden regardless of last minute rule changes from the biased commission in their latest attempt to provide advantage to their favored candidate." Stepien added that Trump plans to ask the former vice president questions about his son Hunter Biden.
Reality check: The commission is a nonpartisan organization.
Of note: Trump suggested earlier this month that he would resist any moves that could cut off candidates' microphones in the future debates.
The Biden campaign did not immediately respond to Axios' request for comment on the debate's new measures.
Go deeper: What Trump's debate coaches are telling him
Editor's note: This article has been updated with new details throughout.
Go deeper