Trump escalates attacks on Fauci as Election Day nears, COVID cases surge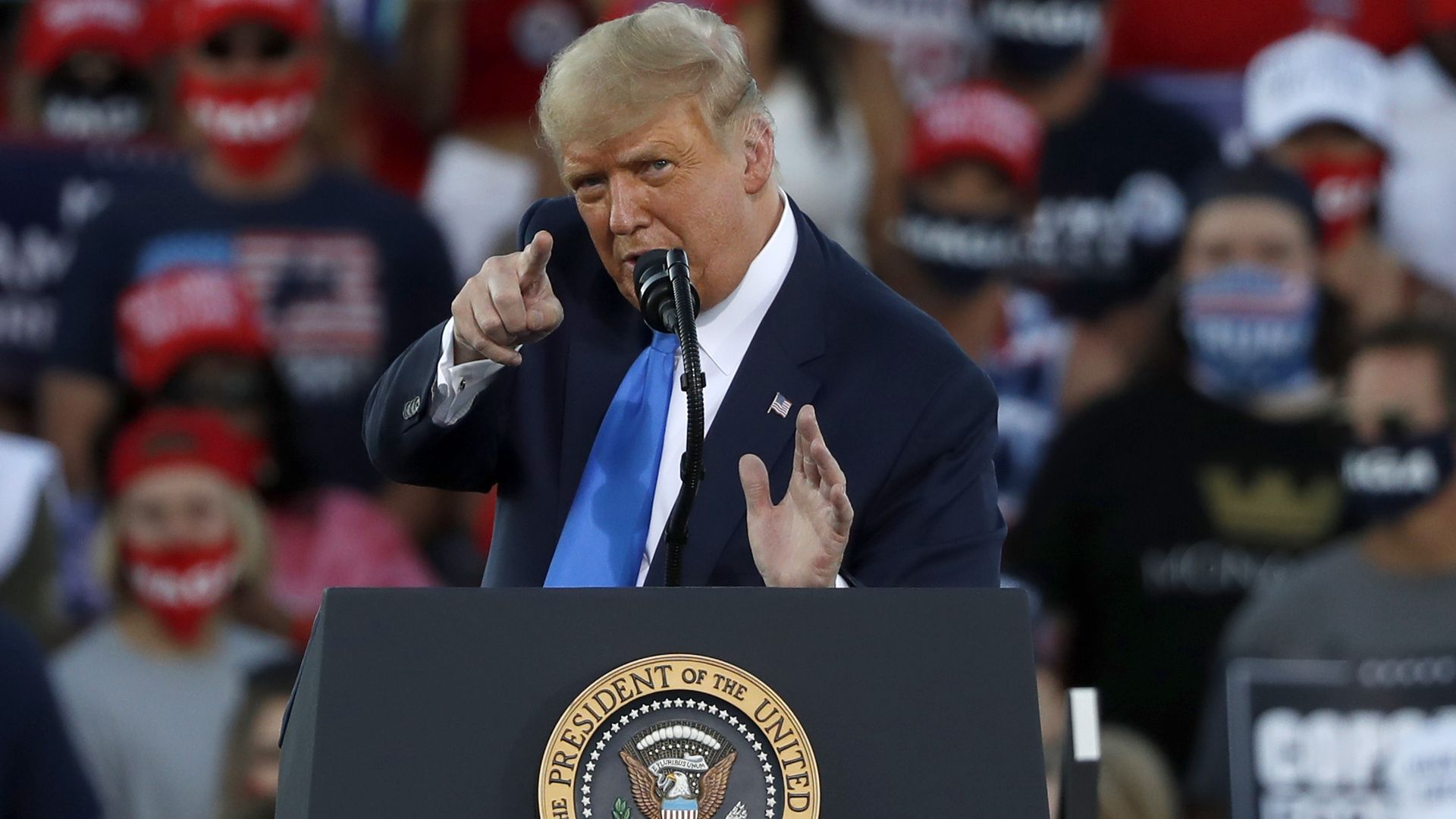 During a campaign call on Monday, President Trump slammed infectious disease expert Anthony Fauci, calling him a "disaster" and claiming that "people are tired of COVID," according to multiple reporters who listened to the call.
Why it matters: Fauci, who considers himself apolitical, is one of the most trusted voices in the country on the coronavirus. Trump's escalating attacks on the government's top infectious-disease expert come as coronavirus cases and hospitalizations are again surging across the country, just two weeks out from Election Day.
Driving the news: CBS's "60 Minutes" aired an interview Sunday night with the NIAID director, where he said he was "absolutely not" surprised Trump contracted COVID-19 after seeing him on TV in a crowded place with "almost nobody wearing a mask."
What he's saying: "Every time he goes on television there's always a bomb, but there's a bigger bomb if you fire him. This guy's a disaster," Trump said on a campaign call.
"People are tired of COVID. I have these huge rallies," Trump said. "People are saying whatever. Just leave us alone. They're tired of it. People are tired of hearing Fauci and all these idiots ... Fauci is a nice guy. He's been here for 500 years."
"If I listened to him, we'd have 500,000 deaths," before later saying it would be 700,000 or 800,000. "If there's a reporter on, you can have it just the way I said it, I couldn't care less," Trump added.
The president later tweeted: "Dr. Tony Fauci says we don't allow him to do television, and yet I saw him last night on @60Minutes, and he seems to get more airtime than anybody since the late, great, Bob Hope. All I ask of Tony is that he make better decisions. He said "no masks & let China in". Also, Bad arm!"
In a second tweet, Trump appeared to mock Fauci for a ceremonial first pitch he threw out for the Washington Nationals earlier this year.
The big picture: The White House has repeatedly blocked Fauci from making television appearances or doing interviews, which the top health expert pointed out during his "60 minutes" appearance. "There has been a restriction… but, it isn't consistent," Fauci said.
Fauci has also clashed with the president over a political ad put out by the Trump campaign, saying a clip of him appearing to praise Trump's coronavirus response was used out of context and without his permission.
Fauci has insisted there's "not a chance" that he would resign even if the Trump campaign continued to feature him in ads, but argued: "By doing this against my will, they are in effect harassing me."
Go deeper