Walter Reed attending physician: Trump "put lives at risk" with drive-by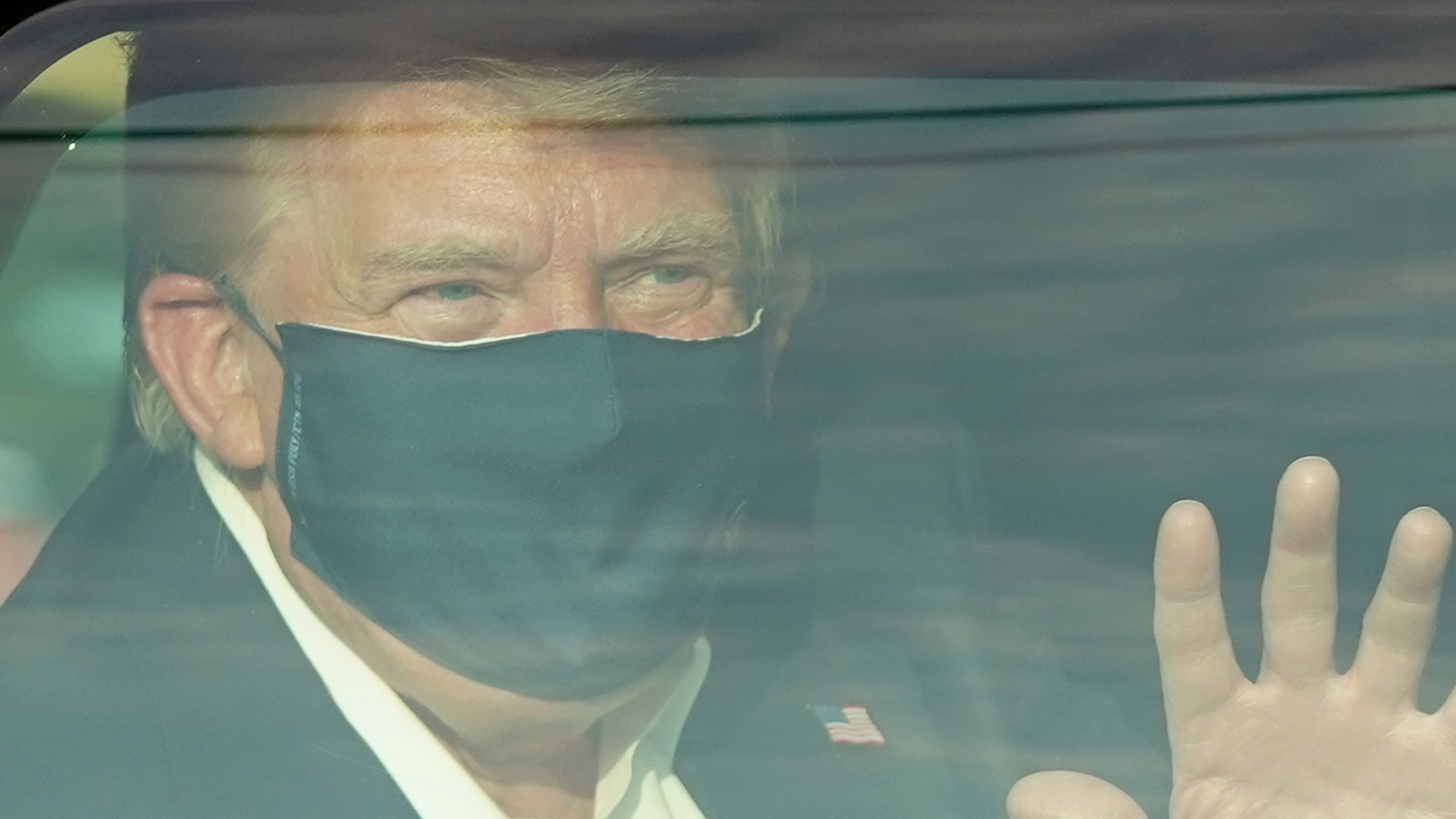 An attending physician at the Walter Reed Medical Center led criticism from some in the medical community over President Trump's SUV ride to wave at supporters gathered outside the hospital where he's being treated for COVID-19.
Details: "That Presidential SUV is not only bulletproof, but hermetically sealed against chemical attack. The risk of COVID19 transmission inside is as high as it gets outside of medical procedures," physician James Phillips tweeted. "The irresponsibility is astounding. My thoughts are with the Secret Service forced to play."
"Every single person in the vehicle during that completely unnecessary Presidential 'drive-by' just now has to be quarantined for 14 days. They might get sick. They may die. For political theater. Commanded by Trump to put their lives at risk for theater. This is insanity."
—
Phillips' Twitter post
What they're saying: New York University professor Céline Gounder, an infectious diseases expert, tweeted: "POTUS putting the health of others at risk. His M.O. this entire pandemic."
Oregon Health and Science University's Esther Choo, an emergency room physician, told MSNBC: "It makes me sick to see him in close quarters with others in that car."
Craig Spencer, director of Global Health in Emergency Medicine at New York-Presbyterian/Columbia University Medical Center, posted the below comments to Twitter:
The big picture: The drive-by likely violates CDC guidelines, which call on health care professionals to "limit transport and movement of the patient outside of the room to medically essential purposes."
Trump wore a mask during the trip.
The other side: White House spokesperson Judd Deere told reporters, "Appropriate precautions were taken in the execution of this movement to protect the President and all those supporting it, including PPE. The movement was cleared by the medical team as safe to do."
Trump campaign senior adviser Jason Miller told CNN Sunday evening that the Secret Service takes "great care of their agents" and "always take extra precaution."
Trump said in a video ahead of his trip that he wanted to make a "surprise visit" to his supporters, who called "great patriots."
Editor's note: This article has been updated with Deere's comments.
Go deeper