The 6 senior Trump 2016 campaign figures to face federal charges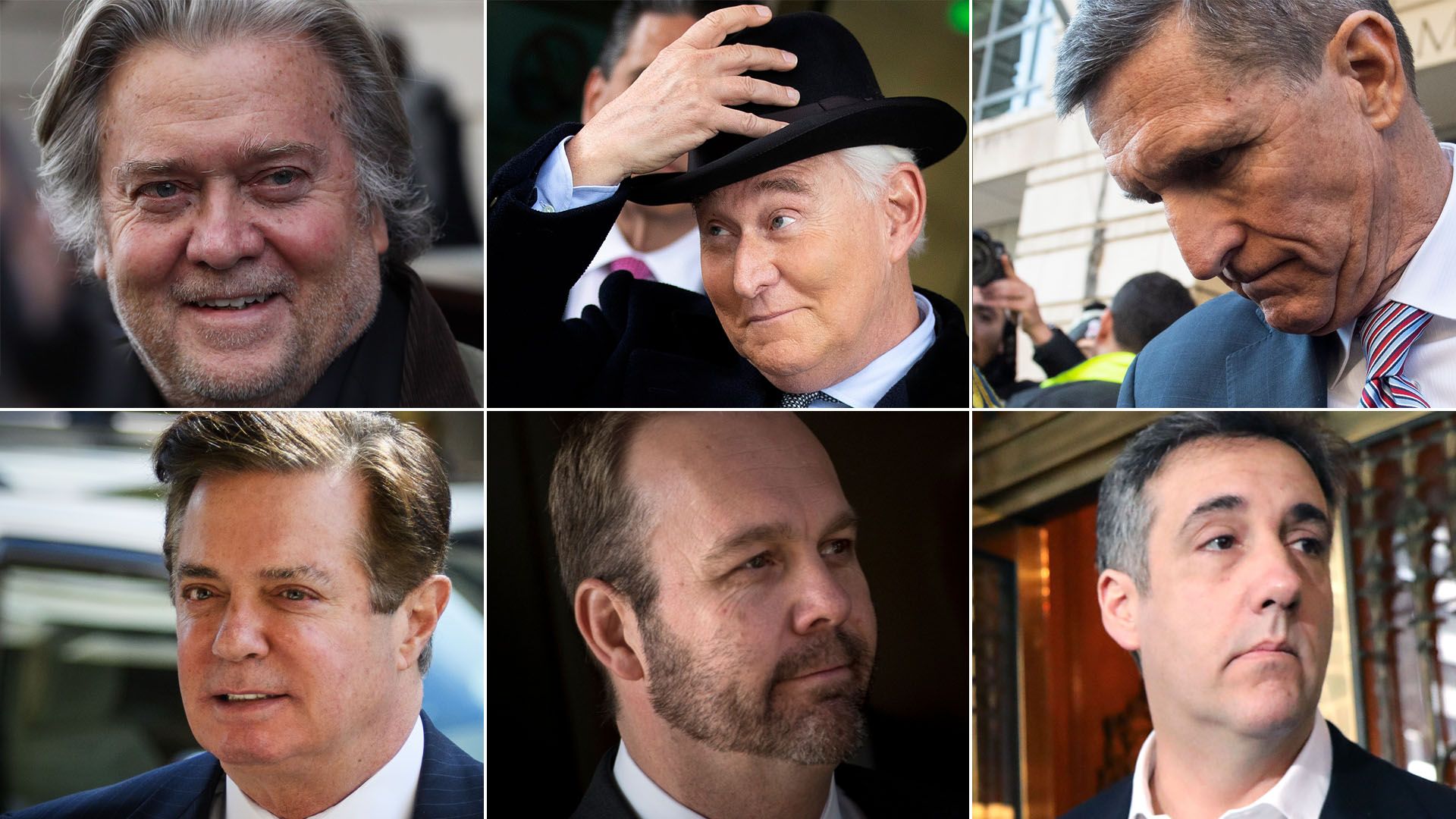 Former Trump administration chief strategist Steve Bannon's fraud arrest on Thursday made him the sixth senior 2016 Trump campaign figure to be hit with federal charges.
The state of play: While Bannon was allegedly involved in a scheme to defraud donors to a private border wall construction project, the other five former Trump campaign officials found themselves wrapped up in the Mueller investigation.
Steve Bannon
Bannon, along with three others, allegedly defrauded donors out of hundreds of thousands of dollars with a crowdfunding campaign called "We Build the Wall."
Federal prosecutors say Bannon, via a non-profit, took in over $1 million from the scheme "and at least some of it was used to cover hundreds of thousands of dollars in [his] personal expenses."
Roger Stone
The former Trump campaign adviser was sentenced to 40 months in prison for crimes including obstruction, witness tampering and making false statements to Congress.
He lied to Congress about his efforts to learn more about when WikiLeaks would publish damaging emails about Hillary Clinton during the 2016 election.
President Trump later commuted his sentence.
Michael Flynn
Paul Manafort
Rick Gates
His relatively light sentence was due to his cooperation with the Mueller investigation.
Michael Cohen
The president's former personal lawyer and fixer, who describes himself as "one of Trump's bad guys" in his forthcoming book, pleaded guilty to to lying to Congress on the president's behalf and is carrying out a three-year prison sentence in home confinement.
Cohen admitted he lied to the Senate Intelligence Committee in 2017 about the length and scope of his work on plans to build a Trump Tower in Moscow.
Don't forget: Though he was not a senior campaign member, former Trump campaign aide George Papadopoulos also pleaded guilty in 2017 to making false statements to the FBI about his contacts with Russians.
Go deeper