Bernie Sanders wins Nevada caucuses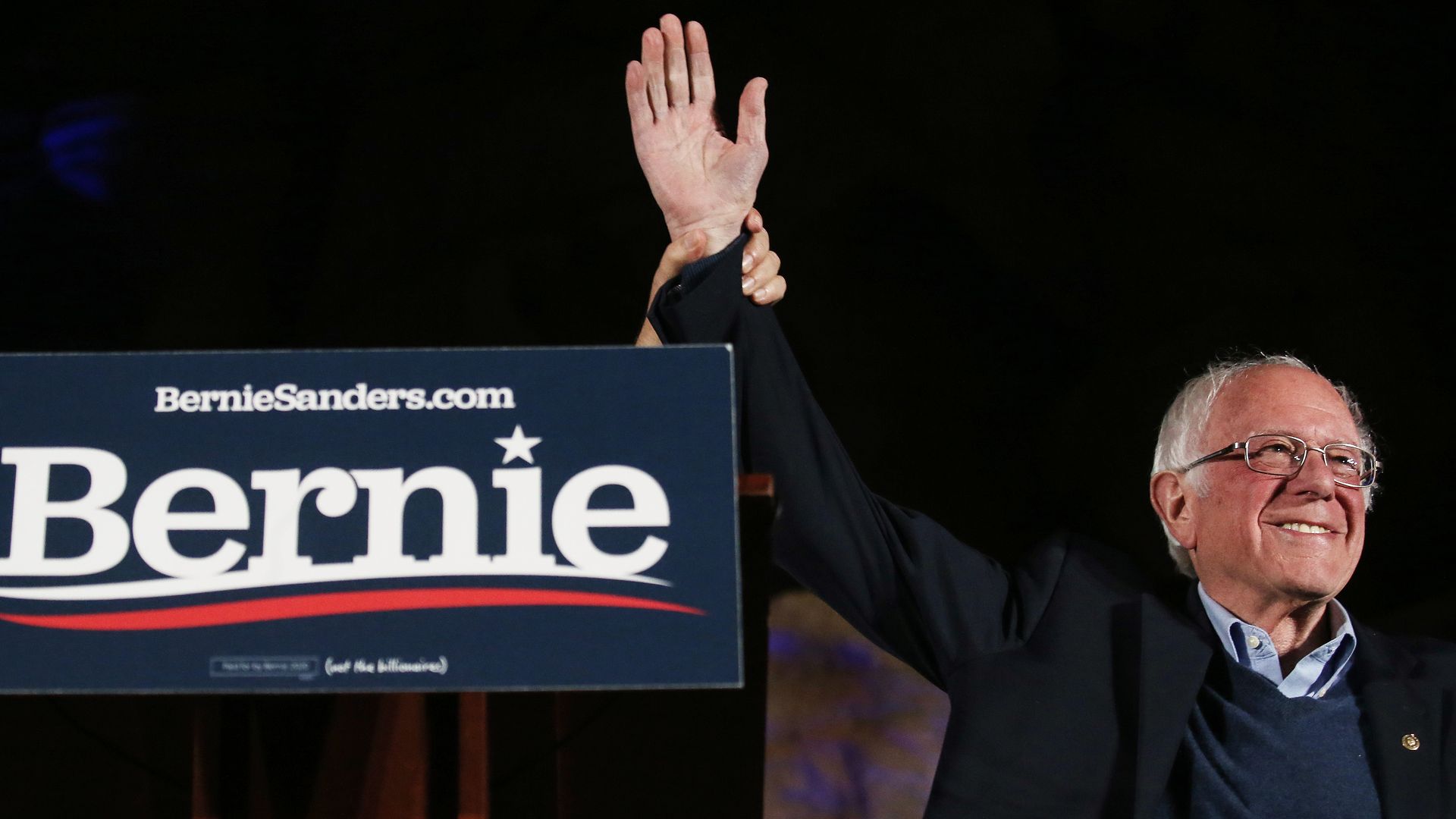 Sen. Bernie Sanders is projected to handily win the Nevada Democratic caucuses, becoming the clear front-runner among 2020 Democratic presidential primary election candidates.
Why it matters: Nevada is the first state with a diverse population to hold a nominating contest, highlighting candidates' abilities to connect with voters of color — particularly Latino voters.
"We won the popular vote in Iowa," Sanders said in a victory speech.
"We won the New Hampshire primary. And according to three networks and the AP, we have now won the Nevada caucus."
With 50% of precincts reporting just before 1 am on Sunday, Sanders at 46.% had a commanding lead over his nearest rival, Joe Biden (19.2%). Pete Buttigieg was placed next with 15.4%, Elizabeth Warren was in fourth with 10.3% and Amy Klobuchar fifth (4.5%).
Mike Bloomberg did not make the ballot in Nevada.
The big picture: This is the third straight contest where Sanders has either won or finished in a virtual tie.
Between the lines: Sanders' campaign invested millions to attract Nevada's Latino voters going into caucus, Politico reports.
76 of the 250 Sanders staffers in Nevada are Latino.
His campaign hosted 35 events in Spanish.
Sanders targeted Latinos on digital platforms like YouTube, Hulu and Pandora.
What they're saying:
Sanders in Texas: "I have absolute confidence we can create a government based on compassion, based on love and based on truth, not what we have now of greed, corruption and lies."
Joe Biden: "I know we don't have the final results yet, but I feel really good. ... You put me in a position, you know the press is ready to declare people dead quickly, but we're alive and we're coming back and we're going to win."
Biden's campaign manager Greg Schultz: "Based on our internal data, Biden will come in a strong second tonight. ... Make no mistake: The Biden comeback starts tonight in Nevada."
Biden to a supporter: "Y'all did it for me, y'all did it."
Pete Buttigieg: "Let's take a sober look at what's at stake. ... Sanders believes in an inflexible, ideological revolution that leaves out most Democrats, not to mention most Americans."
More Buttigieg: "We need to have a nominee who actually gives a damn about what the top of the ticket means for those crucial frontline House and Senate races."
Sen. Elizabeth Warren congratulated Sanders during a town hall in Seattle and thanked her supporters "for keeping me in the fight, saying: "I'm not in this fight to talk about change," she added. "I am in this fight to make change."
Amy Klobuchar in Minneapolis: "We have a great team down there, still working hard. They're counting the votes, but as usual, I think we have exceeded expectations."
Tom Steyer shared a video to Twitter with the comment, "Proud of everything we accomplished in Nevada. We're only gaining strength as the electorate gets more diverse and more representative of the country."
Bloomberg's campaign said: "The Nevada results reinforce the reality that this fragmented field is putting Bernie Sanders on pace to amass an insurmountable delegate lead."
"This is a candidate who just declared war on the so-called 'Democratic Establishment,'" the statement continued. "We are going to need Independents AND Republicans to defeat Trump — attacking your own party is no way to get started."
The bottom line: Sanders is competitive in almost every demographic, as today's early caucus exit polling from the Washington Post reveals.
He leads among white voters, has a massive edge among Latinos, dominates with both women and men, does best among both college graduates and those without a college degree, and he even did best among moderates/conservatives. 
The only places where he's not dominating are with people 65 and older (Biden has an edge), African Americans (but he's narrowed Biden's edge) and among voters who prioritize foreign policy.
Go deeper: Bernie Sanders on the issues, in under 500 words
Editor's note: This article has been updated with new details throughout.
Go deeper