What they're saying: Judge blesses T-Mobile-Sprint deal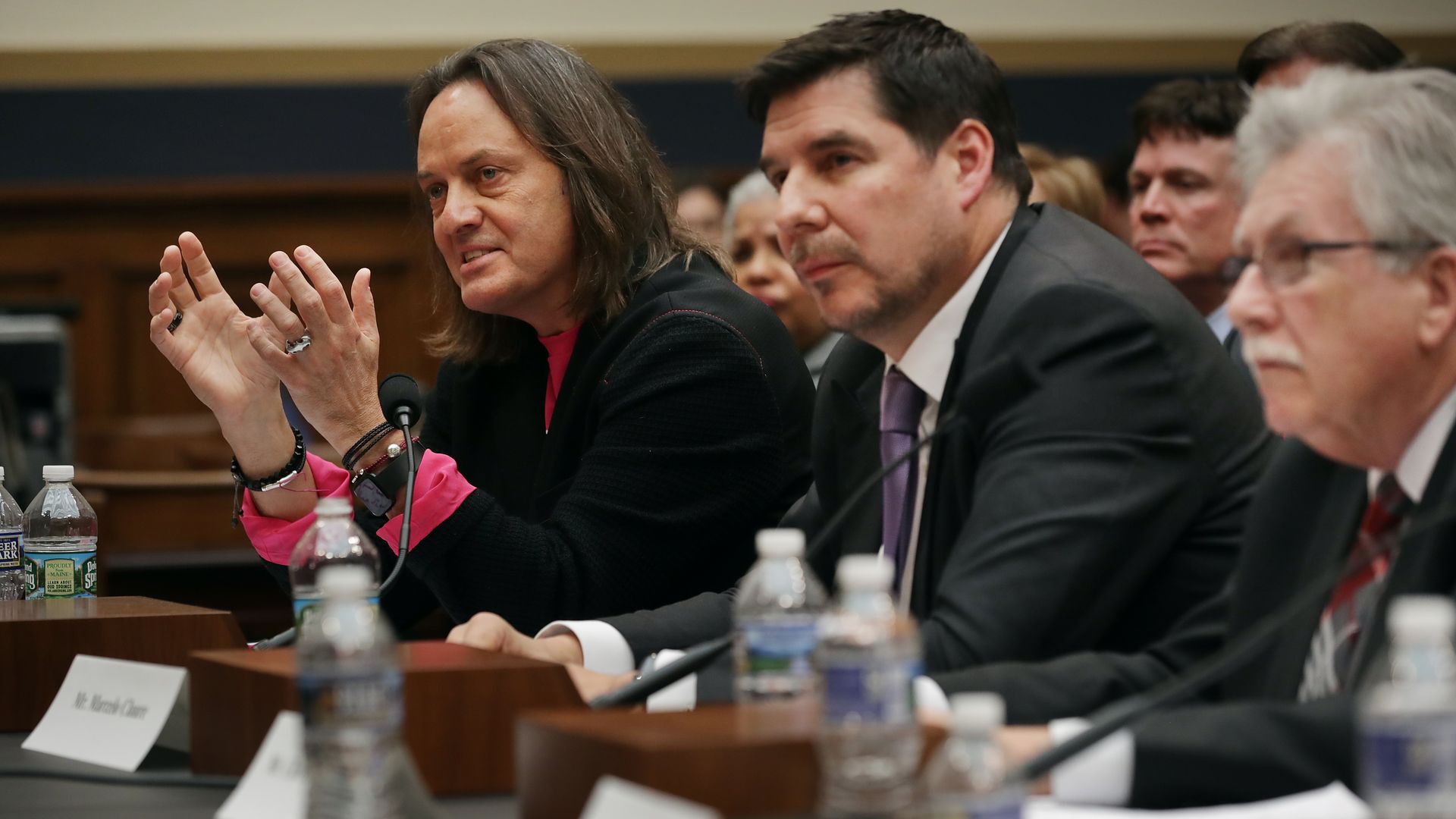 Sprint and T-Mobile on Tuesday hailed a federal judge's ruling that should pave the way for their deal to be completed, while opponents worried that consumers will ultimately end up paying more.
Why it matters: The decision turns back a legal challenge from a coalition of state attorneys general that had been the largest remaining hurdle for the deal, though it still requires a few more approvals.
New York Attorney General Letitia James: "From the start, this merger has been about massive corporate profits over all else, and despite the companies' false claims, this deal will endanger wireless subscribers where it hurts most: their wallets. There is no doubt that reducing the mobile market from four to three will be bad for consumers, bad for workers, and bad for innovation, which is why the states stepped up and led this lawsuit."
California Attorney General Xavier Becerra: "Our fight to oppose this merger sends a strong message: even in the face of powerful opposition, we won't hesitate to stand up for consumers who deserve choice and fair prices. We'll stand on the side of competition over megamergers, every time. And our coalition is prepared to fight as long as necessary to protect innovation and competitive costs."
Justice Department antitrust chief Makan Delrahim: "I am pleased and agree with Judge Marrero's decision to deny the injunction, and particularly his conclusion that the department's divestiture and remedy package resolves the competitive concerns in this case. This opinion is an important next step toward strengthening competition for high-quality 5G networks that will benefit American consumers nationwide."
FCC Chairman Ajit Pai: "I'm pleased with the district court's decision. The T-Mobile-Sprint merger will help close the digital divide and secure United States leadership in 5G... This is a big win for American consumers."
Democratic FCC Commissioner Geoffrey Starks: "The merger between T-Mobile and Sprint will dramatically alter America's wireless landscape.  The state Attorneys General presented a strong case.  The court saw it differently... Nevertheless, the merging parties have made significant promises — to lower prices, to deploy 5G throughout the country, and to increase the diversity of their suppliers, employees and executives.  Moreover, DISH has promised to build a 5G network from scratch in a few short years.  I look forward to seeing how these companies will fulfill their promises to the American people."
T-Mobile CEO John Legere: "We've said it all along: the New T-Mobile will be a supercharged Un-carrier that is great for consumers and great for competition. The broad and deep 5G network that only our combined companies will be able to bring to life is going to change wireless … and beyond."
Sprint Executive Chairman Marcelo Claure: "Judge Marrero's decision validates our view that this merger is in the best interests of the U.S. economy and American consumers. Today brings us a big step closer to creating a combined company that will provide nationwide 5G, lower costs, and a high-performing network that will invigorate competition to the benefit of all mobile wireless and in-home broadband consumers. With the support of federal regulators and now this Court, we will focus on quickly completing the few remaining necessary steps to close this transaction."
Dish Chairman and co-founder Charlie Ergen: " The ruling, in addition to the DOJ and FCC approvals, accelerates our ability to deploy the nation's first virtualized, standalone 5G network and bring 5G to America. We are eager to begin serving Boost customers while aggressively growing the business as a new competitor, bringing lower prices, greater choice and more innovation to consumers."
Joshua Stager, senior counsel at New America's Open Technology Institute: "Today's decision is a tremendous loss for consumers, the American economy, and antitrust law itself... Markets don't recover from mergers like this one—they turn into oligopolies marked by high prices, collusion, and inequality. Unfortunately, the court fundamentally misunderstood how the wireless market operates, and consumers will quite literally pay the price for its misguided ruling."
Go deeper