Trump impeachment debate recap: Senators speak ahead of final vote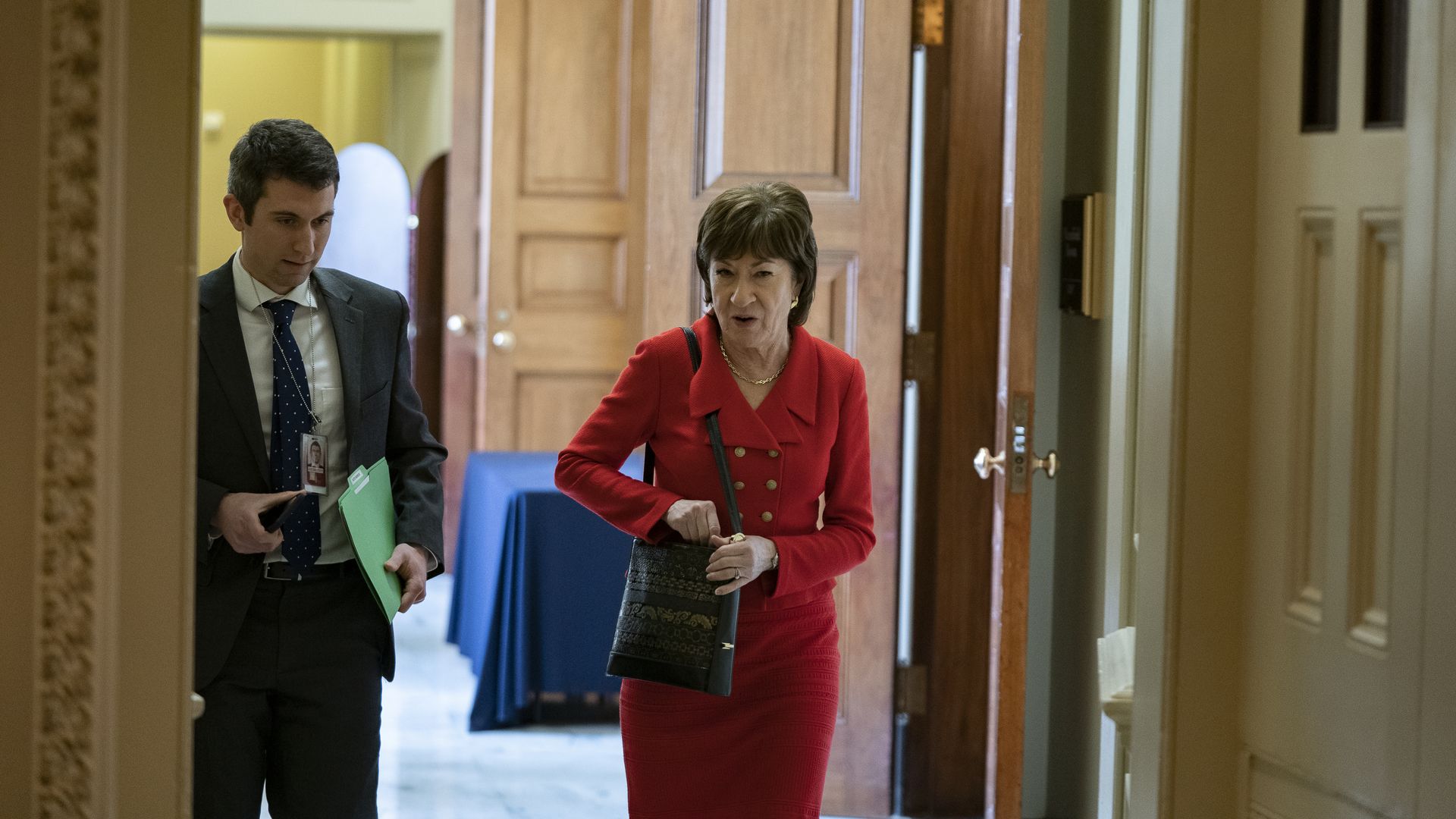 Senators spent Tuesday debating the articles of impeachment against President Trump ahead of the trial's resumption on Wednesday, when the chamber is expected to vote to acquit.
The big picture: Sen. Susan Collins (R-Maine) joined Sen. Lisa Murkowski (R-Alaska) in condemning Trump's conduct toward Ukraine as "inappropriate," but ultimately said she would vote to acquit. Sen. Mitt Romney, who along with Collins was one of two Republicans to vote in favor of witnesses, is the Democrats' last chance for a bipartisan conviction vote.
The highlights:
Sen. Rand Paul (R-Ky.) used his time to read a question that included the alleged name of the Ukraine whistleblower after Chief Justice John Roberts refused to do so last week during the trial's question-and-answer portion.
Senate Majority Leader Mitch McConnell kicked off the debate by urging senators to acquit the president — utilizing an argument from Trump's defense team that his actions should be judged in an election. He argued that Democrats "don't get to rip the choice away from the voters just because they're afraid they might lose again."
Sen. Dianne Feinstein (D-Calif) said that she would vote to convict, acknowledging that removal should be reserved only for the most "egregious" misconduct but arguing that Trump's actions have made it "necessary."
Sen. Susan Collins (R-Maine) argued that while it was "wrong" for Trump to ask Ukraine to investigate the Bidens, the House managers did not meet their burden of "showing that the president's conduct, however flawed, warrants the extreme step of immediate removal from office."
Off the floor: Sen. Joe Manchin (D-W.Va.) acknowledged that his proposed censure resolution against the president was receiving little traction across the aisle and that it would likely fail to receive a floor vote.
Sen. Joni Ernst (R-Iowa) said on Fox News that she wouldn't support censuring Trump because Democrats' impeachment process had "really soured [her] on this entire experience."
Sen. Doug Jones (D-Ala.), who could join the GOP in voting to acquit Trump, said he'll announce his vote Wednesday morning. He also backed the idea of censuring the president.
Sen. Ben Sasse (R-Neb.) became the latest Republican to say Trump's freezing of military aid to Ukraine was "inappropriate and wrong," but told the Omaha World-Herald that voting to remove the president "would be setting America on fire."
What you need to know:
Go deeper:
Go deeper