Trump presents Middle East peace plan, green lights Israeli annexations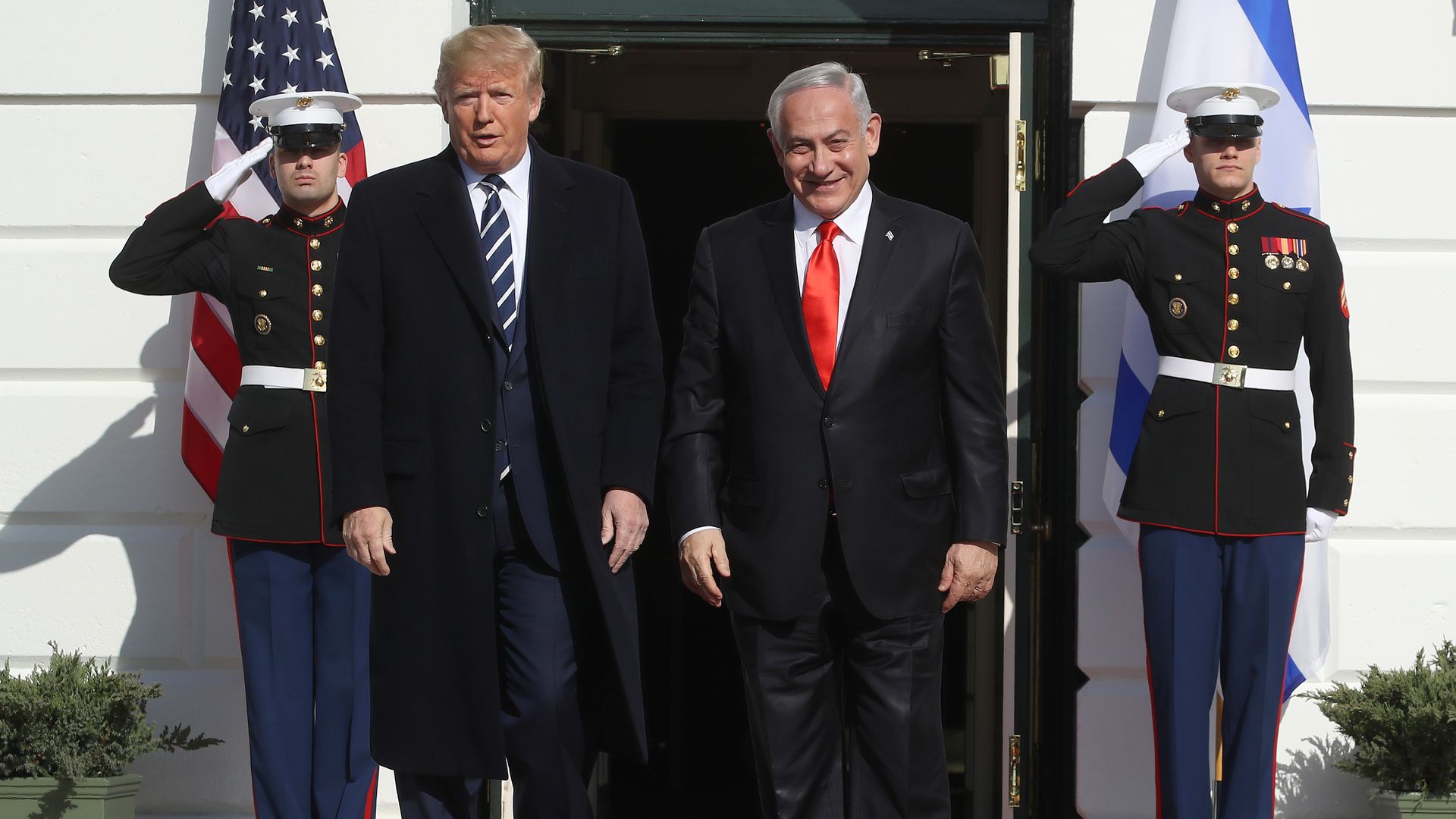 President Trump described his long-awaited Middle East peace plan as a "realistic two-state solution," but it's being hailed as a victory by Israel and emphatically rejected by the Palestinians.
The state of play: As the plan was released publicly, U.S. Ambassador to Israel David Friedman told reporters that the areas of the West Bank envisioned as Israeli territory can be immediately annexed. Israeli Prime Minister Benjamin Netanyahu has already called on his Cabinet to endorse annexation plans this Sunday.
Catch up quick: Palestinian leaders have boycotted this multiyear process and preemptively rejected Trump's plan.
Netanyahu has embraced it. He applauded along with Trump's remarks today before describing him as easily "the greatest friend that Israel has ever had in the White House."
Mahmoud Abbas, president of the Palestinian Authority, said in a statement that "Jerusalem is not for sale, all our rights are not for sale" and Trump's deal "will not pass."
What he's saying: Trump said his plan would create a Palestinian state with a capital in parts of eastern Jerusalem. It also calls for a four-year freeze on Israeli settlements, while recognizing existing settlements in the West Bank.
"I have done a lot for Israel," Trump said. "It is reasonable that I have to do a lot for the Palestinians, or it just wouldn't be fair."
He said no one on either side of the border would be "uprooted from their homes."
The president added this could be "the last opportunity" for a Palestinian state. His explanation was that he had put together a strong team "who love the United States and they love Israel."
Trump's conditions for a Palestinian state include that Hamas will disarm and the new state will recognize Israel as a Jewish state while granting Israel full security control of the West Bank and Jerusalem, per the Telegraph's Raf Sanchez. The plan also rejects the "right of return" for Palestinian refugees.
Analysts quickly dismissed Trump's plan as unworkable from the Palestinian perspective.
What to watch: The big question beyond the details of the plan was what the Arab reaction would be.
Oman, Bahrain and the United Arab Emirates attended Trump's remarks — an indication they're not rejecting the plan entirely.
But Jordan's foreign minister has warned that Israeli annexations in the West Bank could have drastic consequences.
Friedman said Israel "does not have to wait at all" to move ahead with annexations, adding: "The waiting period would be the time it takes for them to obtain internal approvals."
The big picture: Recent administrations have seen their role as facilitating dialogue between Israel and Palestine and setting parameters for a potential agreement. Trump made a radical departure by choosing to release a detailed plan that only one party supports.
Netanyahu emphasized Israel's gains under Trump's plan, including areas previously declared "illegally occupied."
Past peace plans, he said, "failed because they did not strike the right balance between Israel's vital security and national interests and the Palestinians' aspirations for self-determination."
Between the lines: There are domestic political upsides here for both Trump and Netanyahu, but no one expects a deal on these terms any time soon.
Dennis Ross, Bill Clinton's Middle East envoy, told reporters ahead of the plan's release that reaction from around the region will determine whether it goes nowhere or serves as a basis for future negotiations.
The backdrop: Netanyahu is fighting for his political life and seemed to relish the opportunity to stand alongside Trump at the press conference and follow him at the podium.
Earlier today, he surrendered his immunity from prosecution over three corruption indictments before it could be revoked by a parliamentary committee.
The peace plan and the charges against him will both be central to the election on March 2, Israel's third in a year.
Netanyahu's political rival, Benny Gantz, met with Trump yesterday and said he supports the plan, though he believes no steps should be taken to implement it until after the election.
Go deeper:
Go deeper