McConnell says Republicans do not yet have the votes to block witnesses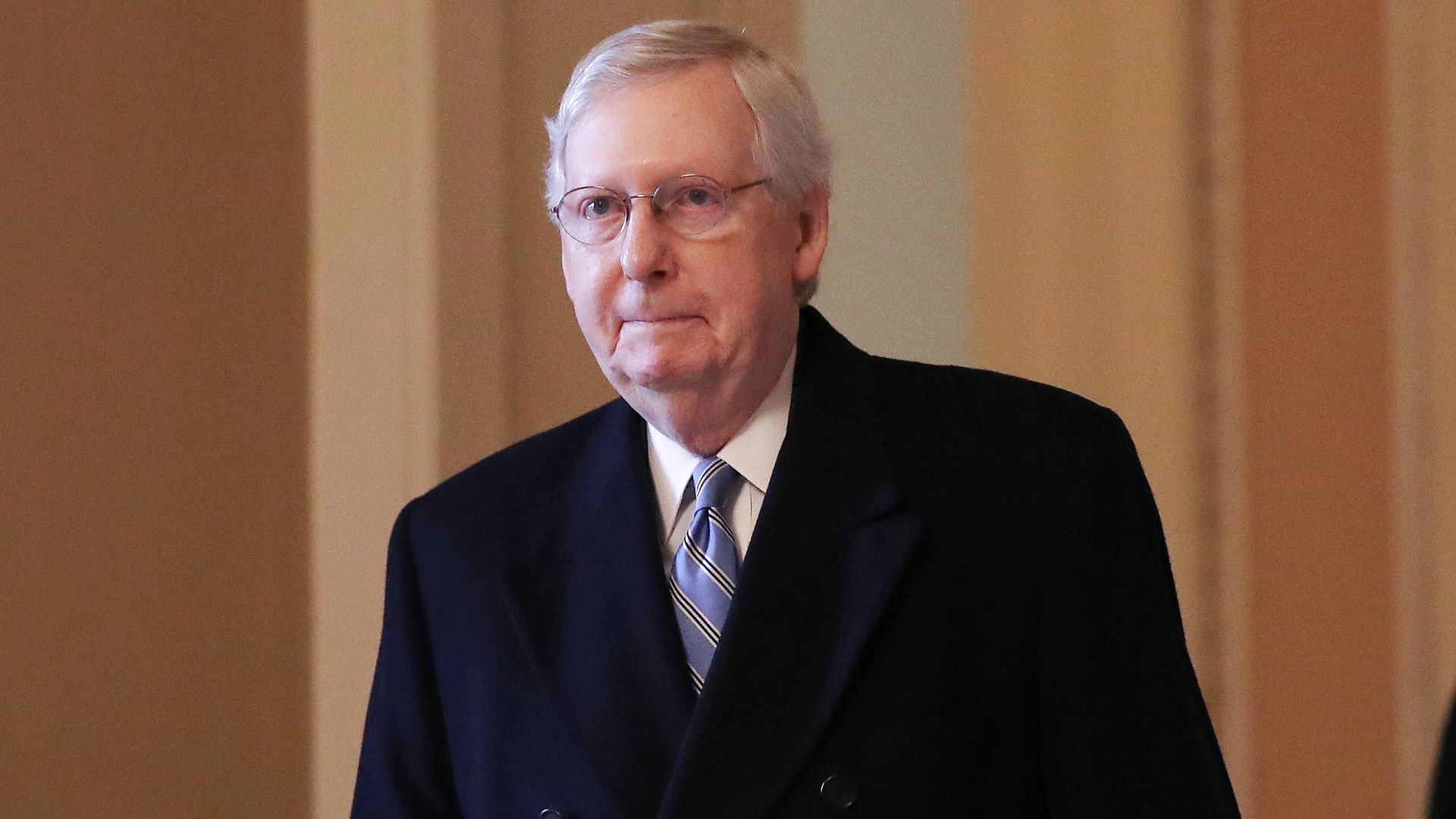 Senate Majority Leader Mitch McConnell told his caucus Tuesday that Republicans currently lack the votes needed to block witnesses from being called in the impeachment trial against President Trump, but are hopeful they could get there by Friday, three sources familiar with the closed-door meeting tell Axios.
The big picture: Most Republicans have tried to avoid calling witnesses, and just a few days ago it looked like their efforts would be successful. But bombshell revelations from former national security adviser John Bolton's forthcoming book have swayed more GOP senators in recent days, with some signaling they're more likely to vote for witnesses than before.
But, but, but: Some Republicans say they feel confident key Republican senators could change their minds on the witness vote after the 16-hour question and answer period that starts Wednesday, with many using the line the trial is "still fluid."
GOP leaders signaled on Tuesday that the White House and Trump's Republican allies still have their work cut out for them to reach at least 51 no-votes.
What we're hearing: During the meeting, GOP leaders discussed the politics and dynamics of what a vote in favor of bringing in witnesses would mean. Specifically, they emphasized that a vote in that direction would drag out the impeachment proceedings and could ultimately impact the races of senators' up for reelection.
Sen. Ted Cruz: "We discussed as a conference next steps, and it's no secret that the question of whether additional witnesses are needed or are relevant to the questions before the Senate -- that continues to be a question that is much discussed and debated. ... There are differences of opinion, none of which is terribly surprising."
Sen. Kevin Cramer said McConnell did not provide them with a whip count. Rather, the meeting "was a serious family discussion" and that some of his Republican colleagues are still looking at all their options. But he added that in his view, "another question is like another witness. I know I'm not looking for more information to convict the president."
Sen. John Hoeven said the purpose of the meeting was "generally to understand how the Q&A is going to go, and talk about the whole process, as well as the timeline."
State of play: 51 senators need to vote in favor of witnesses. And while Republicans currently control the 53-47 majority, it now appears at least four GOP senators are willing to break from the party line.
Meanwhile, recent polls show that Americans favor calling new witnesses.
Go deeper:
Go deeper