Merkel warns against demonizing China for its success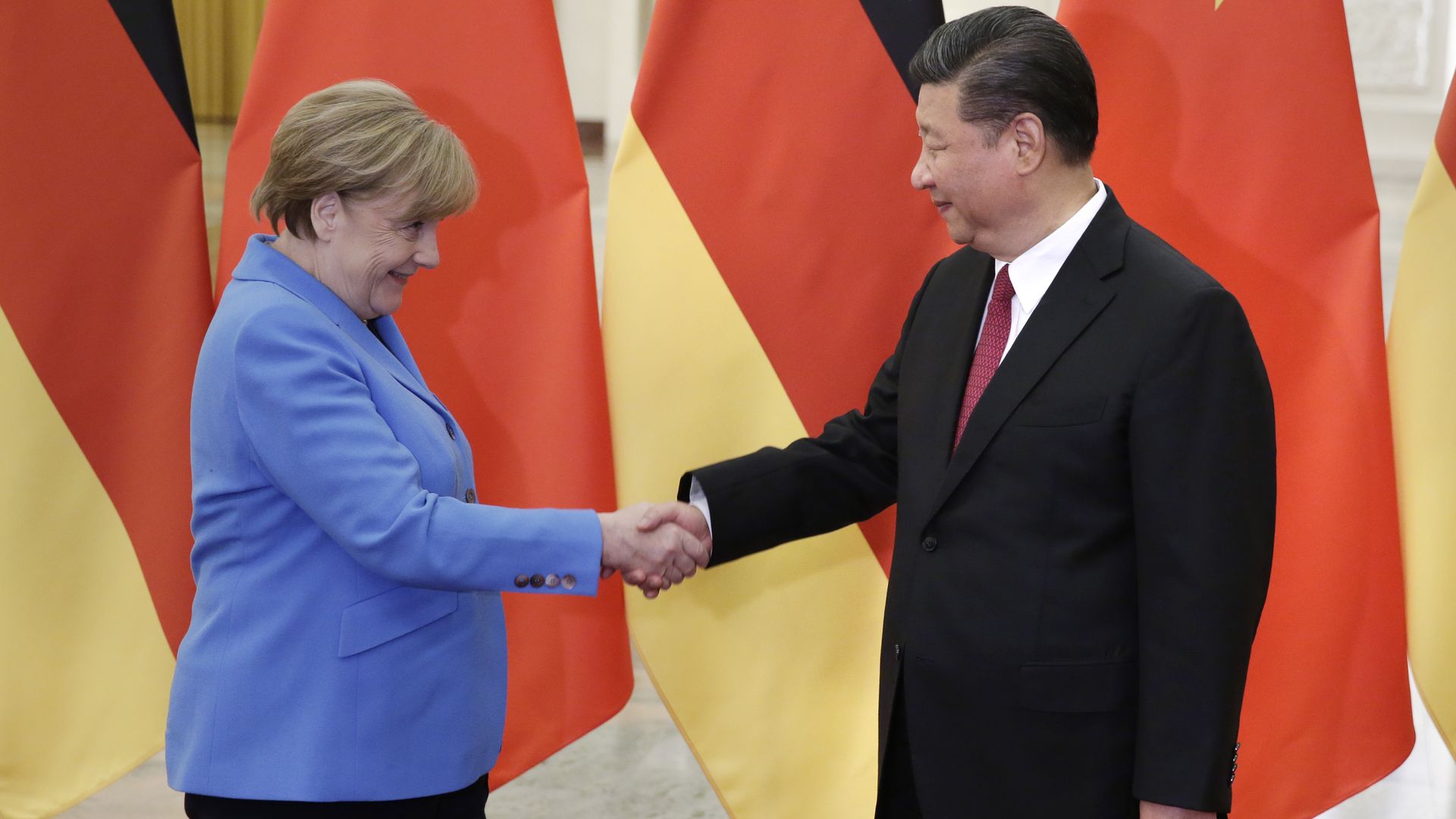 German Chancellor Angela Merkel said Europe needs to strengthen its cooperation on issues like technology and defense, while avoiding involvement in U.S.-China tensions, in an interview with the FT.
What she's saying: "The United States' focus on Europe is declining — that will be the case under any president. We in Europe, and especially in Germany, need to take on more responsibility."
Merkel cited not just President Trump's "America first" view, but former President Obama's pivot to Asia as signs that Washington no longer views Europe as "at the centre of world events."
"I see the European Union as our life insurance. Germany is far too small to exert geopolitical influence on its own, and that's why we need to make use of all the benefits of the single market," she said.
What she's calling for:
Merkel said European firms need to be able to manufacture critical technologies like microchips and battery cells, rather than rely on outside suppliers.
She also said Europe must be willing to "get involved" in conflicts in areas outside of NATO's borders, including in Africa.
Merkel warned that Europe needs to avoid coming "under pressure between America and China," and said "complete isolation from China cannot be the answer."
She rejected the idea of "decoupling" economically and diplomatically from China, as many in Washington are now proposing.
Merkel defended her government's close ties with China, and its decision not to exclude Huawei from 5G networks.
She said she would "advise against regarding China as a threat simply because it is economically successful."
"As was the case in Germany, [China's] rise is largely based on hard work, creativity and technical skills."
— Angela Merkel
Our thought bubble: Merkel's view stands in sharp contrast to those who argue China's global ambitions, combined with its authoritarian model and human rights abuses, pose an existential threat to the West.
What to watch: After 14 years in power, Merkel says this is her final term. She's expected to leave office in 2021 unless her rickety coalition collapses before then.
"I don't think about my role in history — I do my job," she told interviewers. But she showed a "flash of irritation," they write, when asked about critics who view her tenure as a time of "muddling through."
Go deeper: China challenge stumps 2020 Democrats
Go deeper