Ukraine aid frozen soon after Trump's call with Zelensky, emails show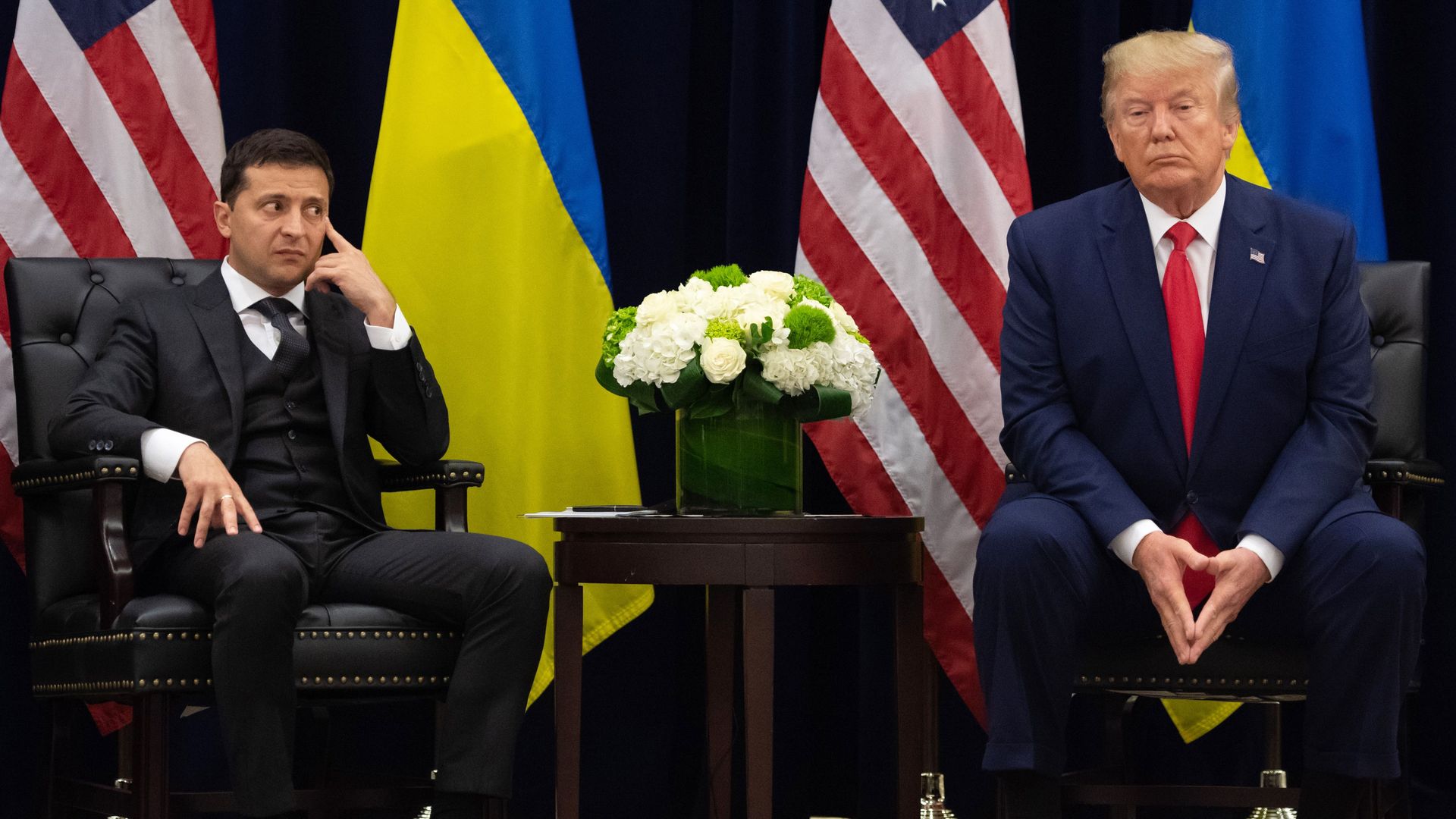 The Office of Management and Budget is pushing back on suggestions that an email requesting the Pentagon withhold military aid to Ukraine 91 minutes after President Trump's phone call with Ukrainian counterpart Volodymyr Zelensky was anything other than procedural.
Why it matters: Allegations that Trump froze nearly $400 million of congressionally approved military aid in order to pressure Ukraine to investigate a potential 2020 rival are central to the impeachment case against the president. But an OMB spokeswoman said, "It's reckless to tie the hold of funds to the phone call. As has been established and publicly reported, the hold was announced in an interagency meeting on July 18." 
Driving the news: Emails released to the Center for Public Integrity show the OMB ordered the Pentagon to withhold military aid to Ukraine 91 minutes after President Trump's phone call with Ukrainian counterpart Volodymyr Zelensky, show.
The 146 pages of heavily redacted emails between the OMB and the Pentagon obtained via a Freedom of Information Act request and court order also show Trump asked about withholding aid to Ukraine the month before his July 25 call with Zelensky.
"Based on guidance I have received and in light of the Administration's plan to review assistance to Ukraine, including the Ukraine Security Assistance Initiative, please hold off on any additional DoD obligations of these funds, pending direction from that process. ... Given the sensitive nature of the request, I appreciate your keeping that information closely held to those who need to know to execute the direction."
— Excerpt of a July 25 email from OMB official Mike Duffey to OMB and Pentagon officials, obtained by the Center for Public Integrity
Duffey is one of four witnesses with direct knowledge of the Ukraine aid freeze who Senate Minority Leader Chuck Schumer (D-N.Y.) wants to testify at Trump's impeachment trial.
What they're saying: Sen. Chris Murphy (D-Conn.) tweeted that the release of the documents is important because it shows, "1. Ukraine aid was held just hours after the Trump/Zelensky 'do us a favor' call; 2. Internal notes show Trump's direct involvement; 3. Staff knew it was wrong, kept it secret."
But the OMB spokeswoman said, "To pull a line out of one email and fail to address the context is misleading and inaccurate."
The president has yet to comment on the release of the emails, but he and his Republican allies maintain he did nothing wrong regarding Ukraine.
Go deeper:
Editor's note: This article has been updated to include comment from the OMB and to clarify that the freezing of aid was discussed before the July 25 phone call.
Go deeper