Trump rallies Michigan supporters minutes into his impeachment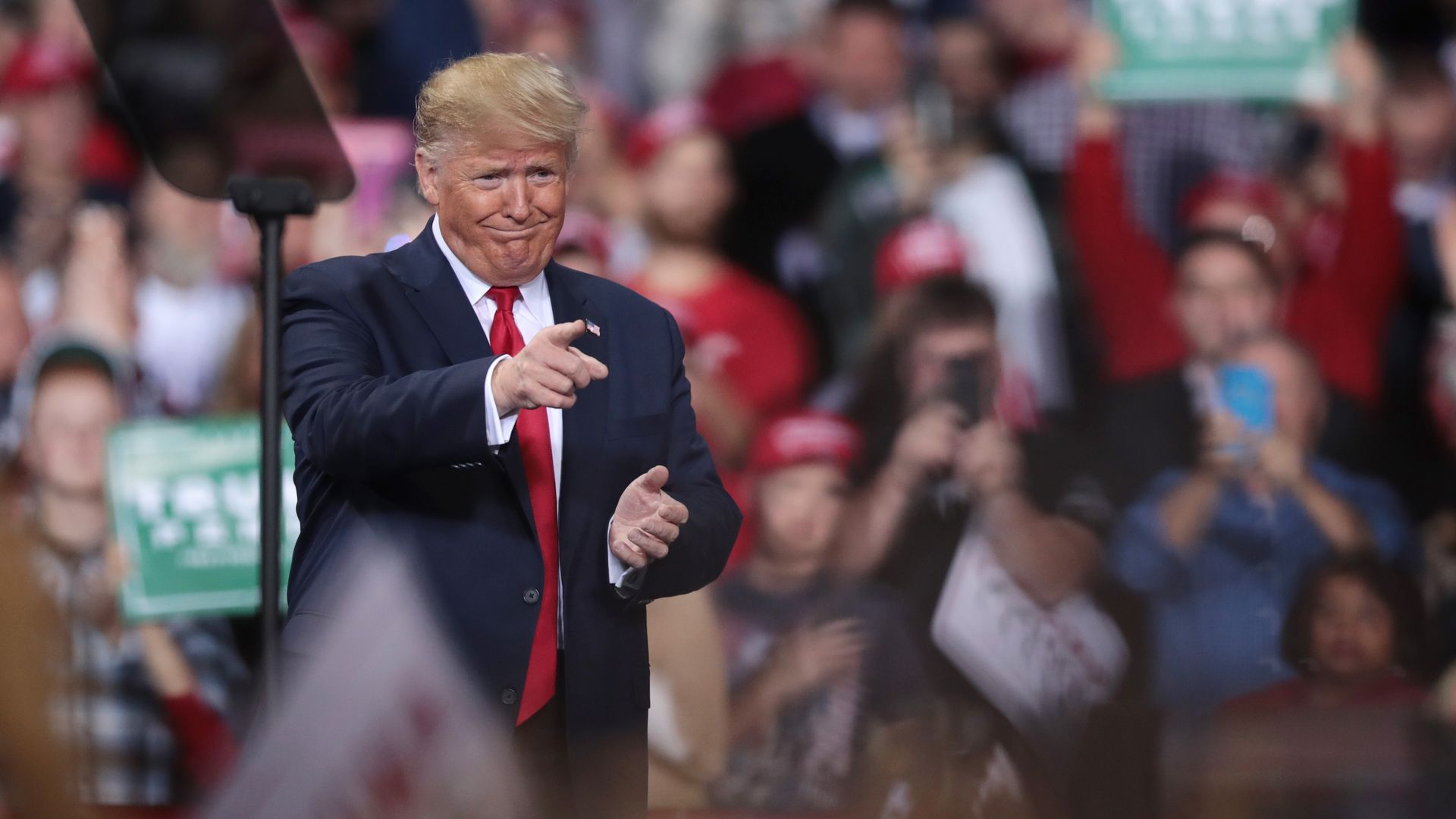 President Trump called his impeachment a "political suicide march for the Democratic Party" as the House of Representatives cast two fateful votes Wednesday night.
The big picture: Trump became America's third president to be impeached after the House voted on charges of abuse of power and obstruction. But supporters remained unfazed at a rally in Battle Creek, Michigan, showing up through slushy snow wearing MAGA hats and "deplorables" gear to get a look at the president.
As lawmakers voted, Trump surrounded himself with thousands of supporters. "It doesn't really feel like we're being impeached," he told them confidently just before the votes.
The president's counter-programming began hours earlier. Trump sent dozens of tweets and retweets Wednesday morning laying into Democrats for what he's repeatedly called a hoax.
"Can you believe that I will be impeached today by the Radical Left, Do Nothing Democrats, AND I DID NOTHING WRONG! A terrible Thing. Read the Transcripts. This should never happen to another President again. Say a PRAYER!" Trump tweeted.
Trump doubled down on his impeachment defense following the vote, spending about two hours total in front of the crowd.
"You know, we have an election right down the road. I announced three months ago that I'm running, right? I'll give you a little clue: I announced because I figured once I announced they'd never impeach. Nobody would be so stupid," Trump said.
"They've been trying to impeach me from day one. They've been trying to impeach me from before I ran," he added.
Fed the vote numbers mid-speech, Trump touted the tally to the crowd, leading to sweeping cheers for Republican unity and the three Democrats who voted in the president's favor.
"The Republican Party has never been so affronted, but they've never been so united as they are right now," Trump said.
Between the lines: Holding on to voters in swing states like Michigan — which Trump narrowly won in 2016 — will be essential for Republicans to keep the White House in 2020.
Keeping the base motivated to turn out in his defense is also key to Trump's re-election strategy.
What to watch: The GOP-led Senate was poised to hold an expedited trial in January. Trump is expected to be acquitted.
"The President is confident the Senate will restore regular order, fairness, and due process, all of which were ignored in the House proceedings. He is prepared for the next steps and confident that he will be fully exonerated," White House press secretary Stephanie Grisham said in a statement.
Go deeper:
Go deeper