Read Rep. Doug Collins' opening statement in the impeachment debate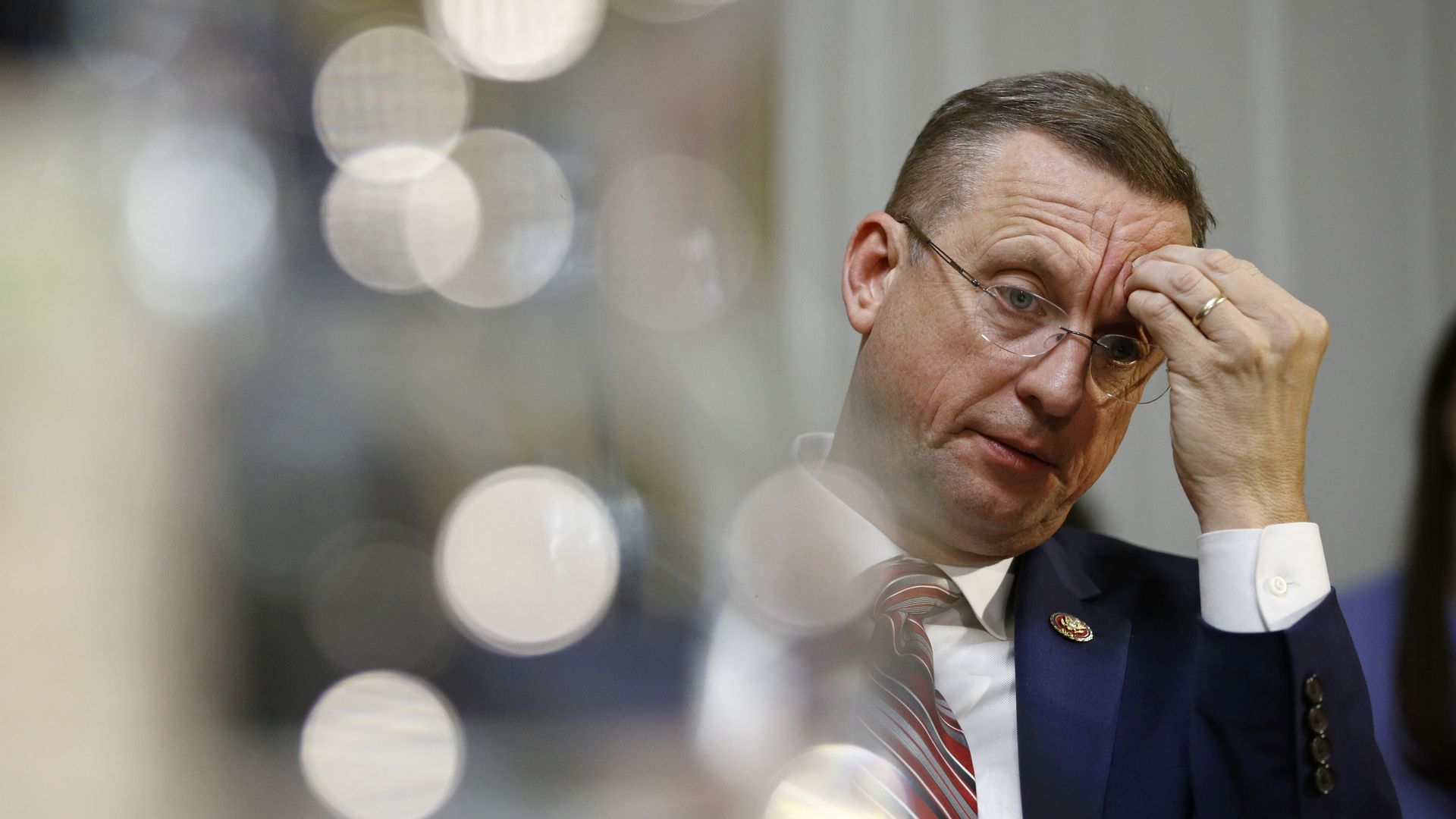 House Judiciary ranking member Doug Collins (R-Ga.) accused Democrats of running a "sham investigation" in the opening moments of the House's formal debate on impeachment Wednesday, claiming President Trump committed "no crimes" and that the facts do not support the case against him.
Why it matters: It's inevitable that the House will approve articles of impeachment at the conclusion of the debate, but Collins could be selected to defend the president in the Senate's impeachment trial. His opening statement provides a window into the defense that Republicans have mounted.
Read Collins' full statement:
"Thank you, Madam Speaker. Here we are, where we always knew we'd be. 
The moment Democrats won the House majority, it was inevitable we would be voting on articles of impeachment.
On September 24, Speaker Pelosi announced an impeachment 'inquiry' before even seeing the call transcript. For Democrats, it was impeach first, investigate later. The conclusion was never in doubt, and everything has been based on a clock and a calendar. 
What does 'clock and calendar' mean? It means Democrats are on a political timetable and must impeach before Christmas. Several Senate Democrats are running for president, and House Democrats are under orders to impeach before the Iowa Caucuses.
To Democrats, it's politics, not facts, that matter.
In January 2017 — eleven days after inauguration — one attorney tweeted, the 'coup has started.' He now represents the infamous 'whistleblower.'
In January 2019, our colleague Rashida Tlaib said, 'We're going to impeach the M-F-er.' 
In May 2019, our colleague Al Green stated, 'I'm concerned if we don't impeach this president, he will get reelected.'
In November 2019, Speaker Pelosi said it would be 'dangerous' to leave it to voters to determine whether President Trump stays in office.
That is why we are here.
Democrats are impeaching the president for doing what he promised: ensuring America doesn't pour money into corrupt places.
Democrats have failed to prove their case.
Democrats decided to impeach before investigating and tried to find facts to support their theory. They failed. 
The president called their bluff by releasing the call transcript. Since then, Democrats have told us not to believe what's written there in black and white. 
They said 'us' means 'me.' 'Favor' means 'demand.' 'Corruption' means anything but Democrat corruption.
Democrats called in a Stanford Law professor to explain that 'we' means 'I.' 
For months, Democrats claimed the president had committed bribery, extortion, campaign finance crimes, even wire fraud. 
For years, Democrats claimed the president conspired with the Russians and obstructed justice.
When it was time to put their money where their mouth is, they backed down. Big time. 
There's no bribery, no extortion, no wire fraud, no obstruction of justice anywhere in these articles. 
This is the first time in history a president will be impeached without a single allegation of criminality. 
Instead, they charged abuse of power. 
There's no legal standard for measuring 'abuse of power.' It's a subjective concept that means whatever any member of Congress wants it to mean.
Here, Democrats argue the president 'injured the interests of the nation.' An opposition party always thinks the opposition president injures the national interest. A standard that is met any time we have divided government is no standard at all. 
The obstruction of Congress article is even more absurd. 
The president asserted executive branch prerogatives and Democrats jumped to impeach. 
Presidents have asserted privileges in response to Congressional demands since the Washington administration.
It's not up to Congress to decide what constitutes a 'lawful cause or excuse' (as is said in the articles). The courts decide what is the law.
Democrats could have gone to court. In Nixon, two months elapsed between district court decision and Supreme Court order to turn over tapes, but remember: Clock and calendar. They don't have two months to spare.
Democrats didn't negotiate, seek contempt or go to court. Instead, they skipped straight to impeachment. 
Here are the rest of the facts. 
The White House released two call transcripts to the public for review. 
The president said, 'Go tell the truth,' when Ambassador Sondland said he was asked to testify before Congress.
Democrats intimidated witnesses to prevent them from testifying at the Intelligence Committee.
The president committed no crimes. The articles allege no crimes.
The president had a longstanding skepticism of foreign aid and a deeply-held belief that Ukraine was not a good destination for American taxpayer dollars.
The president didn't want taxpayer dollars going to a corrupt nation because 'it's as good as kissing it goodbye.'
The president released the aid after Vice President Pence and Senator Ron Johnson assured him Ukraine was taking meaningful steps to address corruption. 
Ukraine received the aid and a meeting with President Trump and never opened an investigation.
Democrats ran a sham investigation. This isn't about facts. It's about the clock and the calendar. 
It's also about the Democrats' trying to undo an election. 
Speaker Pelosi said the House would not impeach unless it was 'compelling and overwhelming and bipartisan.'
Well, it's not bipartisan. It's not compelling. It's not overwhelming.
The biggest, most dangerous lie being peddled here is that the president, as an American citizen, is guilty until proven innocent.
That is what the Democrats are selling. Conclusions first, investigations second and facts last. 
The American people, to their credit, aren't buying it."

Go deeper:
Go deeper