Rudy Giuliani: "I needed Yovanovitch out of the way"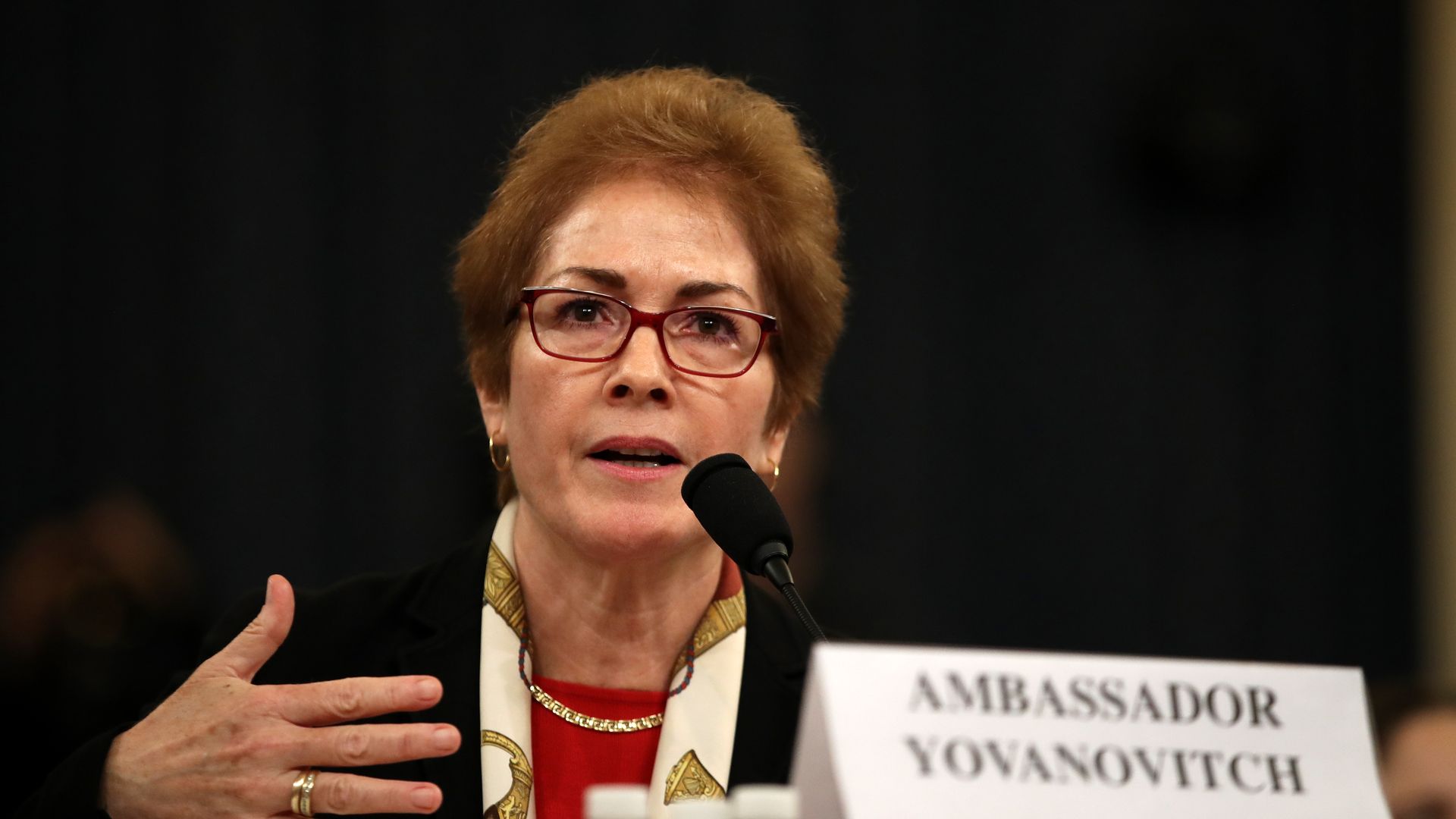 President Trump's personal attorney Rudy Giuliani told the New Yorker that he needed former U.S. Ambassador to Ukraine Marie Yovanovitch "out of the way" because she was going to make the investigations of the Bidens and the 2016 election that he was pushing "difficult for everybody."
Why it matters: Yovanovitch was recalled by Trump in April after her reputation was publicly tarnished in articles by The Hill's John Solomon — a smear campaign that Giuliani admitted to coordinating.
The back story: After Yovanovitch testified in the House's impeachment inquiry, Trump attacked her on Twitter and on Fox News, accused her of badmouthing him, refusing to follow his orders and failing to hang a photo of him in the Ukrainian Embassy.
Yovanovitch has denied the allegations, telling the House in sworn testimony that the notion she was disloyal to Trump is "fictitious."
Every impeachment witness who has interacted with Yovanovitch told the House that she was a highly respected anti-corruption crusader, with many claiming she was unfairly smeared by Solomon and Giuliani.
The big picture: While digging in Ukraine for information that would benefit Trump, Giuliani met Yuriy Lutsenko, a former prosecutor general of Ukraine who resented Yovanovitch and baselessly accused her of giving him a "do not prosecute" list. Yovanovitch and several other witnesses said in their testimony that Lutsenko was widely viewed as corrupt.
In January 2019, Lutsenko met with Giuliani and fed him allegations against the Bidens that would eventually lead to the impeachment inquiry against Trump.
In a number of interviews, Lutsenko also provided Solomon with allegations about Yovanovitch that would eventually lead to Trump removing her from her post in Ukraine.
Go deeper:
Go deeper