Ukraine still seeking White House meeting for Zelensky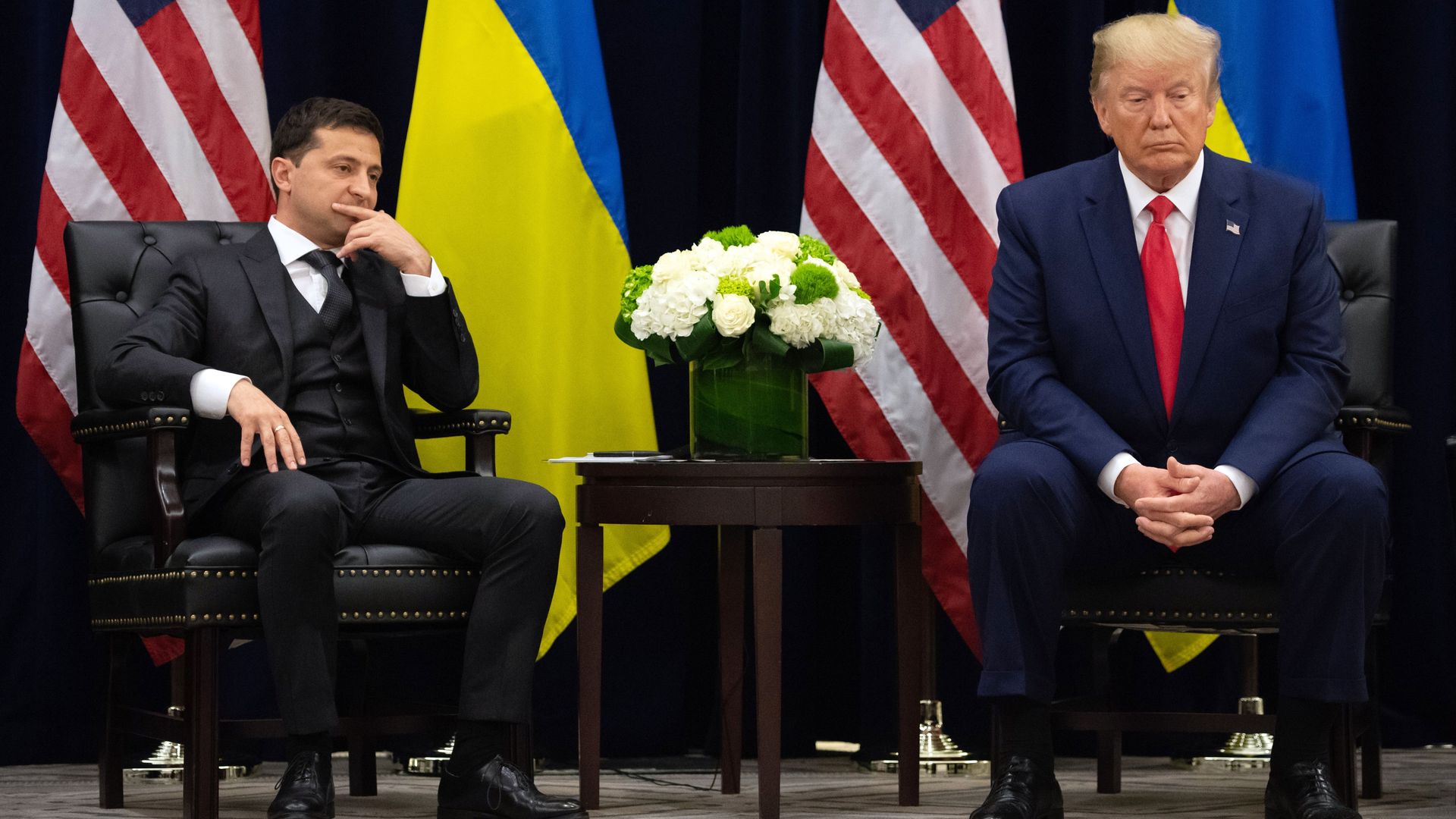 Ukrainian Deputy Prime Minister Dmytro Kuleba told reporters in Washington on Friday that Ukraine is still working to schedule a White House meeting for President Volodymyr Zelensky.
Why it matters: Kuleba emphasized that Ukraine needs strong support from the U.S. despite the current "turmoil" — a reference to impeachment proceedings. His status as the first member of Zelensky's government to visit Washington underlines the fact that Zelensky's own visit — which U.S. officials linked to Zelensky announcing investigations sought by President Trump — still has not happened.
Kuleba noted that Trump had invited Zelensky to Washington "in the immediate aftermath of the elections," and said "everything has to be worked out through diplomatic channels."
Background: Russian Foreign Minister Sergey Lavrov did have an Oval Office meeting with Trump this week, directly after negotiations in France on the war in Eastern Ukraine. Critics said it sent the wrong message about U.S. support for Ukraine.
The "Normandy Format" negotiations have provoked backlash against Zelensky from Ukrainians who believe he is about to negotiate away their sovereignty and territorial integrity.
Kuleba said Zelensky was "ready to take risks to get Russia out of Donbas," but would not cross any of Ukraine's red lines. "In Russia it's simple, if you want to solve something you have to talk to Putin," he said.
Kuleba, speaking at the German Marshall Fund think tank, thanked the U.S. for its "consistent" support of Ukraine up to now, but said "enough is never enough" and more is needed.
Between the lines: Zelensky lamented recently that Trump's repeated descriptions of Ukraine as corrupt are undercutting his efforts to project a new image of his country and gain support and investment.
Zoom in: Kuleba's agenda in Washington includes meetings on Capitol Hill and with members of the National Security Council and State Department.
He said none of the administration officials he met with asked about Rudy Giuliani, Joe Biden or impeachment. "As you can imagine, nor did I mention it," he added.
Kuleba joked that since the officials he'd met had been quite positive toward Ukraine, "maybe I was meeting with the wrong people."
Go deeper:
Go deeper