A viewer's guide to the impeachment hearings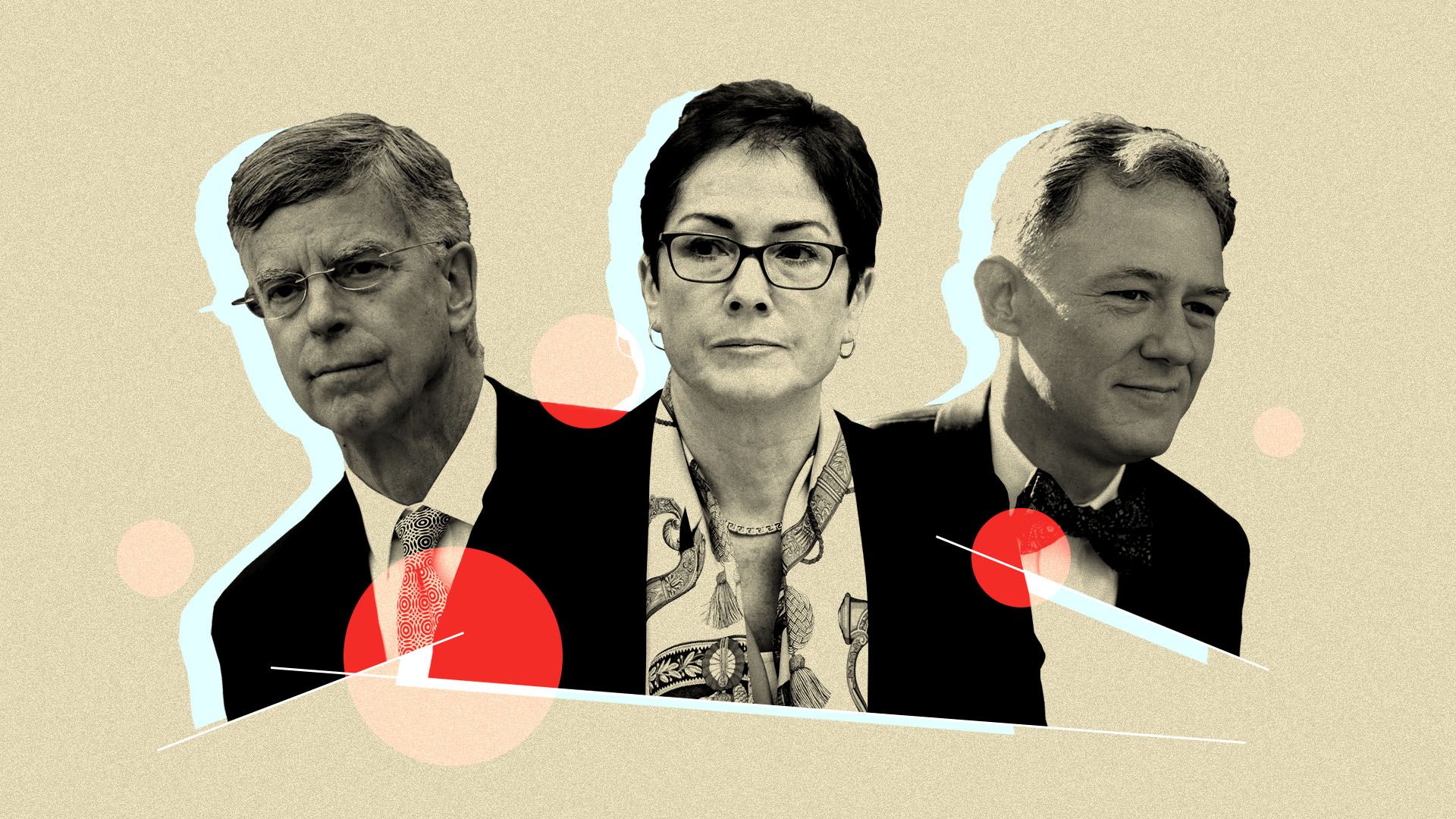 The next phase of impeachment begins at 10 a.m. today with the first public hearing about President Trump's actions toward Ukraine — so here's a look at the witnesses you're likely to see.
Why it matters: Impeachment so far has been a messy and confusing process, with so many subplots that it's easy to lose track of what really matters: whether Trump held up military aid and a White House meeting with Ukraine's new president in exchange for a public promise to investigate Joe Biden's family.
Testifying today:
Ambassador Bill Taylor: The top U.S. diplomat in Ukraine. He says it was his "clear understanding" that Trump would not release military aid to Ukraine until its president promised to conduct the investigations Trump wanted.
Deputy Assistant Secretary George Kent: He says Trump wanted Ukrainian President Volodymyr Zelensky to go to the microphones "and say investigations, Biden, and Clinton."
Testifying Friday:
Former Ambassador Marie Yovanovitch: The former U.S. ambassador to Ukraine. She says she was pushed out over unsubstantiated allegations that she was critical of Trump and didn't want Ukraine to investigate Joe Biden and his son. 
Testifying next week:
Tuesday:
Jennifer Williams: An aide to Vice President Mike Pence, on detail from the State Department. She was on the July call between Trump and Zelensky and said she had concerns with the political nature of the call.
Lt. Col. Alexander Vindman: A decorated war veteran and the National Security Council's top Ukraine expert. He was on the July call and says Mulvaney coordinated the plan to push Ukraine for the Biden investigations.
Kurt Volker, former Special Envoy to Ukraine: He describes what officials saw as Rudy Giuliani's improper role in U.S. diplomacy.
Former National Security Council adviser Tim Morrison: He was also on the July call, and says he was told directly about Trump's efforts to pressure Ukraine to open political investigations.
Wednesday:
EU Ambassador Gordon Sondland: He revised his initial testimony to say he told a Ukrainian official that the country wouldn't get military aid unless it caved to Trump's demands.
Deputy Assistant Secretary of Defense for Russian, Ukrainian, and Eurasian Affairs Laura Cooper: She says it was her understanding that Trump himself directed the freeze on aid to Ukraine, and that officials raised concerns after the aid was suspended.
Under Secretary of State for Political Affairs David Hale: He spoke to what many officials described as Yovanovitch's questionable removal.
Thursday:
Former Russia aide Fiona Hill: She reported to former National Security Adviser John Bolton, and says Bolton believed Sondland and acting White House chief of staff Mick Mulvaney were cooking up a "drug deal" with Ukraine.
Democrats have also shown interest in having the following individuals appear, but they have rejected Congress' requests:
Bolton.
Mulvaney.
Former deputy National Security Adviser Charles Kupperman.
Acting Office of Management and Budget director Russell Vought.
Republicans also want Hunter Biden and the whistleblower — both targets of Trump — to appear for public hearings.
But an official working on impeachment told Axios that the House Intelligence Committee said Hunter Biden and the whistleblower are "absolute nonstarters": "We will not conduct the sham investigations the president demanded that instigated this inquiry."
Go deeper