Trump impeachment hearing: Highlights from Bill Taylor's and George Kent's testimonies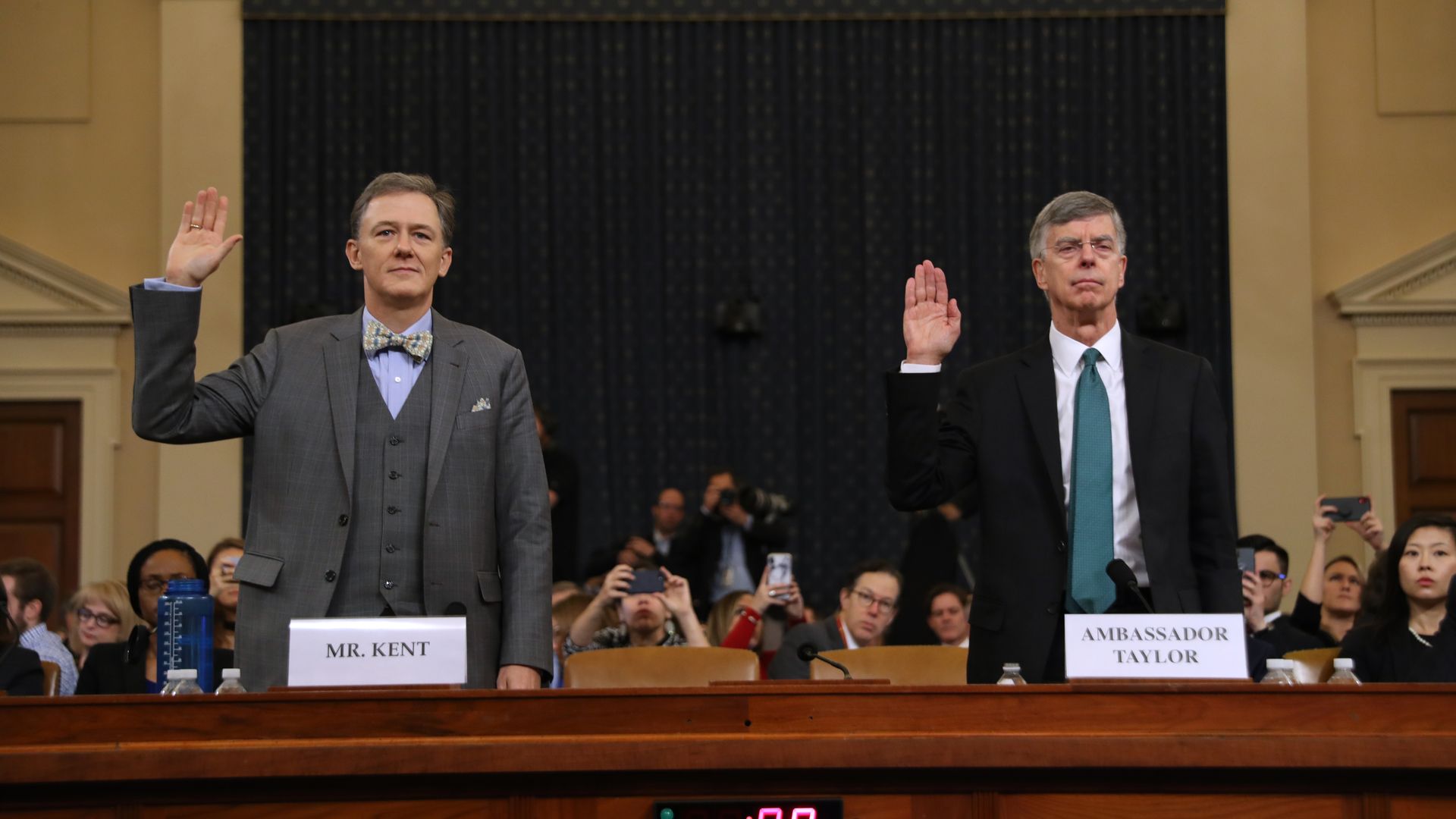 Bill Taylor, the top U.S. diplomat in Ukraine, and Deputy Assistant Secretary of State George Kent testified Wednesday in the House's first public impeachment hearing.
Driving the news: In a new revelation, Taylor testified that a member of his staff overheard EU Ambassador Gordon Sondland on July 26 discussing "the investigations" on a phone call with Trump. When the staffer asked Sondland what Trump thought of Ukraine, "Ambassador Sondland responded that President Trump cares more about the investigations of Biden, which Giuliani was pressing for," Taylor said.
Highlights
Taylor testified that the harm of withholding aid to Ukraine is that it sends a signal to Russia — which is currently waging a war in eastern Ukraine — of weakened U.S. support. Under questioning from the Democratic counsel, Taylor said he was not aware of any other instance of a president conditioning foreign aid on his personal or political interests.
Asked what it meant that Trump wanted Ukrainian President Volodymyr Zelensky in a "public box," as he testified in private, Taylor responded: "Trump through Ambassador Sondland was asking for Zelensky to very publicly commit to these investigations. It was not sufficient to do this in private, that this needed to be a very public statement."
Kent was asked by Democratic counsel about the allegations that Ukraine interfered in the 2016 election and that Biden acted improperly while pushing Ukraine to fire a corrupt prosecutor. Kent testified that there is "no factual basis" for either allegation. On the 2016 election, Kent said: "I think it's amply clear that Russian interference was at the heart of the interference."
Under questioning from Adam Schiff, Taylor said that Zelensky and his aides believed it was a bad idea to interfere in U.S. elections, but that the Ukrainian president was still planning to go on CNN to announce the investigations Trump wanted.
Asked if they are "Never Trumpers," as the president has alleged, Taylor said that he is not. Kent said he is a career diplomat who has carried out the policies of both Democratic and Republican presidents. Asked if the July 25 phone call between Trump and Zelensky was a "perfect call," as the president has repeatedly argued, both Taylor and Kent said that it raised concerns.
Rep. Will Hurd (R-Texas) asked if the "anti-corruption" statement being negotiated between special envoy Kurt Volker, Gordon Sondland, Rudy Giuliani and an aide to Zelensky was ever issued. Kent responded: "That was not an anti-corruption statement, sir. ... Rudy Giuliani said it would not be acceptable if it didn't mention Biden, Burisma and 2016."
Kent testified that he does not believe Rudy Giuliani was protecting U.S. interests with regard to his Ukraine activity, and that he believes Giuliani "was looking to dig up political dirt." Bill Taylor said he agreed.
The other side: Republicans on the committee attempted to delay the start of Taylor and Kent's testimonies by demanding that Schiff answer questions about when the GOP's list of witnesses will be called. Rep. Jim Jordan (R-Ohio) accused Schiff of being the only member of Congress to know the Ukraine whistleblower's identity, which Schiff disputed.
In the second half of the hearing, Ranking Member Devin Nunes (R-Calif.) and the Republican counsel ran through a list of allegations of Ukrainian interference in the 2016 election and asked Taylor if he was aware of them. Taylor testified that he was not. The counsel argued that it's a "very reasonable belief" for Trump to think the Ukrainians were out to get him.
Jordan, a Trump loyalist who was moved to the House Intelligence Committee for the public hearings, went after Taylor for not having firsthand knowledge of Trump's decision to halt military aid. "And you're their star witness," he said.
Rep. John Ratcliffe (R-Texas) spent most of his question time listing all of the instances in which Zelensky told the press publicly that he felt no pressure to open investigations, before finishing: "If House Democrats impeach President Trump for a quid pro quo involving military aid, they have to call President Zelensky a liar."
Taylor later said in response to a prompt from a Democratic member that it would be a sign of weakness for Zelensky to acknowledge to Ukrainians that he capitulated to a foreign leader, and that Ukrainian voters pay very close attention to U.S.-Ukraine relations.
Between the lines: One of the core arguments Republicans deployed on Wednesday was that Taylor and Kent had no direct discussions with Trump about his thinking on Ukraine. However, the White House has blocked all administration officials who have had conversations with Trump from complying with House subpoenas — other than EU Ambassador Gordon Sondland, who will testify in public next week.
What's next: Former U.S. Ambassador to Ukraine Marie Yovanovitch will testify on Friday.
Watch:
Read:
Go deeper:
Go deeper