Gordon Sondland testifies that Ukraine aid was conditioned on Biden investigation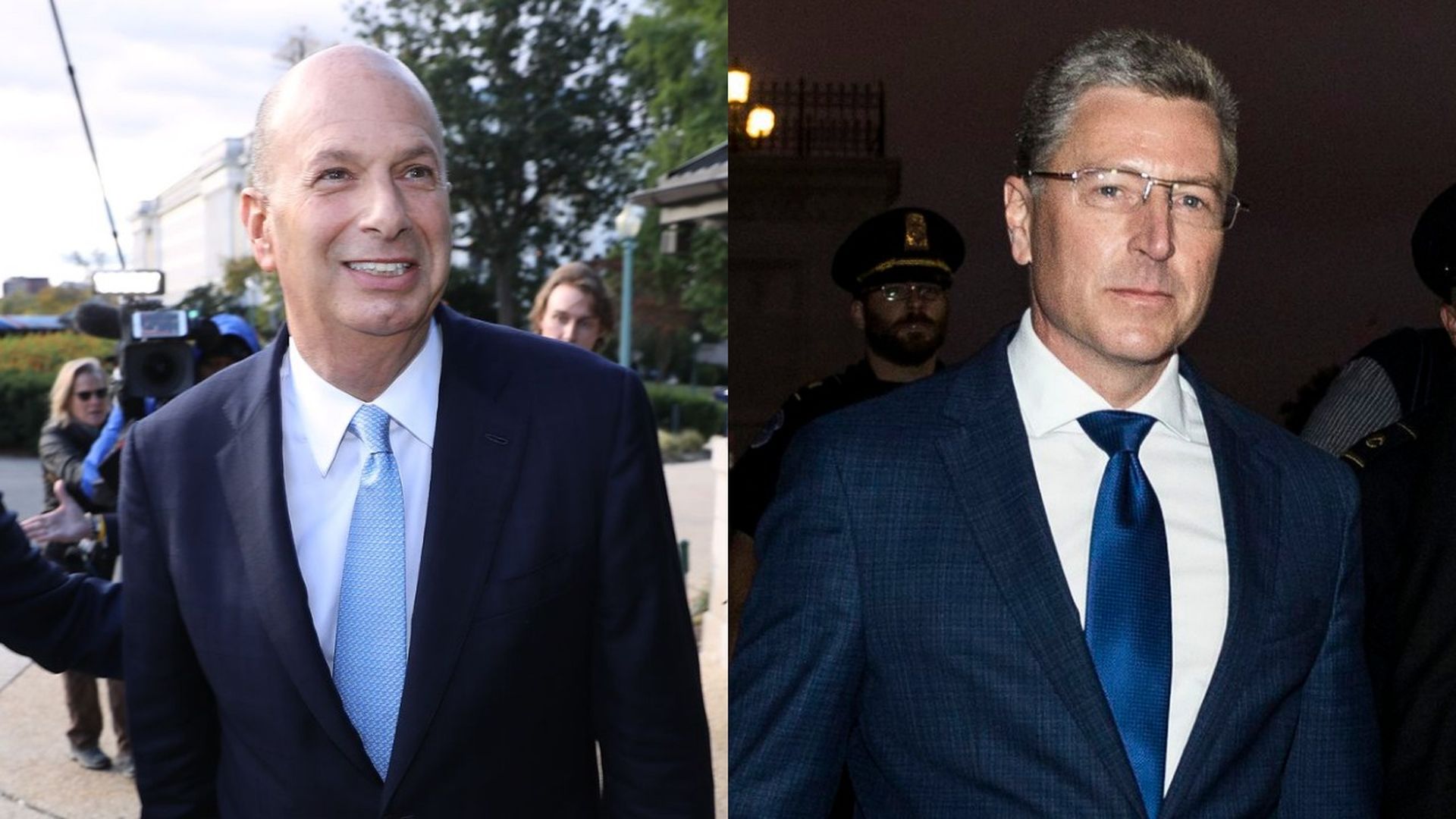 The House Intelligence Committee released on Tuesday transcripts of its closed-door interviews with U.S. Ambassador to the European Union Gordon Sondland and former U.S. special envoy to Ukraine Kurt Volker.
Driving the news: Sondland, a key figure in alleged efforts by President Trump and Rudy Giuliani to pressure Ukraine to investigate Joe Biden and the 2016 presidential election, revised his Oct. 17 testimony on Nov. 4, according to the transcript. He stated that he told an aide to Ukrainian President Volodymyr Zelensky that military assistance would not be released until Zelensky issued a statement agreeing to investigate Burisma, a gas company with ties to Biden's son.
Key excerpts from Sondland
"[B]y the beginning of September 2019, and in the absence of any credible explanation for the suspension of aid, I presumed that the aid suspension had become linked to the proposed anti-corruption statement."
"Also I now do recall a conversation on September 1, 2019, in Warsaw with Mr. Yermak [an aide to Zelensky]. This brief pull-aside conversation followed the larger meeting involving Vice President Pence and President Zelensky, in which President Zelensky had raised the issue of the suspension of U.S. aid to Ukraine directly with Vice President Pence. After that large meeting, I now recall speaking individually with Mr. Yermak, where I said that resumption of U.S. aid would likely not occur until Ukraine provided the public anti-corruption statement that we had been discussing for many weeks."
Asked about Giuliani's efforts to prompt Ukraine to investigate the Bidens or involve Ukraine directly or indirectly in Trump's re-election campaign, Sondland testified that he believed this would be "improper." Asked whether it would be illegal, he responded, "I'm not a lawyer, but I assume so."
Key excerpts from Volker
"I don't recall ever hearing that the President was interested in investigating Burisma. I became aware of the President being interested in investigations concerning Vice President Biden and his son on September 25th when the transcript of the phone call came out."
"The negative narrative about Ukraine which Mr. Giuliani was furthering was the problem. It was, in my view, impeding our ability to build the relationship the way we should be doing ... as I understood it."
"I think [Trump] said, not as an instruction but just as a comment, talk to Rudy, you know. He knows all of these things, and they've got some bad people around [Zelensky]. And that was the nature of it."
"I said to Rudy in that breakfast the first time we sat down to talk that it is simply not credible to me that Joe Biden would be influenced in his duties as Vice President by money or things for his son or anything like that. I've known him a long time, he's a person of integrity, and that's not credible."
The big picture: On Monday, House Intel released transcripts of interviews with former U.S. Ambassador to Ukraine Marie Yovanovitch and Michael McKinley, a former aide to Secretary of State Mike Pompeo.
Go deeper ... Trump-Ukraine scandal: The key players, dates and documents
Go deeper