House Intel releases transcript of interview with ousted Ukraine ambassador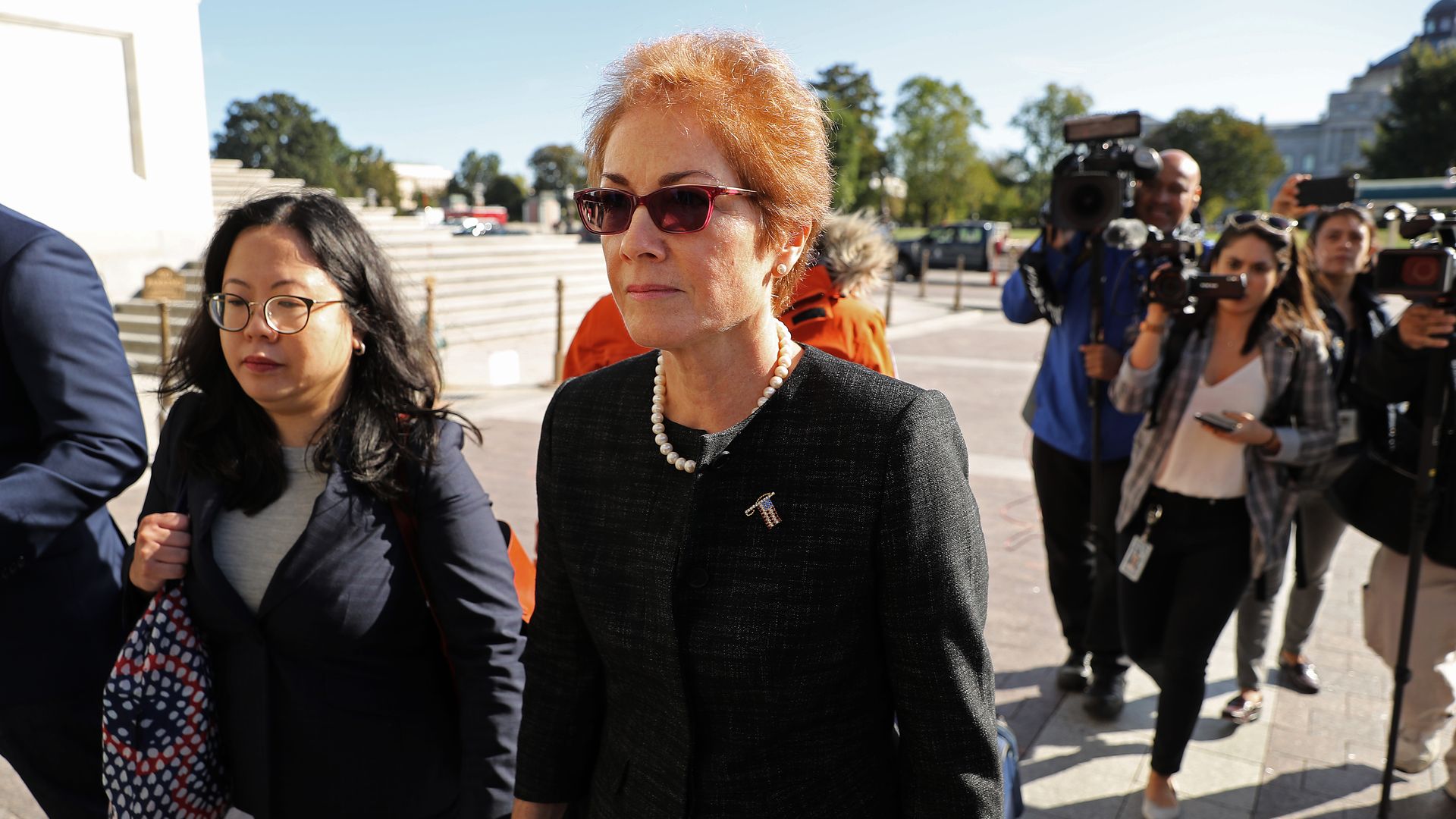 The House Intelligence Committee on Monday released the transcripts of its interview with former U.S. Ambassador to Ukraine Marie Yovanovitch, a key witness in the impeachment inquiry.
Why it matters: Yovanovitch, who was removed from her post in May, testified that President Trump's lawyer Rudy Giuliani led a campaign to oust her as ambassador over unsubstantiated allegations that she badmouthed the president and was seeking to stop Ukraine from opening an investigation into Joe Biden and his son.
Key excerpts:
Yovanovitch testified that she learned about Giuliani's plan to target her from Ukrainian officials in late 2018. She said she learned that Giuliani had met with Ukraine prosecutor general Yuriy Lutsenko, who wanted to "hurt" her "in the U.S."
Q: "And from your staff members or your own conversations, what did you come to learn about Mr. Giuliani's interest in Ukraine?"
A: "That basically there had been a number of meetings between Mr. Lutsenko and Mayor Giuliani, and that they were looking — I should say that Mr. Lutsenko was looking to hurt me in the U.S. I couldn't imagine what that was. But, you know, now I see."
Q: "What do you see now?"
A: "Well, that I'm no longer in Ukraine."
Yovanovitch alleged that the indicted Giuliani business associates who connected him with Lutsenko — Lev Parnas and Igor Fruman — wanted her removed because they were seeking additional business dealings in Ukraine.
"Well, I mean, he basically said, and went into some detail, that there were two individuals from Florida, Mr. Parnas and Mr. Fruman, who were working with Mayor Giuliani, and that they had set up the meetings for Mr. Giuliani with Mr. Lutsenko. And that they were interested in having a different ambassador at post, I guess for — because they wanted to have business dealings in Ukraine, or additional business dealings."
She also testified that U.S. Ambassador to the EU Gordon Sondland told her that if she wanted to save her job, she should tweet out her support for Trump.
"He hadn't been aware of it, that the story had shifted, and he said, you know, you need to go big or go home. You need to, you know, tweet out there that you support the President, and that all these are lies and everything else. And, you know, so, you know, I mean, obviously, that was advice. It was advice that I did not see how I could implement in my role as an Ambassador, and as a Foreign Service officer."
At one point, Yovanovitch was told that Pompeo or another state official would call Fox News' Sean Hannity to find out where unsubstantiated allegations against her were coming from.
What I was told by Phil Reeker was that the Secretary or perhaps somebody around him was going to place a call to Mr. Hannity on FOX News to say, you know, what is going on? I mean, do you have proof of these kinds of allegations or not? And if you have proof, you know, tell me, and if not, stop. And I understand that that call was made. I don't know whether it was the Secretary or somebody else in his inner circle. And for a time, you know, things kind of simmered down.
Yovanovitch testified that Deputy Secretary of State John Sullivan informed her after her removal that she had "done nothing wrong," but that Trump had "lost confidence" in her.
"So the Deputy Secretary said that, you know, he was sorry this was all happening, that the President had lost confidence, and I would need to depart my post. That, you know, he had — you know, I said, what have I done wrong? And he said, you've done nothing wrong. And he said that he had had to speak to ambassadors who had been recalled for cause before and this was not that. … I was upset. And I, you know, I wanted an explanation because this is rather unusual. But he could not offer one beyond the fact that the President had made a decision."
When Yovanovitch asked whether the State Department could issue a statement supporting her, she said she was informed that there was "caution" because such a statement could be undermined by Trump.
Q: "I just want to make sure I'm understanding. The statement you're talking about, is that the requested statement by the Secretary of State?"
A: "Yeah."
Q: "So you were informed, basically, that the statement was not going to be issued by the Secretary of State because it could be undermined by the President?"
A: "Yes. No statement was going to be issued, not by the Secretary, not by anybody else."
Q: "Because if the secretary did issue a statement, it might be undermined by the President?"
A: "Uh-huh."
Go deeper