Luka vs. LeBron: When basketball's past, present and future collide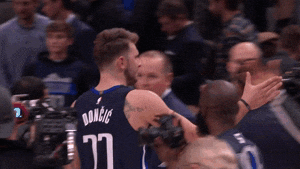 Through 76 career games, Luka Dončić and LeBron James put up remarkably similar numbers. Dončić picked up 21.4 ppg, 7.9 rpg, 6.0 apg, while James had 21.1 ppg, 5.5 rpg, 5.8 apg.
Fast-forward to Friday: In his 77th career game, the 20-year-old Dončić faced off against his childhood idol for the third time — and it was glorious (Lakers won in OT).
By the numbers:
Dončić: 31 points, 13 rebounds, 15 assists
James: 39 points, 12 rebounds, 16 assists
The bottom line: Entering Friday, we knew we were watching the past, present and future of basketball collide (to me, James is the past and the present, while Dončić is the present and the future).
Go deeper: Undrafted Kendrick Nunn off to historic start in NBA
Go deeper