House Republicans storm closed impeachment hearing in protest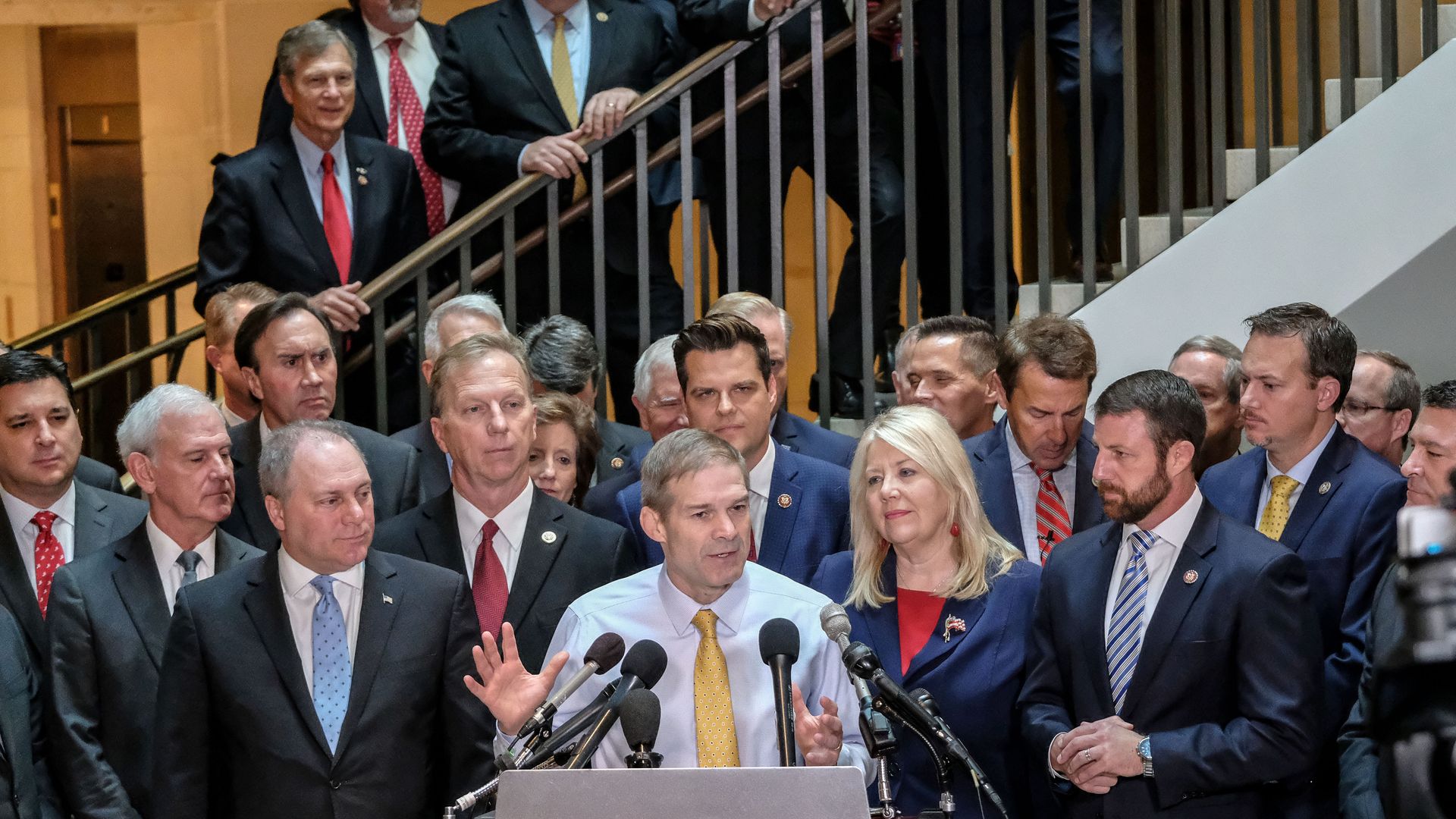 About 30 House Republicans attempted to force entry Wednesday into the closed-door hearing where Laura Cooper, deputy assistant secretary of defense, was scheduled to testify in the impeachment inquiry into President Trump and Ukraine.
The big picture: The Republicans are protesting a lack of transparency in the impeachment process, alleging that the inquiry is not legitimate because a full House vote has not been held and attacking Democrats for holding hearings in private. Because of their efforts to disrupt the hearing, Cooper's testimony was delayed for five hours and began at about 3 pm ET.
Between the lines: Republicans reportedly took pictures inside the House Intelligence Committee's Sensitive Compartmented Information Facility (SCIF) — forcing police to conduct a sweep for possible security breaches. Rep. Matt Gaetz (R-Fla.) tweeted from inside the SCIF: "BREAKING: I led over 30 of my colleagues into the SCIF where Adam Schiff is holding secret impeachment depositions. Still inside - more details to come."
Gaetz later added: "**Tweet from Staff**"
Worth noting: The group alleges that they are being shut out of the impeachment process, but there are Republicans on the three panels conducting the investigation — the House Intelligence, Oversight and Foreign Affairs committees — that are present and able to ask questions at every hearing.
A full House vote authorizing an impeachment inquiry would likely allow Republicans to call their own witnesses, but any subpoenas they attempt to issue could be vetoed by Democrats.
House Intelligence Committee member Jim Himes (D-Conn.) explained earlier this month that the depositions are private to protect classified information and prevent Trump allies who are being questioned from coordinating their testimonies. He added that witness transcripts will eventually be scrubbed and released to the public.
Go deeper ... Trump's new reality: A daily dump of impeachment leaks
Go deeper