Benny Gantz gets his chance to form Israel's next government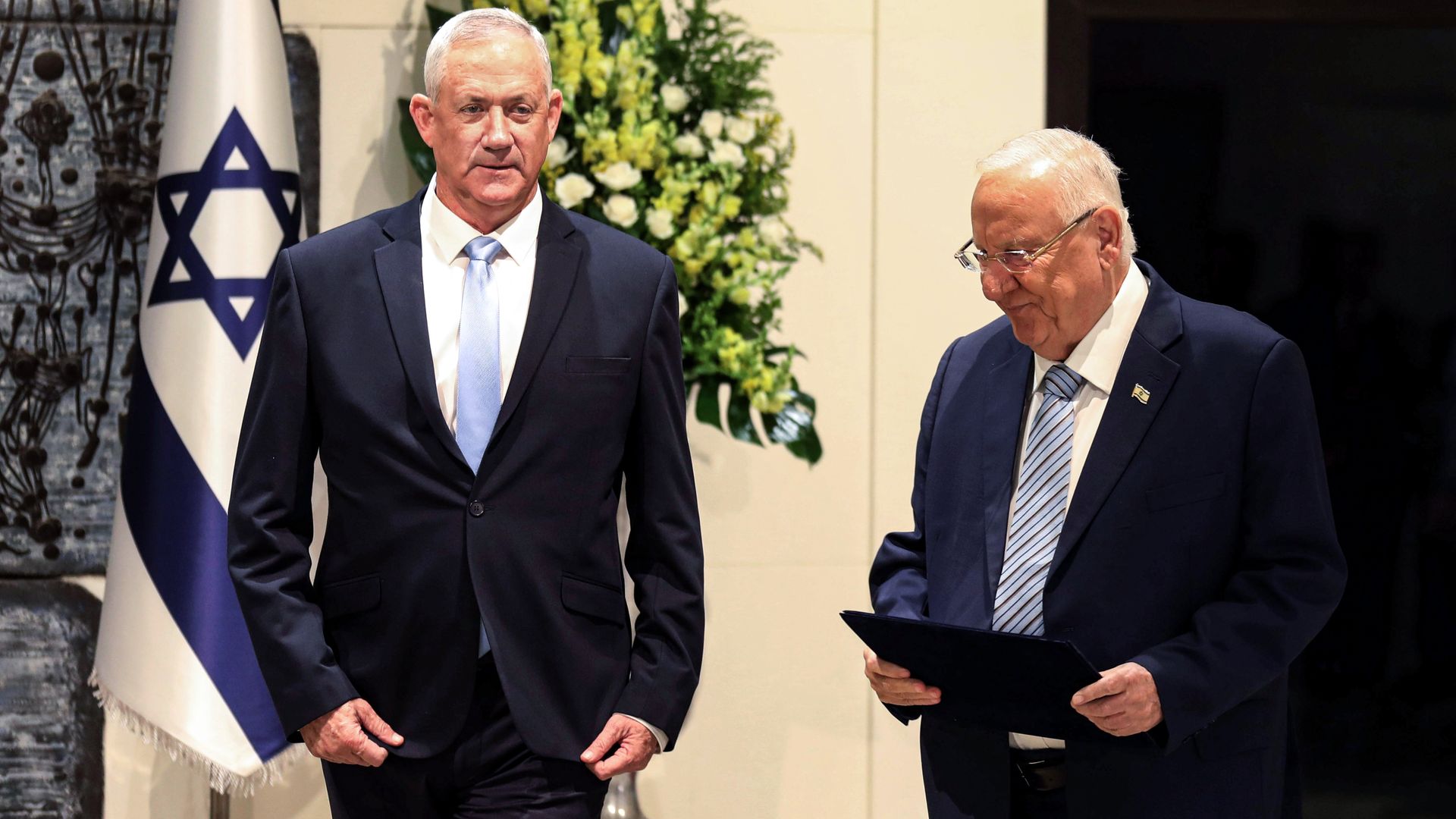 Benny Gantz, leader of the center-left Blue and White party, has been formally granted a mandate to form Israel's next government after Prime Minister Benjamin Netanyahu confirmed he'd failed to do so for the second time in six months.
Why it matters: This is the first time since 2008 that anyone other than Netanyahu has been asked to form a government. In a speech carried live by all of Israel's TV networks, President Reuven Rivlin referred to Netanyahu as "the outgoing prime minister." Still, Gantz faces long odds of cobbling together a majority.
What he's saying: Gantz said he hopes to form a "liberal unity government" and is planning to meet with all political factions in the next few days including the Arab Joint List. Gantz said his government will be open to all parties who agree with his platform and reject racism and violence.
Gantz also called for negotiations to begin immediately for a unity government including Blue and White and Netanyhu's right-wing Likud.
Such negotiations stalled previously because Gantz and Netanyahu both refused to let the other serve as prime minister first.
Gantz warned Netanyahu that if he drags Israel into a third election this year the Israeli public will not forgive him.
He urged Netanyahu, who faces looming corruption indictments, "to act responsibly and realize that his legal status and the results of the elections point at the need for change."
What's next: Gantz has 28 days to form a coalition. He is expected to meet separately tomorrow with Netanyahu and Avigdor Lieberman, who has emerged as a kingmaker because his secular conservative party is allied with neither Gantz nor Netanyahu.
If Gantz fails, Rivlin will have 21 days to find a solution. Otherwise, Israel will have yet another election.
Go deeper: Trump calls Netanyahu "one of my closest allies" in birthday card
Go deeper